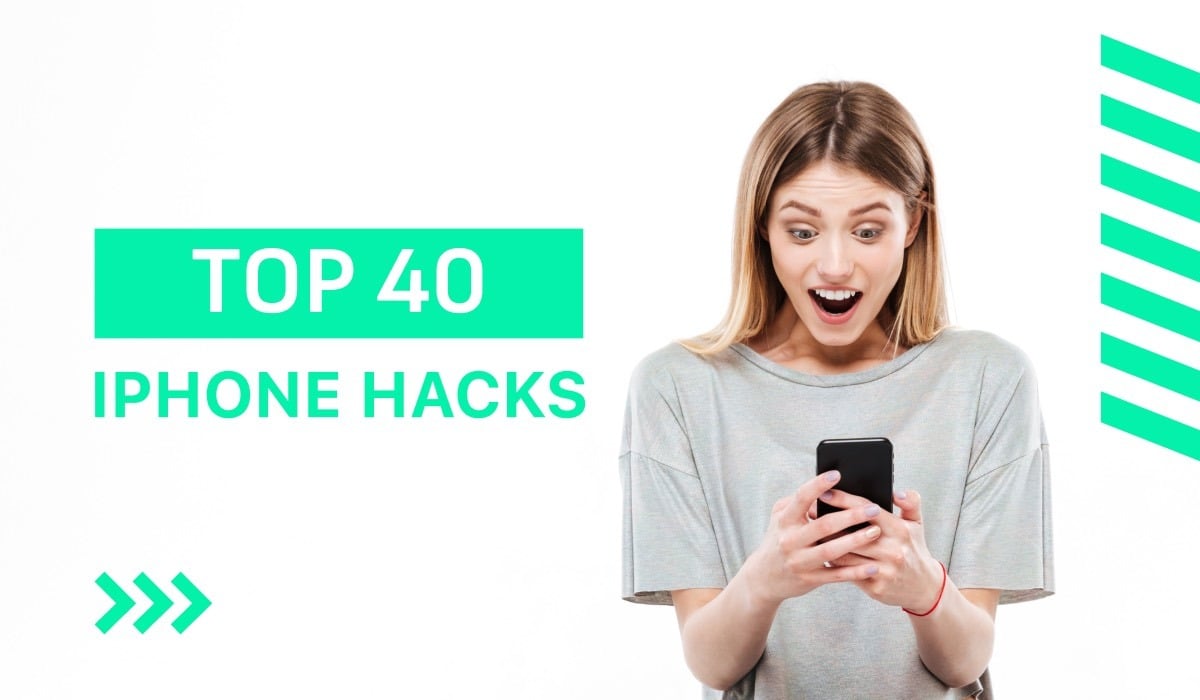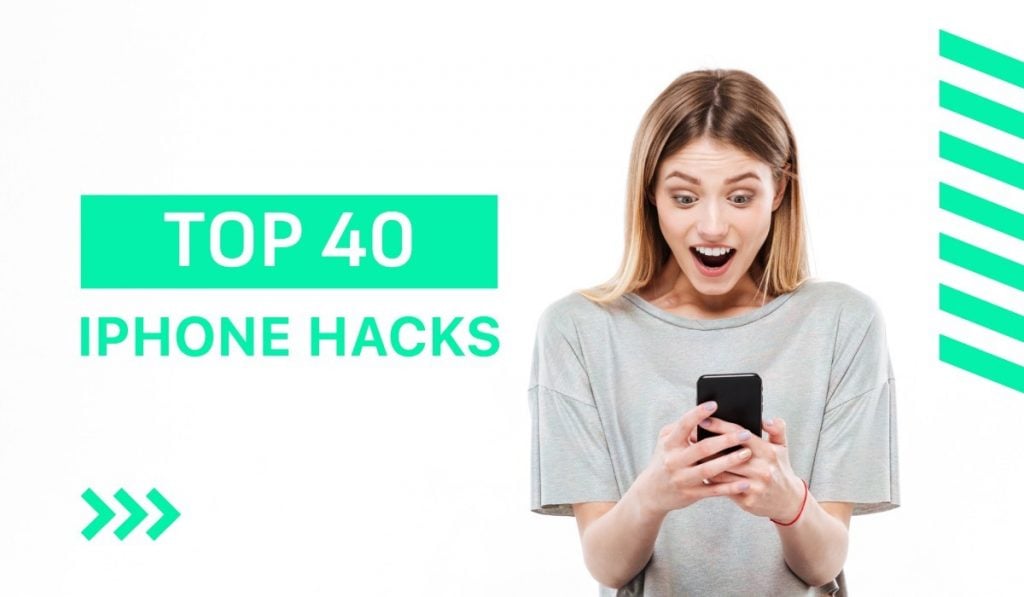 The Definitive Guide To iPhone Hacks in 2022
The iPhone that sits in your pocket is a powerful little machine. And you're probably only using a fraction of what it's capable of. If you're here, you probably want to learn about top iPhone hacks that can improve the way you interact with your smartphone.
Well, you're in the right place!
We've prepared this useful list of iPhone hacks precisely for that purpose. Read on and learn just about everything you can do with your iPhone. From adding extra buttons and getting haptics, to… trimming your beard or doing makeup – we've got something for you!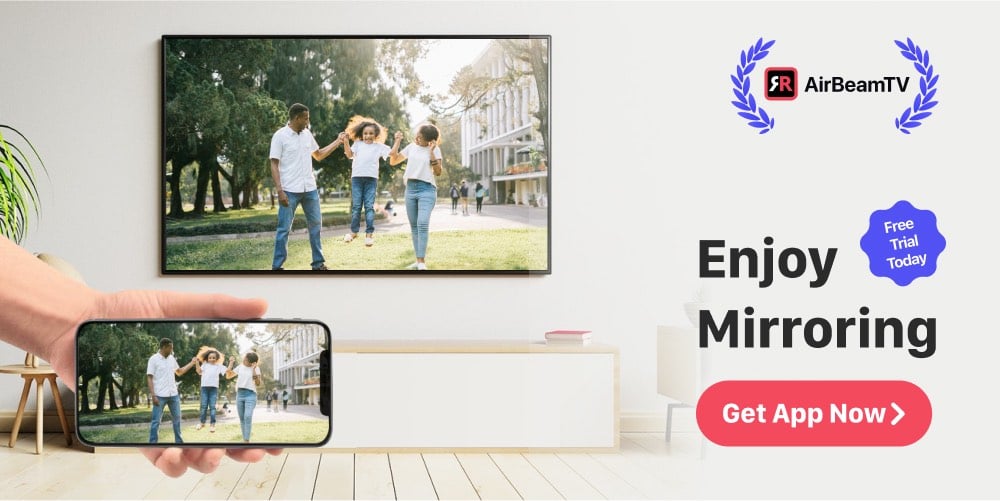 Table of Contents
Best iPhone App Hacks
1 | Mirror Your iPhone To Mac Or PC For Free
Let's start off with one of the iPhone hacks that merges your smartphone with a computer. With the Mirror to PC or Mac app, you can display your iPhone screen on your computer or laptop.
The app works with any computer that has access to Google Chrome. You set it up very easily, in less than two minutes.
How to use Mirror for PC or Mac
Download the free Mirror for PC or Mac app from the App Store.
Open the app.
Follow the instructions on the screen.
Enjoy!
Mirror for PC or Mac – top 5 uses
Enhance work presentations
Video calls are a staple at workplaces. And so is screen sharing. With it, you can easily show a spreadsheet, a video, or a presentation to everyone on the call.
But what if the file you want to show to everyone happens to be on your iPhone? Sending it to your computer is a hassle you'll have to undertake anytime you want to share a file you have on your phone.
Instead, you can download the Mirror for PC or Mac app and just mirror your screen to your computer. No more sending files or links and getting confused!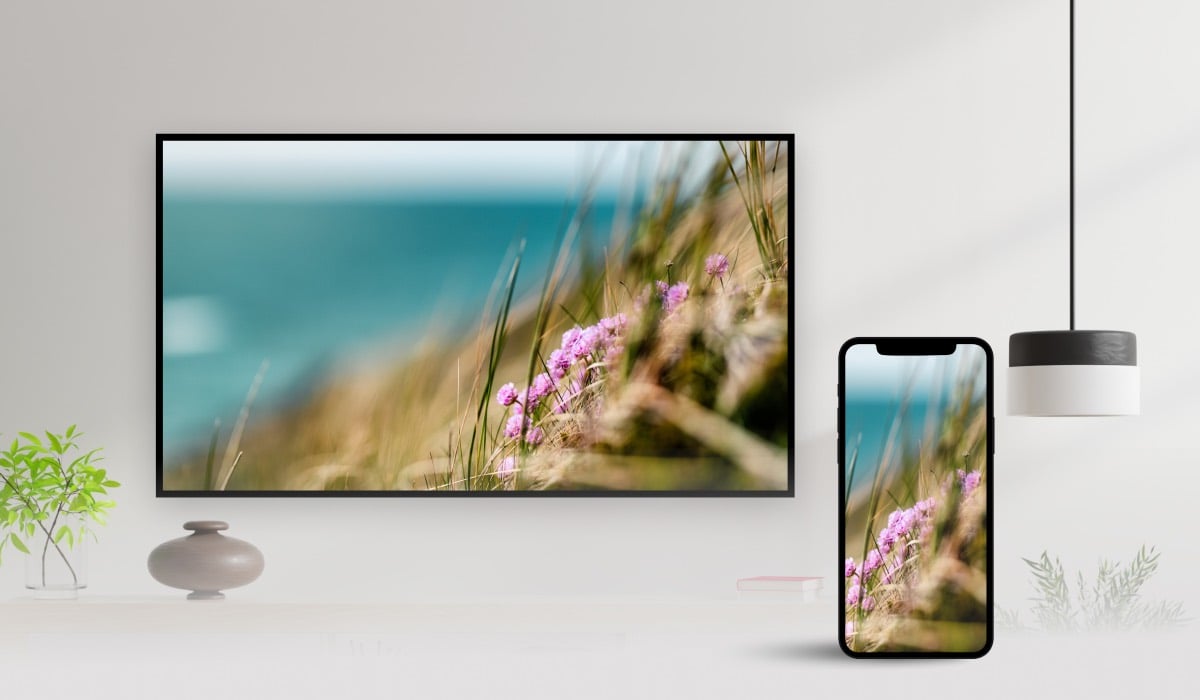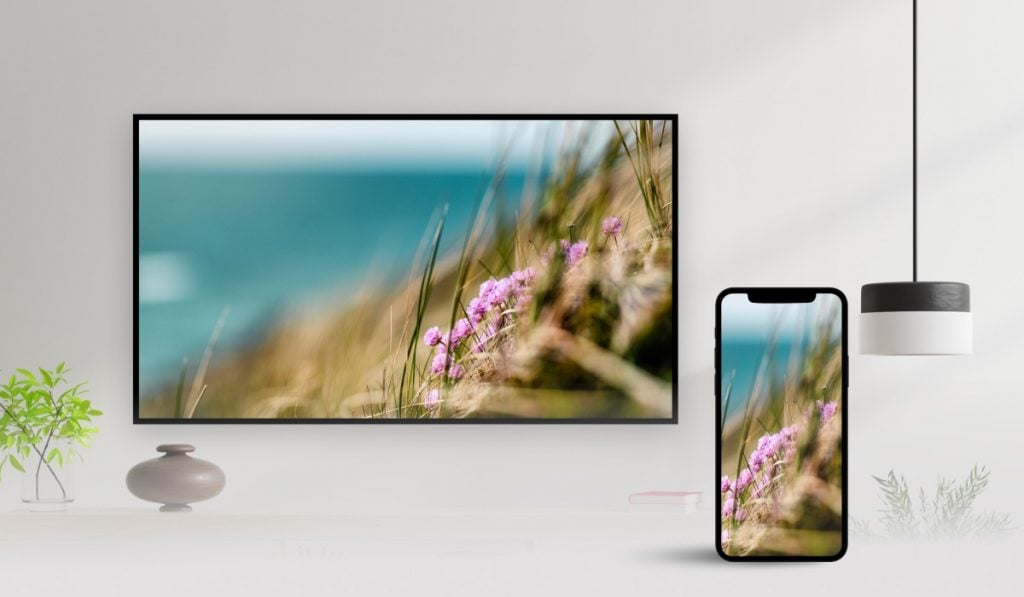 Watch photos and videos from your iPhone on a bigger screen
Let's say you have a couple of friends over. You're going to be showing them your holiday pictures. But you don't want them to hurdle around your phone.
You also don't want to upload all of the photos to your PC – it's a lot of extra time and work!
You can use Mirror for PC or Mac to make sure everyone can see your pictures comfortably. It's a win-win – you get more storage space on your PC, and your guests get a comfortable experience!
Take wellness to another level
When you get your beard trimmer or makeup done professionally, the person doing it has a 360 view of your head.
Doing it yourself at home, you're limited to your mirror. How about you use a different mirror?
What about the Mirror for PC or Mac!
Here's how to do it:
Open Mirror for PC or Mac app.
Connect it with your PC or Mac.
Open the camera on your iPhone and turn it to selfie mode.
Now, you'll be able to look at your face from angles that are unreachable with just a mirror. It will allow you to get laser-precise with your makeup or facial hair routine!
Play around with selfies
This iPhone hack takes the previous one to the next level. Namely, you can take nice selfies from any angle by using the Mirror for PC or Mac app.
Simply connect your iPhone to your PC or Mac, go to the Camera, turn on selfie mode, and take good selfies from previously unattainable angles!
Experience something extraordinary
Ever been in a room that has mirrors facing each other? When you look into one, you can see your reflection repeated into infinity. It's quite magical isn't it?
Did you know you can do the same with the Mirror for PC or Mac app? Here's how:
Open Mirror for PC or Mac app.
Connect it with your PC or Mac.
Open the camera app on your iPhone.
Point the camera lens to your PC or Mac screen, with the screen mirroring tab open.
Enjoy incredible visuals!
Now you don't need a specialized room to experience something special!
Can I use Mirror for PC or Mac on iPhone 12?
Yes! The Mirror for PC or Mac app works with all of the latest iPhone models. That includes iPhone 12, iPhone 12 Pro and Pro Max, as well as iPhone SE and the iPhone 13 line.
2 | Mirror iPhone To Smart TV Without AirPlay 2
iPhones have a built in AirPlay function. It allows you to cast your phone to an AirPlay 2-compatible Smart TV. But the thing is, AirPlay 2 doesn't come with every Smart TV. Oftentimes it's only available for the latest models. And they can get really expensive.
Don't want to spend a small fortune on the latest TV tech, but still want to mirror your iPhone screen to your Smart TV? We have a solution for you!
AirBeamTV has developed a series of screen mirroring apps that seamlessly merge iPhones, iPads and Macs with all types of Smart TVs.
The apps work with any Smart TV and streaming device model that has Internet access. All major brands are supported – Samsung, LG, Roku, Fire TV, Chromecast.
AirBeamTV also supports TV brands that are not included in the AirPlay 2 program at all. Those are, among others:
How to mirror iPhone to Smart TV without AirPlay 2
Download AirBeamTV Mirror app from App Store.
Open the app.
Connect your iPhone to your Smart TV.
Click 'Screen Mirror' and then 'Start Mirroring'.
Enjoy!
3 | Maps – Zoom In And Out With One Finger
Let's say you have a hand full of shopping bags and a whole commute ahead of you. You open the Maps app, but to see your destination, you have to zoom in slightly. But that's just not doable with just one hand. You'll have to set your bags down and only then find out where it is you're heading, right?
Wrong!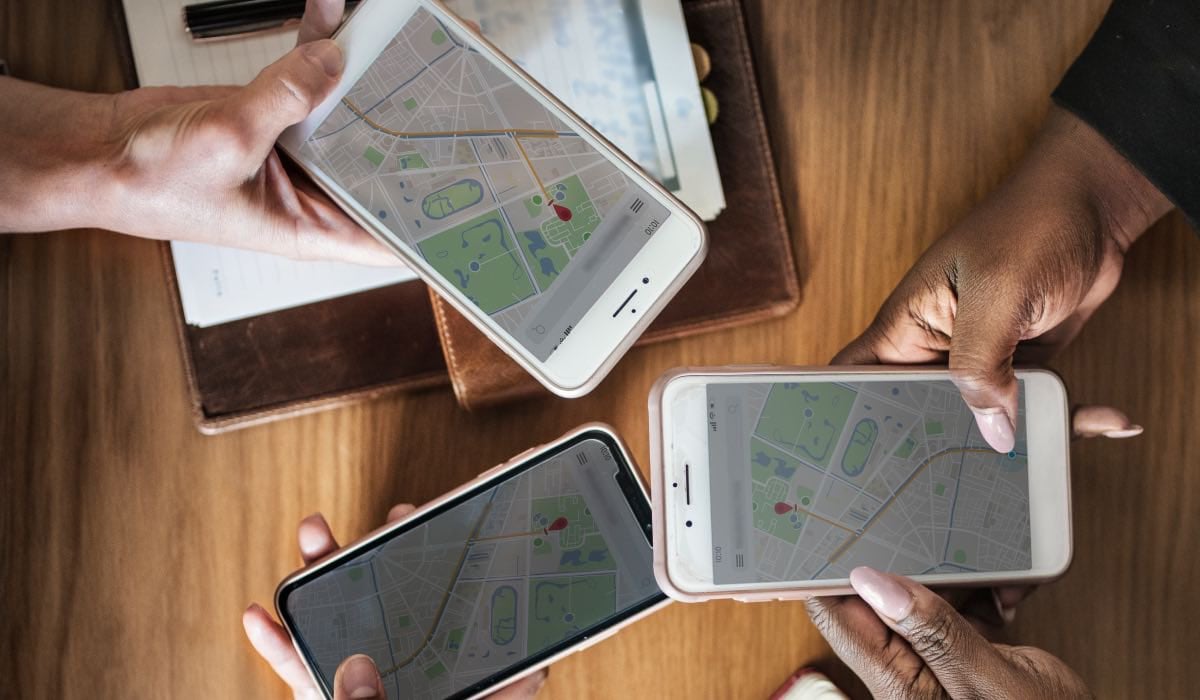 There's a really simple way to zoom in and out in the Maps app on an iPhone.
Simply open Maps and double tap on the screen. Then move your finger up to zoom in and down to zoom out.
4 | Play Similar Artists On Apple Music
Apple Music infinity music – go to song player – click the hamburger – click the infinity sign – it will play similar artists
Sometimes you want to play your favorite album and then just keep the vibe going after the last song. Other times, you want to discover similar artists.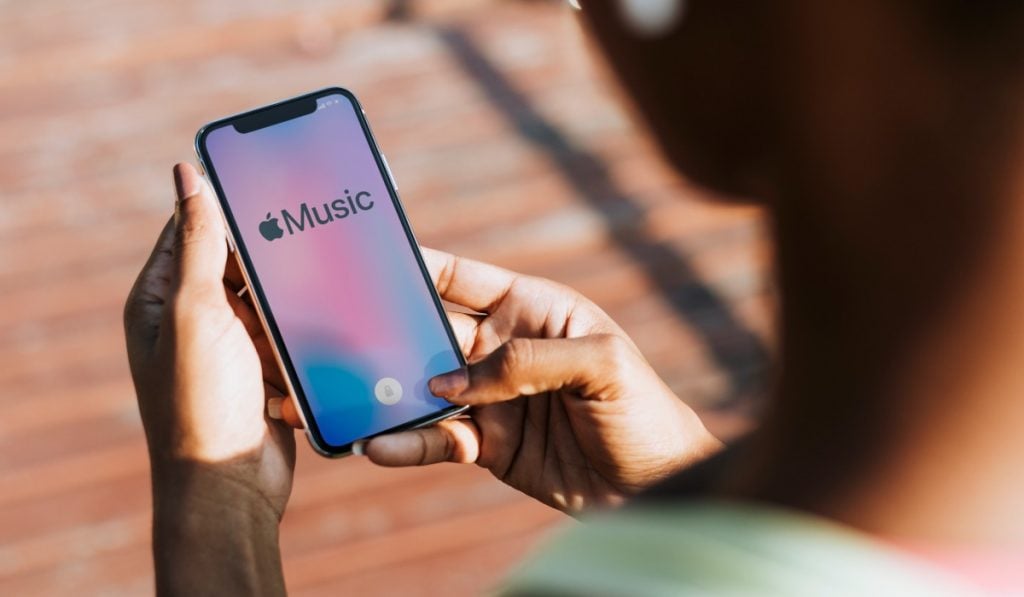 In both scenarios, there's a sweet iPhone hack to help you out!
Play a song on Apple Music.
Go to the song player.
Click the hamburger menu.
Click the infinity sign.
Now Apple Music will play similar artists!
5 | Set Music To Stop At A Set Time
Sometimes you just want to wind down for the evening. A cup of tea and your favorite album or podcast is a perfect way to do this. No screen in sight – just relaxation.
But then, you have to grab your phone and turn the music or a podcast episode off anyway. That ruins the evening as you're eventually ending up glued to your iPhone anyway. But then again, you can't just have music on endlessly – you have to go to sleep, after all!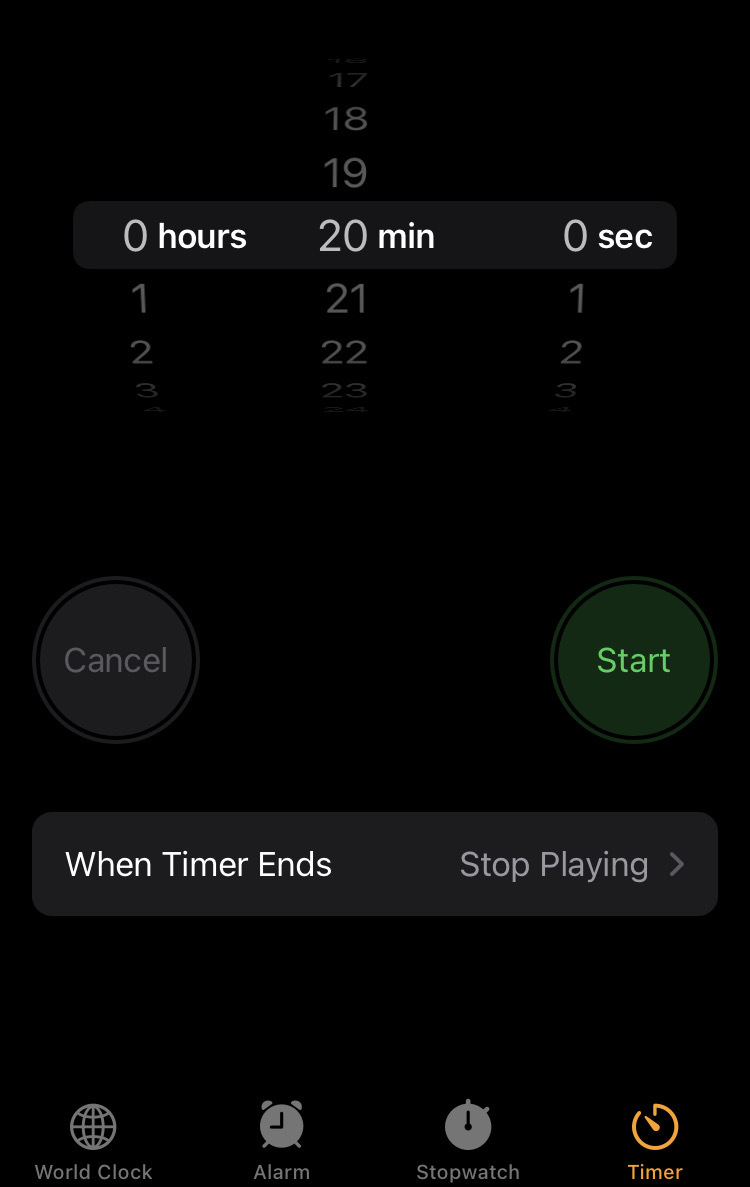 The second of the music-based iPhone hacks will allow you to schedule sound playback to stop:
Go to Clock.
Choose Timer in the bottom-right corner.
Set the timer for when you want music to stop.
Click 'When Timer Ends'.
Go all the way down.
Choose 'Stop Playing'.
If you're using Podcasts app, there's an alternative method:
Play a podcast episode.
Click Sleep Timer.
Set the time you want playback to stop, OR…
Choose 'When episode ends' option.
6 | Use Apple TV With Your iPhone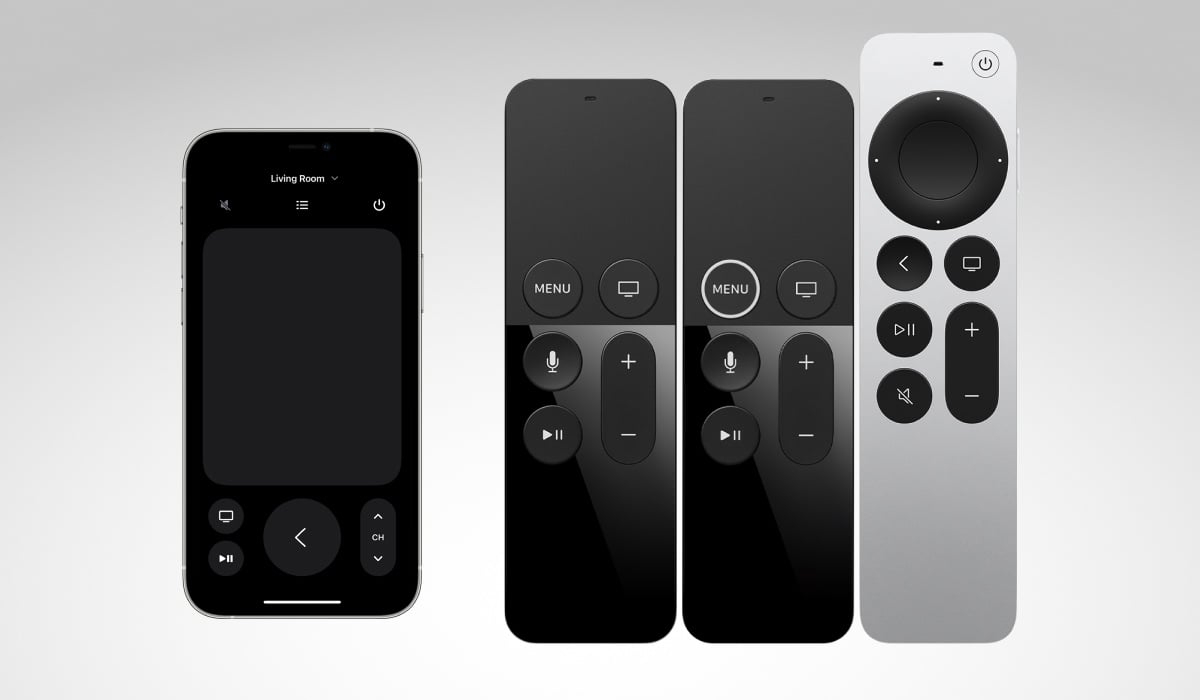 Apple TV is a top-of-the-line streaming device. It comes with a huge choice of apps and incredible functionalities, especially if you're already an Apple-head.
It also comes with a remote. And well… remotes get lost very easily.
Luckily, you can use your iPhone as a remote for an Apple TV.
How to use Apple TV remote on iPhone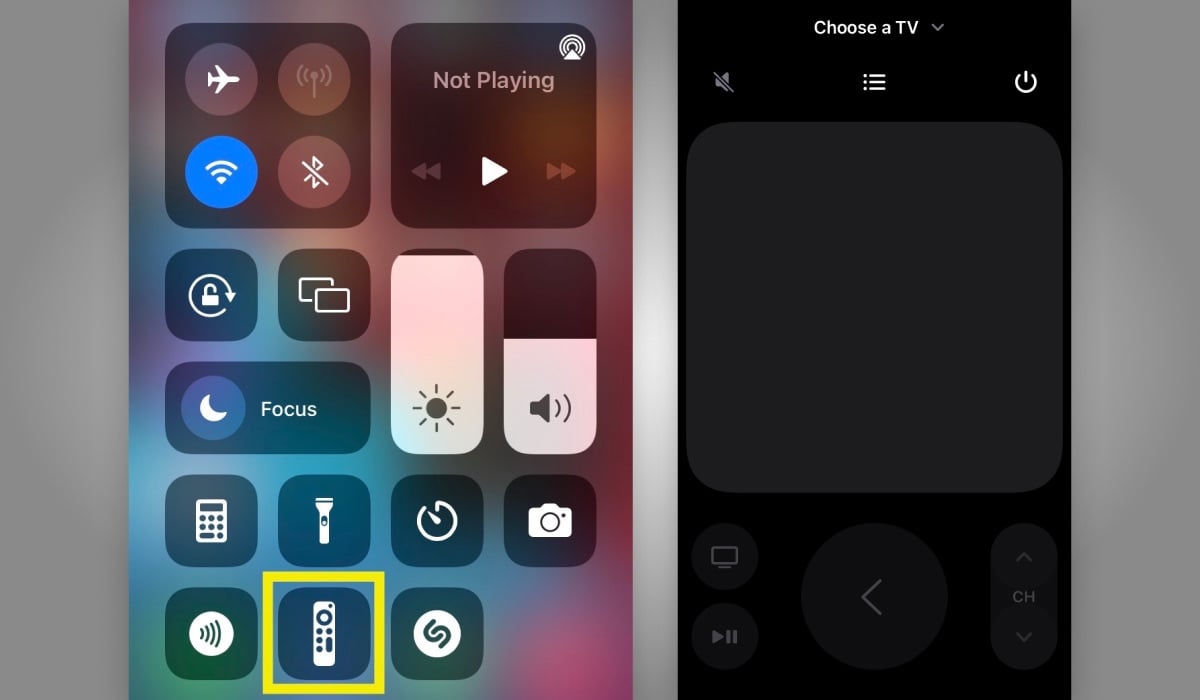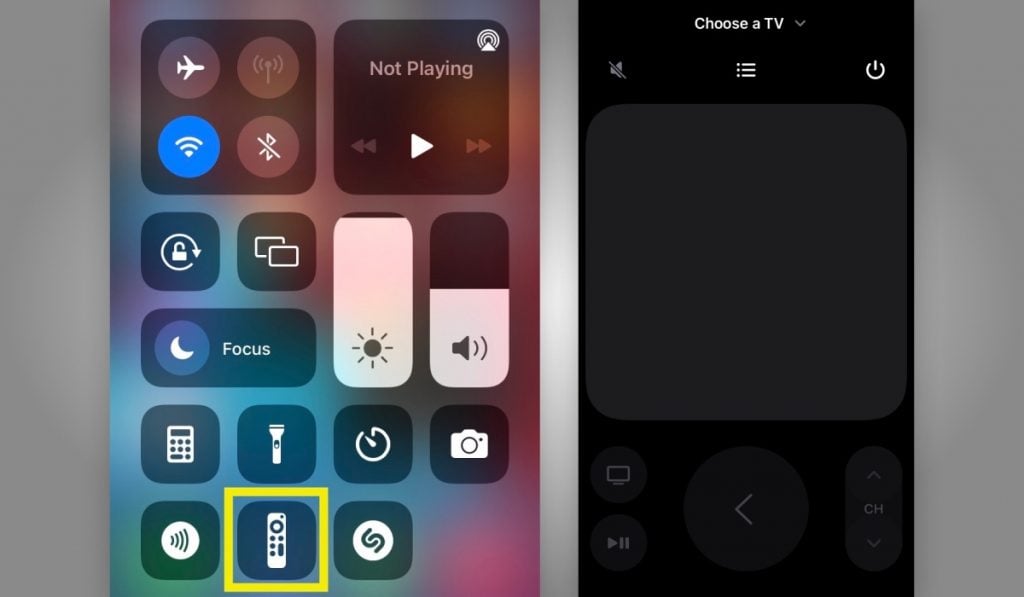 Swipe up from the bottom of your iPhone screen.
Click the remote icon in the toggle menu.
Make sure your iPhone and your Apple TV are connected to the same WiFi.
Connect remote to your Apple TV device.
7 | Save A Physical Document As PDF
Sometimes you get a letter or a form that you want to save digitally. Or maybe you want to save a chapter of a book to have it on your iPhone.
In the past, that would require an expensive scanner. Or at least a trip to your local library.
Here's how to do it with an iPhone that you already have in your pocket!
Open the Notes app.
Open a new note.
Click the camera icon.
Click 'scan document'.
Crop the scanned document.
Click 'Keep Scan'.
Press 'Save' in the bottom right corner.
This will save the document as a PDF, which you can later easily share.
8 | Get Haptics On An iPhone Hack
Haptic feedback is the small vibration reaction anytime you type on your phone keyboard. It makes typing feel more natural, in the same way pressing buttons on a laptop keyboard does.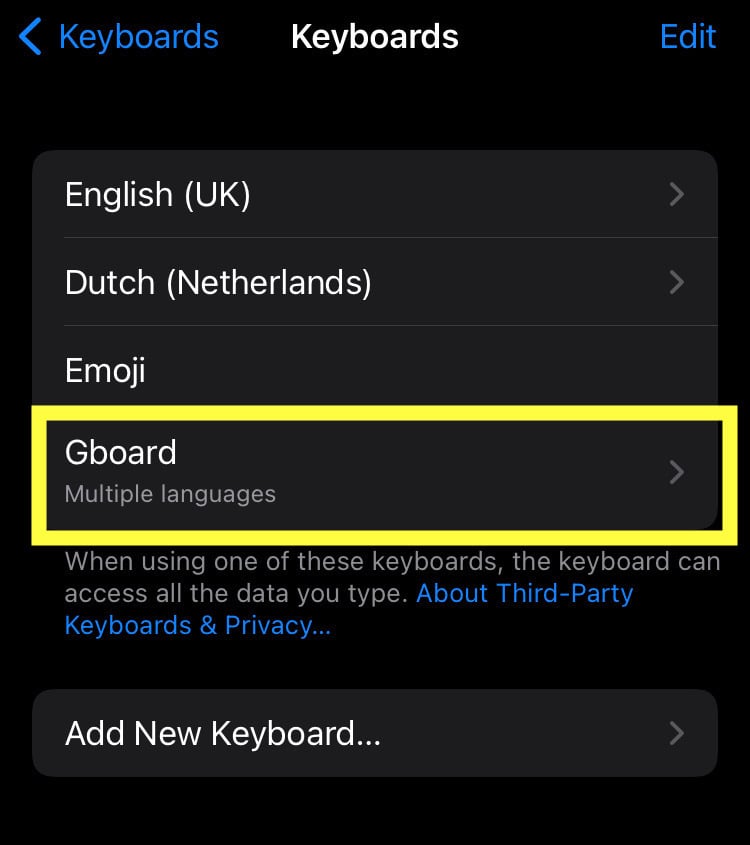 The problem is, iPhone doesn't have haptic feedback support. It makes typing with an iPhone keyboard feel odd.
Luckily there's an iPhone hack to help you with that! Here's how to get haptics on your iPhone:
Go to the App Store.
Download and install Google Gboard app.
Go to Settings – General – Keyboard – Keyboards.
Choose Gboard.
Click 'Allow Full Access'.
Open the Gboard app.
Go to Keyboard settings.
Click 'Enable haptic feedback on key press'.
Go to any app that involves typing – iMessage, Notes, Safari, etc.
Press and hold the globe icon on the keyboard.
Choose Gboard keyboard.
9 | Download A Map To Your iPhone
While this is not exactly one of the hacks that's exclusive to iPhone, it's still incredibly useful.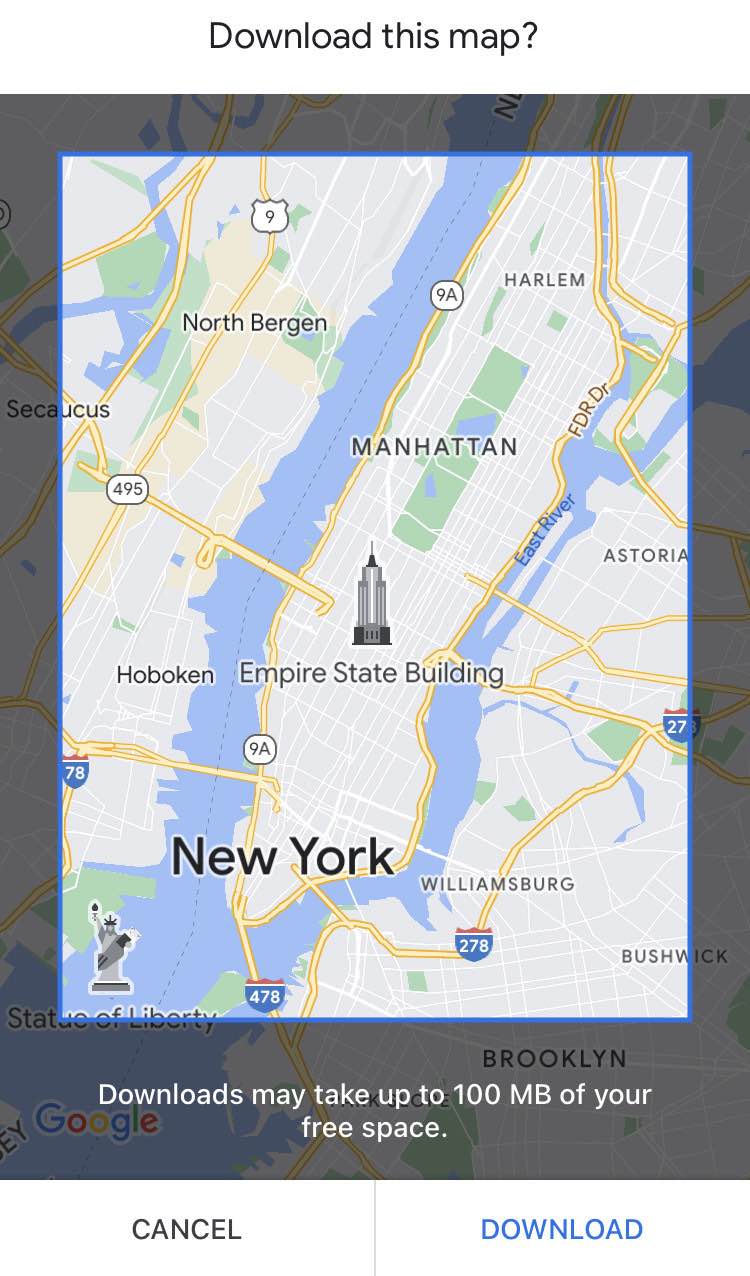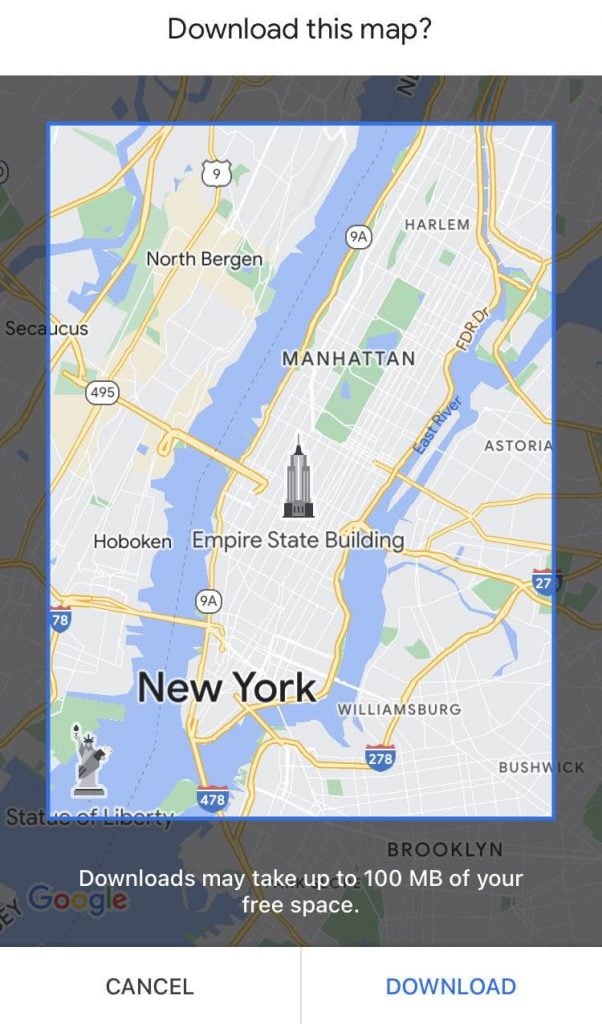 Did you know that you can get a detailed offline map of any area straight to your iPhone? You can do that with Google Maps. Here's how.
How to download a map on Google Maps?
Download Google Maps from the App Store for free.
Open Google Maps.
Type 'okmaps' in the search bar at the top of the screen.
Mark the area you want to download the map of.
Click 'download'.
Can I use Google Maps without a Google Account?
Yes! You will be able to use the search functions and GPS navigation as well as look up directions. But without a Google account you won't be able to post reviews and save locations.
10 | Go To The Top Of The Screen With One Click
Go to the top of the screen in any app, automatically – click on the top-left corner of your iPhone screen
This is one of the simplest iPhone hacks, but it's just so useful!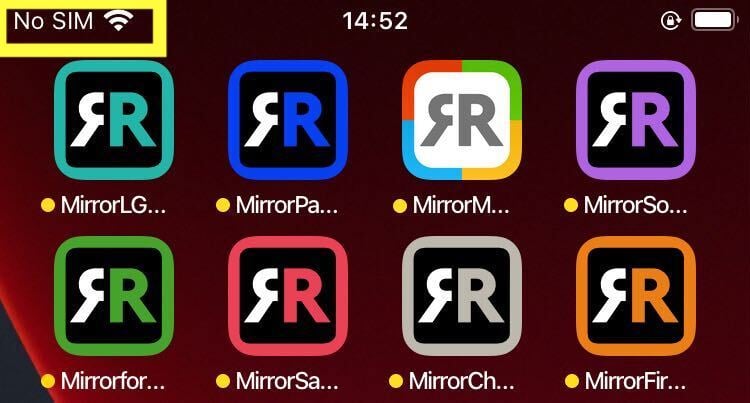 When you scroll through a particularly long website, you might not feel like scrolling all the way back to the top. Instead, tap at the top-left corner of your screen. It will instantly take you to the top of the page or app screen. That's it – hack over!
iOS 16 iPhone Hacks
Although iOS 16 is due to release in September 2022, we already know some features and possible new iPhone hacks that will come with it.
11 | Copy Edits To Another Photo
Editing pictures in Photos app is quite fun. It stops being fun when you have 20 of them to do over.
In iOS 16, you will have the option to use a nifty feature called 'Copy Edits'. Here's the how-to:
Go to Photos app.
Click on any picture and then press Edit.
Apply any edits you like.
Click the three dots icon in the top-right corner.
Choose 'Copy Edits'.
Then to paste edits:
Press and hold any photo from your library.
Click the three dots in the bottom-right corner.
Press 'Paste Edits'.
Pasting edits will also work for batch select!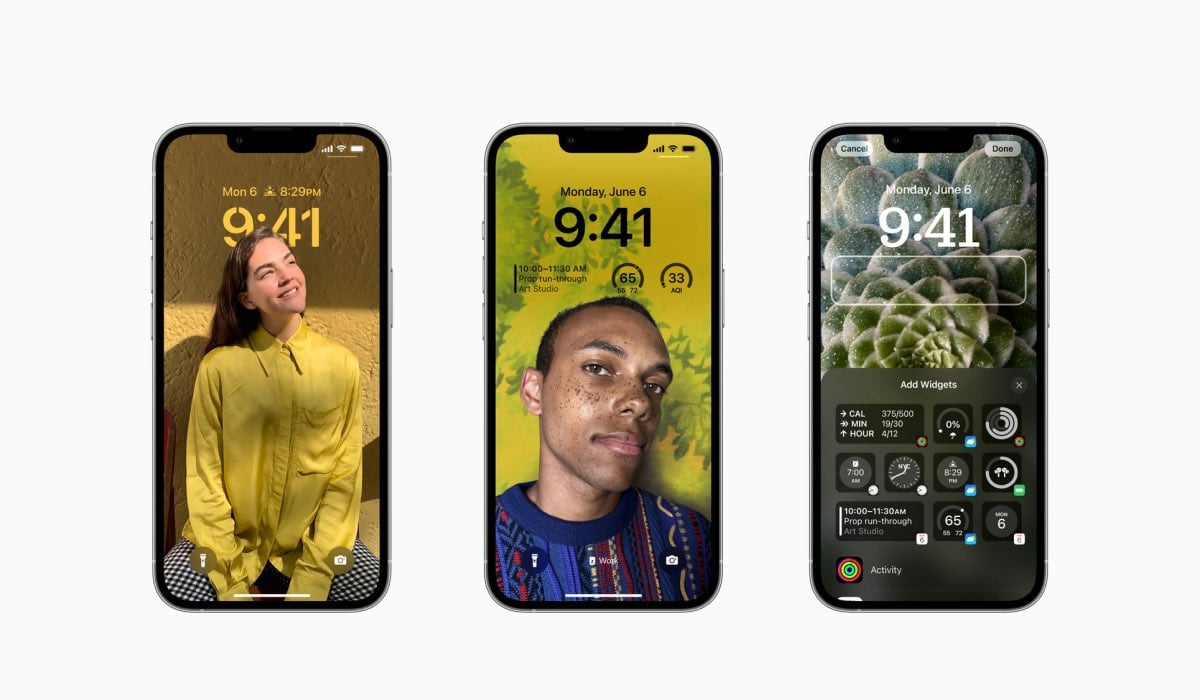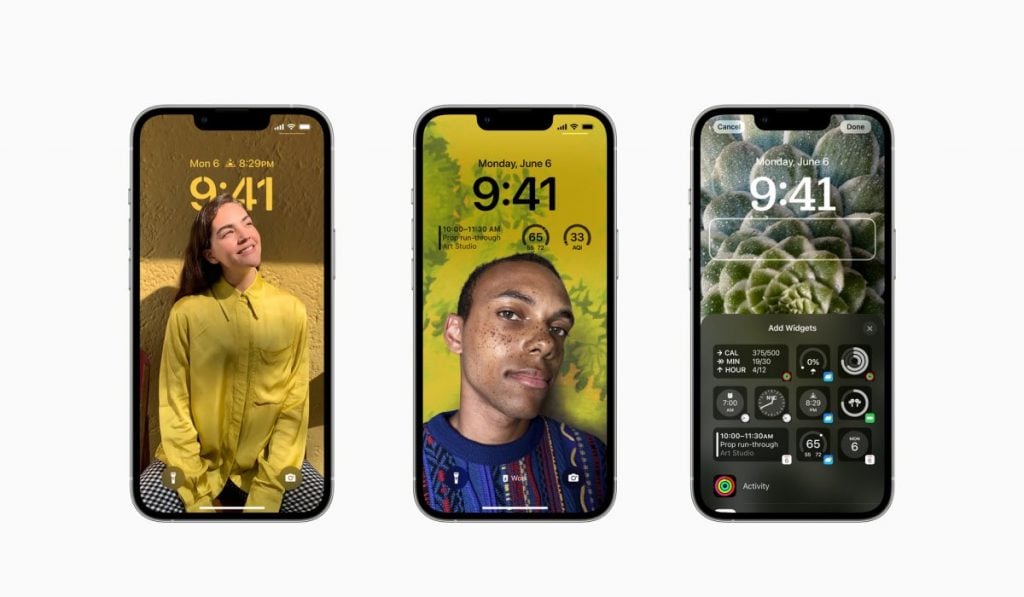 12 | Delete Duplicate Images iPhone Hack
In iOS 16, you'll be able to easily and quickly get rid of duplicate photos. These can be photos that you edited or just viewed in another app that got automatically saved. They will take up quite a lot of storage space, especially if the amount of duplicates builds up over time.
Here's how to get rid of duplicates in iOS 16:
Open the Photos app and go to Albums.
Scroll down and click Duplicates.
Merge each duplicate separately or merge them all at once.
13 | Crop Objects Out
In iOS 16, you will have the option to crop certain objects out of pictures and then save them as separate images.
To do this, you will have to go to your Camera app. Direct your lens at the object you want to take a photograph of. Press and hold your finger on it. You will see a pop-up menu – click Share and then Save Image.
You will have a cutout of the object saved in your Photos app!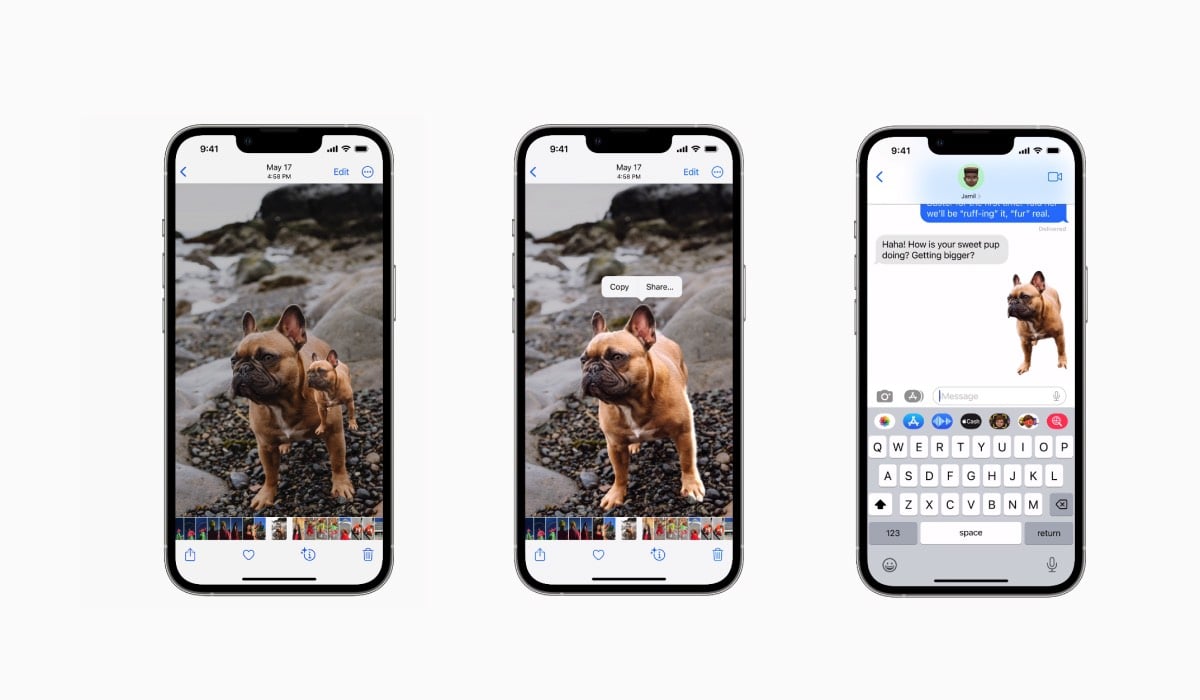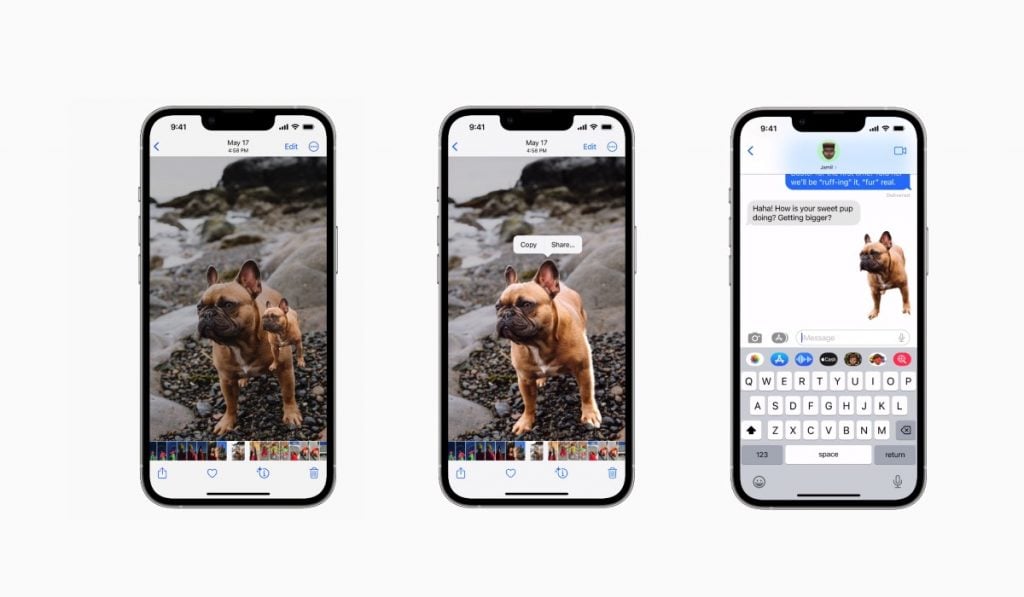 14 | Copy Text From Video
This iPhone hack is quite a game-changer. It will allow you to highlight and copy text from any video.
Let's say you're watching a video and see a piece of poetry on the screen. Instead of writing it down manually, just pause the video, highlight the poem and copy it to your clipboard. It's as simple as that!
iPhone Mechanics Hacks
15 | Look Up Images Saved From Each App
Whether you save a lot of Facebook images or TikTok videos, it's nice to have them all in one place. Sadly, they get mixed up with all of your other content in the Photos folder.

There's a simple iPhone hack that will help you get to all the saved images and videos from each app. Here's what to do:
Go to Photos.
Type in the name of the app in the search bar.
Done – enjoy!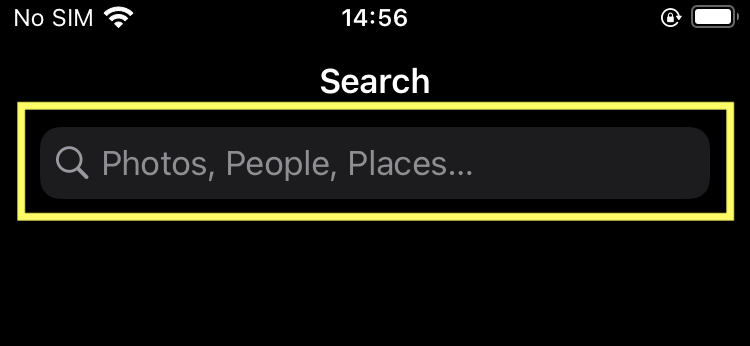 16 | Add An Extra Home Button
Although the iPhone that sits in your pocket is a powerful little machine, it's not indestructible. Starting from the notoriously fragile screen glass to all the buttons – they can easily get damaged or worn out.
Home Button is essential to the iPhone. So when it brakes, you will have a hard time using your smartphone.
Luckily there's a hack to help you with that.
Go to Settings.
Head to Accessibility – Touch – AssistiveTouch.
Tick AssistiveTouch.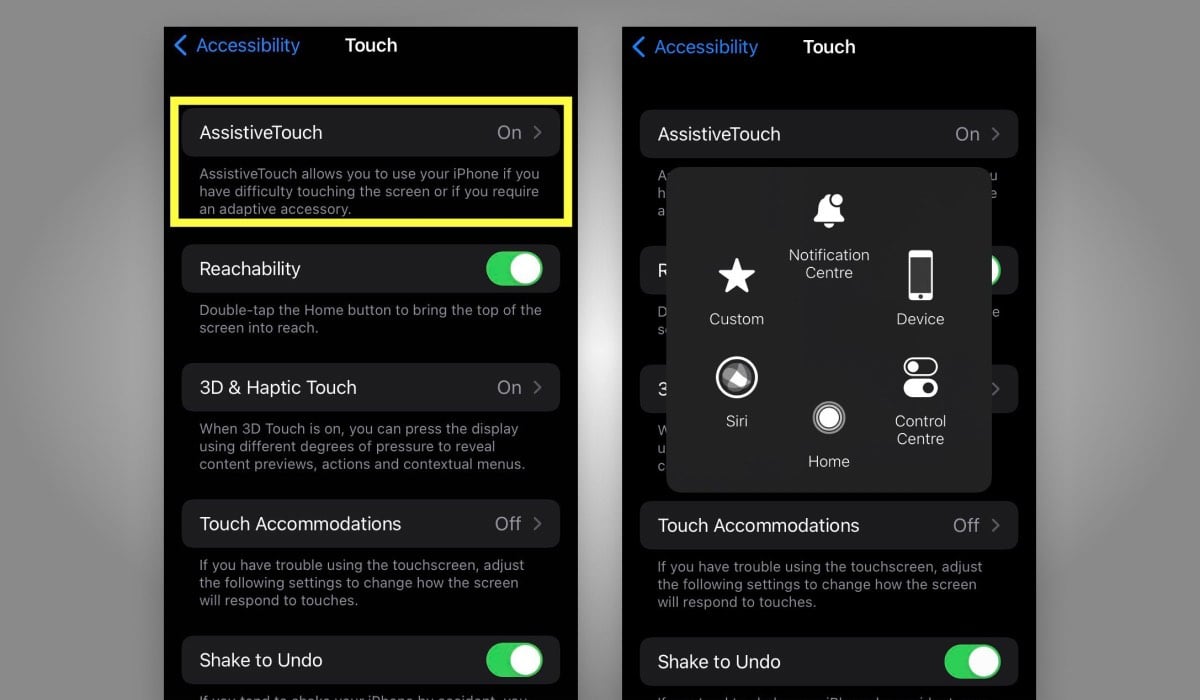 Now you'll have an extra Home Button right on your screen at all times.
Assistive Touch extra functions
When you click the AssistiveTouch Home Button you'll a panel open up containing several functions. You can edit them by going to Settings – Touch – AssistiveTouch – Customize Top Level Menu.
17 | Copy/Paste Across Apple Devices
You've probably been in this situation. You view something on your iPhone, but want to have it on your Mac as well. So you copy the link, go to a messaging app or your email, send it to yourself, then head over to your Mac and retrieve the link.
Sounds like quite a process, right?
It can actually be done in a much simpler way.
Universal Keyboard is one of those iPhone hacks that is always there, you just need to find out about them.
How does it work? When you copy something on one device, you can paste it to any other device connected to the same Apple ID.
18 | Reach The Top Of Your Screen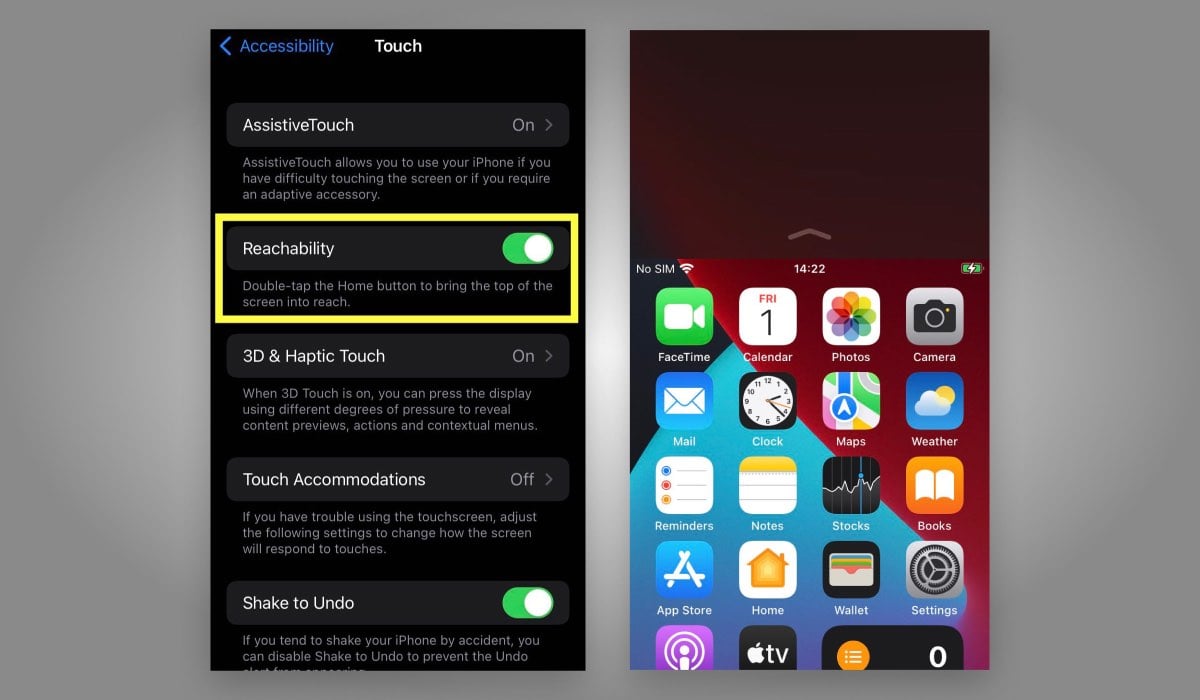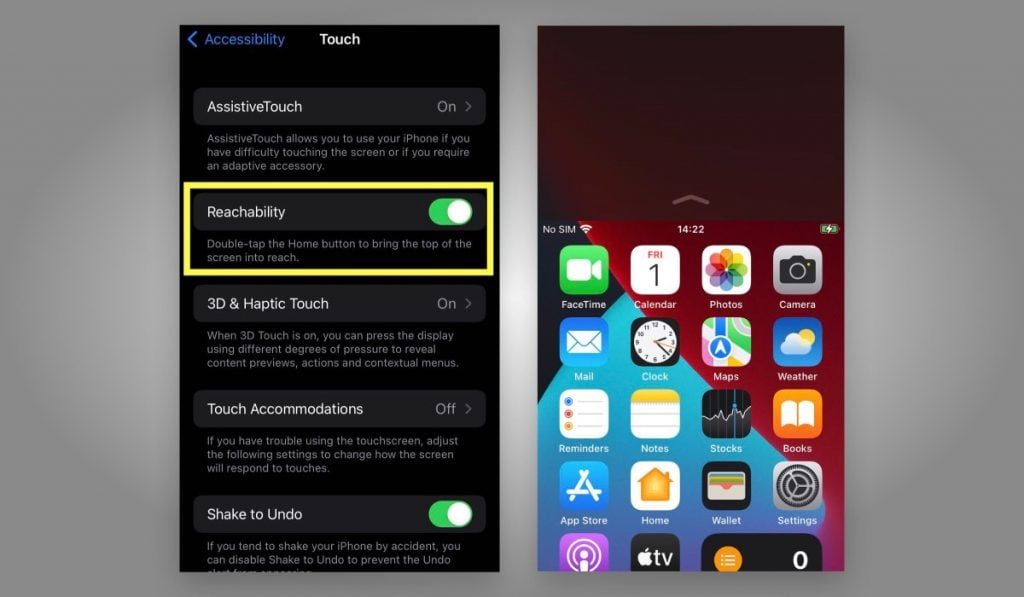 With each new model, iPhones seem to get bigger and bigger. That's bad news if you have small fingers or have any hand-related motor function impairment.
Luckily, you can remedy that with the Reachability function. Here's how to access it:
Go to Settings – Touch.
Tick off Reachability.
Go to your Home Screen.
Double tap (not click!) the Home Button – the top of the screen will get closer to the bottom.
19 | Shake To Undo Notes iPhone Hack
When you write something in Notes and decide that you don't actually need it, you have two options:
Highlight all the unnecessary text and delete it.
Press and hold the delete button.
Using both of those, you stand a high chance of deleting something you actually want to keep.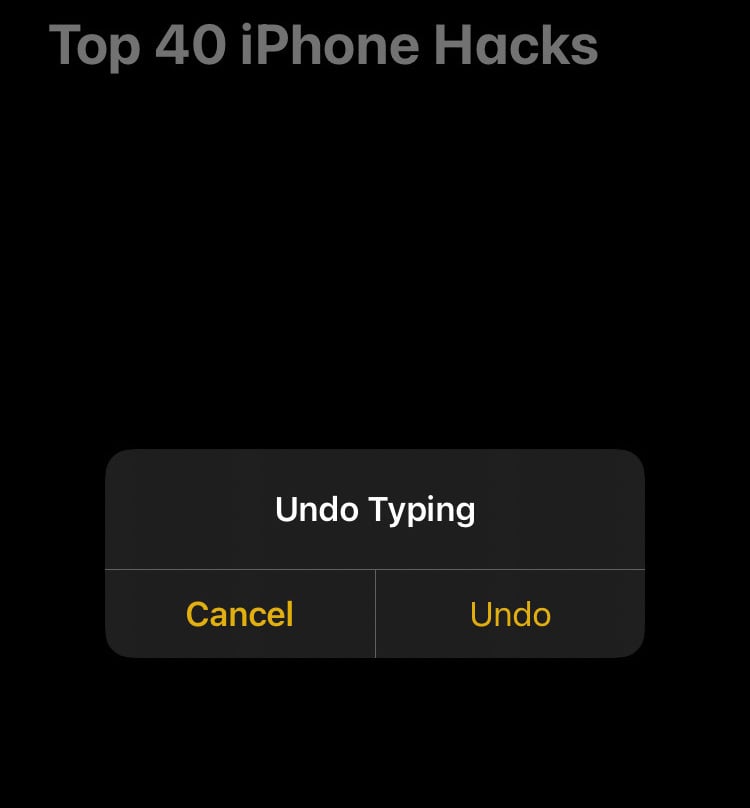 Instead, you can use the ingenious Shake to Undo function. Here's how:
Shake your iPhone while in Notes.
Tap Undo on the pop-up screen.
You can also bring deleted content back:
Shake your iPhone while in Notes.
Tap Redo on the pop-up screen.
20 | Recognize Songs Playing On Your iPhone
Shazam is a great tool that allows you to recognise the song that's playing on the radio. Simply turn the app on and stick it next to a speaker.
But did you know that you can also use it to recognize music that's played from your iPhone?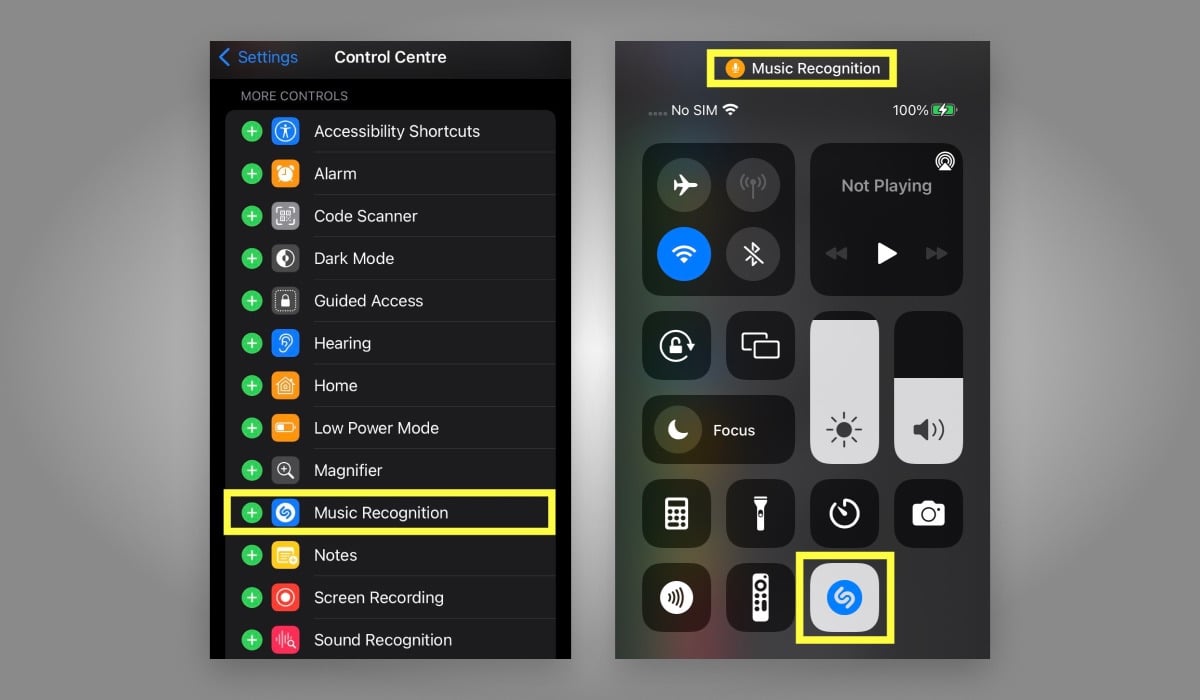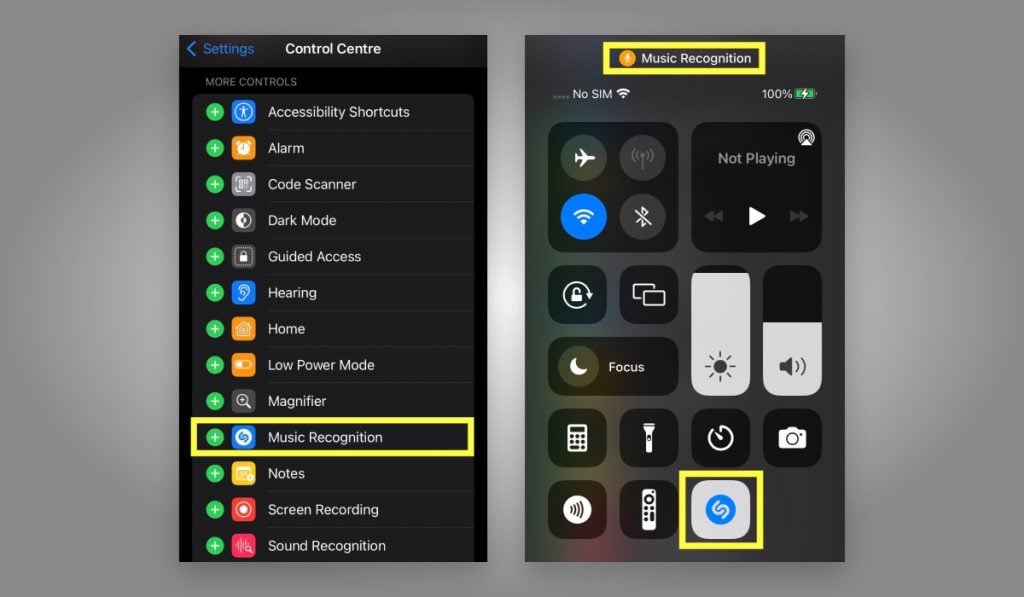 Here's how to enable this iPhone hack
Go to Settings – Control Centre.
Click on Music Recognition from the More Controls list.
Play some music from your iPhone.
Swipe up to toggle the Control Panel.
Click the Shazam icon.
Then, your iPhone will recognize the song and the artist. It will appear as a pop-up notification, as well as saved in your Shazam library.
21 | Get An Extra iPhone Button
Did you know that the apple on the back of your iPhone is more than just an iconic logo? It can be turned into a fully-fledged button!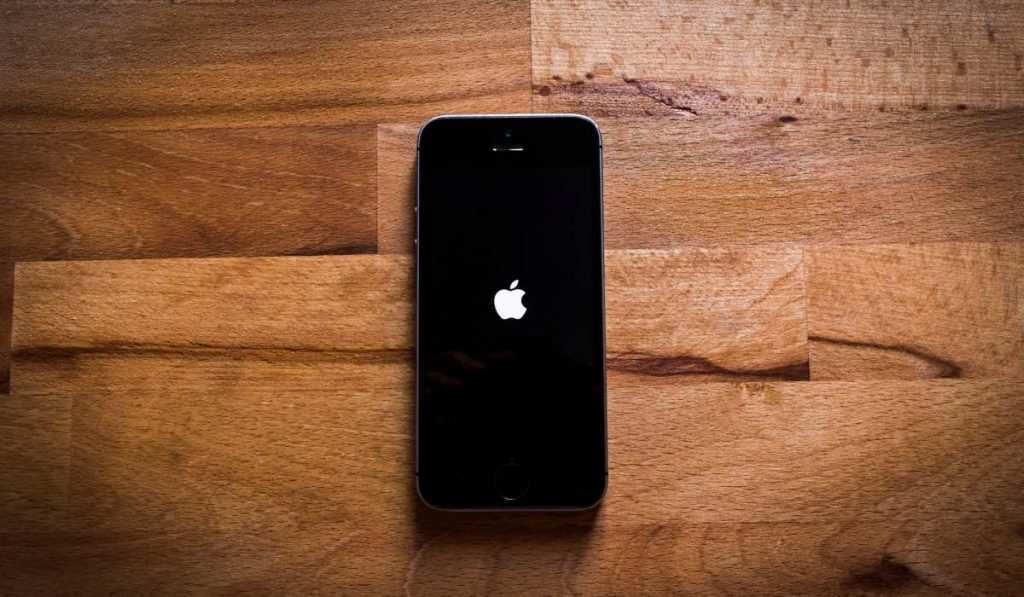 How to enable the extra button iPhone hack
Go to Settings.
Head to Accessibility – Touch – Back Tap.
Pick a function the apple with perform after a double and triple tap.
22 | Find iPhone Easily Hack
You've most likely been in a situation where you just couldn't locate your iPhone. It has a tendency to slip into the crack of the sofa or hide in a pile of laundry.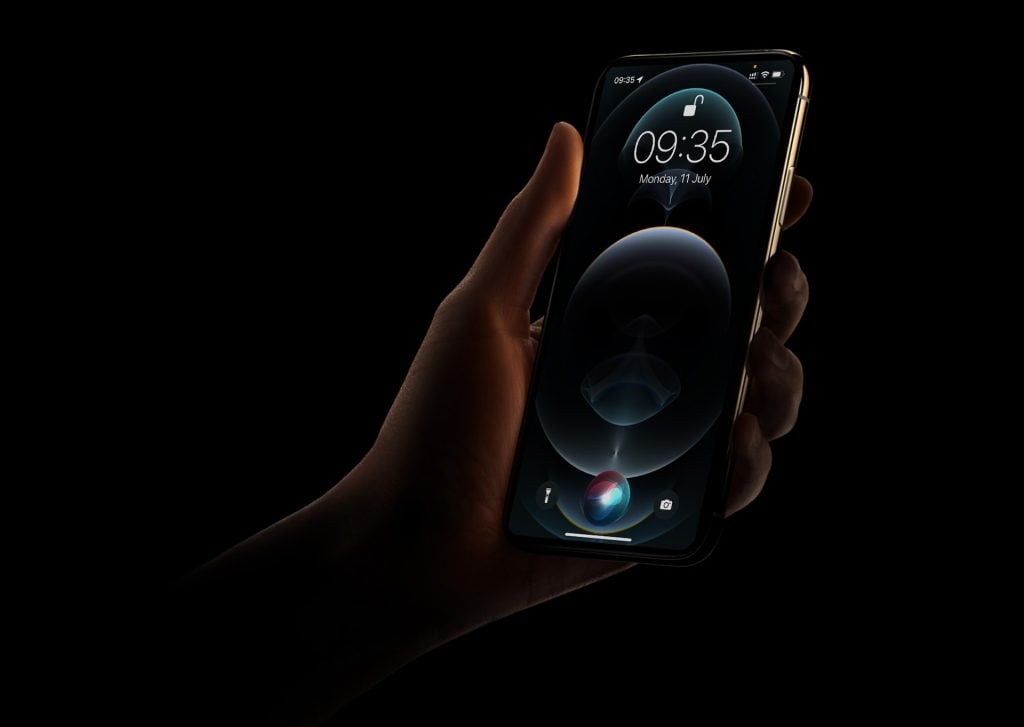 Here's how to find it with one of the most obvious, yet surprising iPhone hacks:
Set up Siri by going to Siri & Search – Listen for "Hey Siri".
Tick 'Allow Siri When Locked'.
Now anytime you can't find your iPhone, do the following:
Say the command – 'Hey Siri, turn Torch on'.
Move around the area if Siri doesn't catch your voice and repeat the phrase.
There's a high chance that you will see the flashlight peeking through your sofa!
23 | Hide Entire Home Screen Segments
Sometimes you have an entire Home Screen page full of apps you don't use on the regular basis, but kind of still need. Maybe that's a page with your mobile games? Or with a bunch of wellness apps you go through once a week or so.
The thing is, they make your Home Screen navigation a little bit harder. Here's how to hide them, so that they're not getting in your way:
Go to Home Screen.
Get into the jiggle mode by pressing and holding your finger over an empty area.
Click on the dots on the bottom of the screen, just above the quick choice menu.
Mark off the pages you don't want to appear on your Home Screen.
Bring them back anytime by marking them back on.
24 | Change Default Browser To Chrome On iPhone
Some people like apples, some prefer oranges. Same with browsers – some would just rather use Chrome over Safari on their iPhones. Unfortunately, Safari is the default browser on all Apple devices.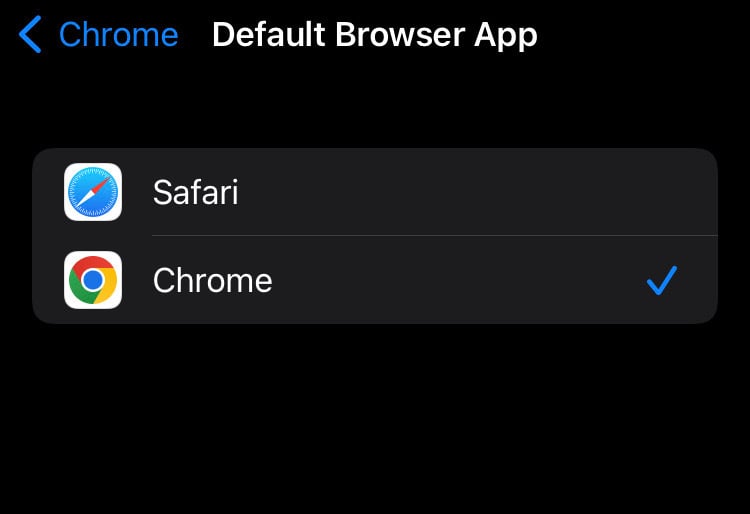 If you're one of those people, read on to find out how to change your iPhone's default browser to Chrome:
Download Google Chrome from the App Store for free.
Go to Settings – Chrome.
Click 'Default Browser App'.
Click 'Chrome'.
You can hide photos on your iPhone. To do this, go to any photo, click the share button and scroll down to the 'Hide' option.
The photo will now live in the Hidden album. To access it, go to the Albums tab in the Photos app, scroll down and press the 'Hidden' option. From there, you can unhide the photo in the same way.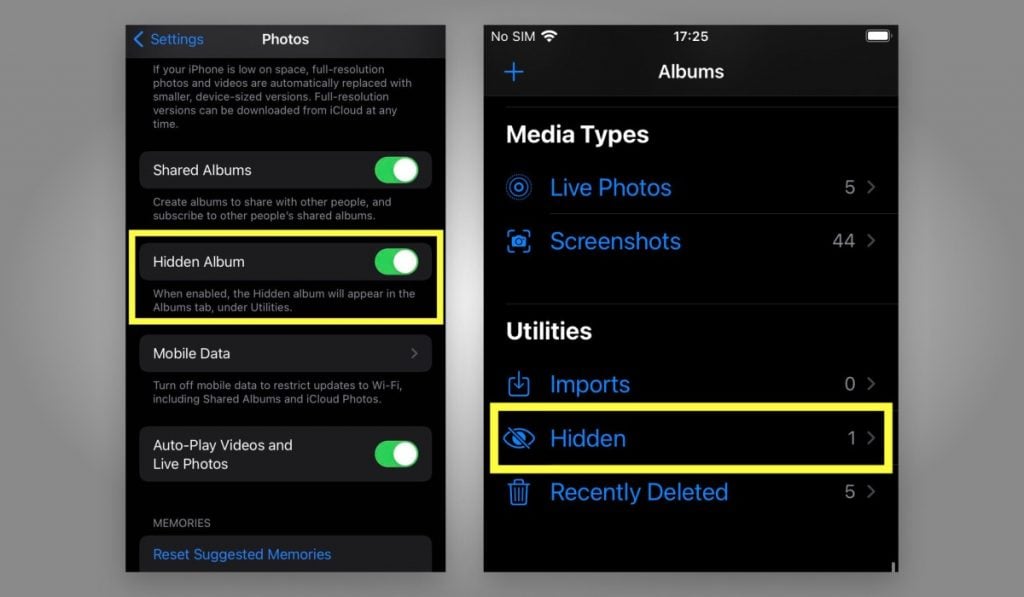 But pretty much everyone knows about this function. How can you hide your photos even better? Here's how:
Go to Settings – Photos.
Tick off 'Hidden Album'.
With this simple iPhone hack, the hidden album option will disappear entirely from your Photos app. You can turn it back on at any moment. But your hidden photos will be a little more secure!
26 | Stack Widgets On iPhone Home Screen
Widgets are cool, right? They're the little squares or rectangles on your Home Screen that give you plenty of additional functionalities. But your screen will only fit so many of those.
How to find the balance between having the features you want and not having a cluttered screen? Widget stacking!
How to do it? Simply press and hold on a widget and then hover it around another widget. Release your finger and they will merge into one.
You can add up to ten widgets in a single space. You can edit and scroll through them.
27 | Send Screenshot Without Saving It
Let's be honest – you take screenshots mostly to send them to someone. After that, there's not much use for them and they clutter your storage.
Well, there's a way for you to send a screenshot, but without saving it! Here's how:
Take a screenshot.
Drag it with your finger.
Open your iMessage app.
Drop the screenshot.
28 | Turn Safari Screenshot Into A PDF
Usually when you take a screenshot, it will get saved on your iPhone as a PNG file. But sometimes, you might want to have a PDF. For example, you want to have a screenshot of a form and then send it further.
This iPhone hack allows you to do just that. Here are the instructions:
Open a page on Safari.
Take a screenshot.
Click on the screenshot as it appears in the bottom-left corner.
Choose 'Full Page'.
Click 'Done' then 'Save PDF to Files' and pick the location for the file.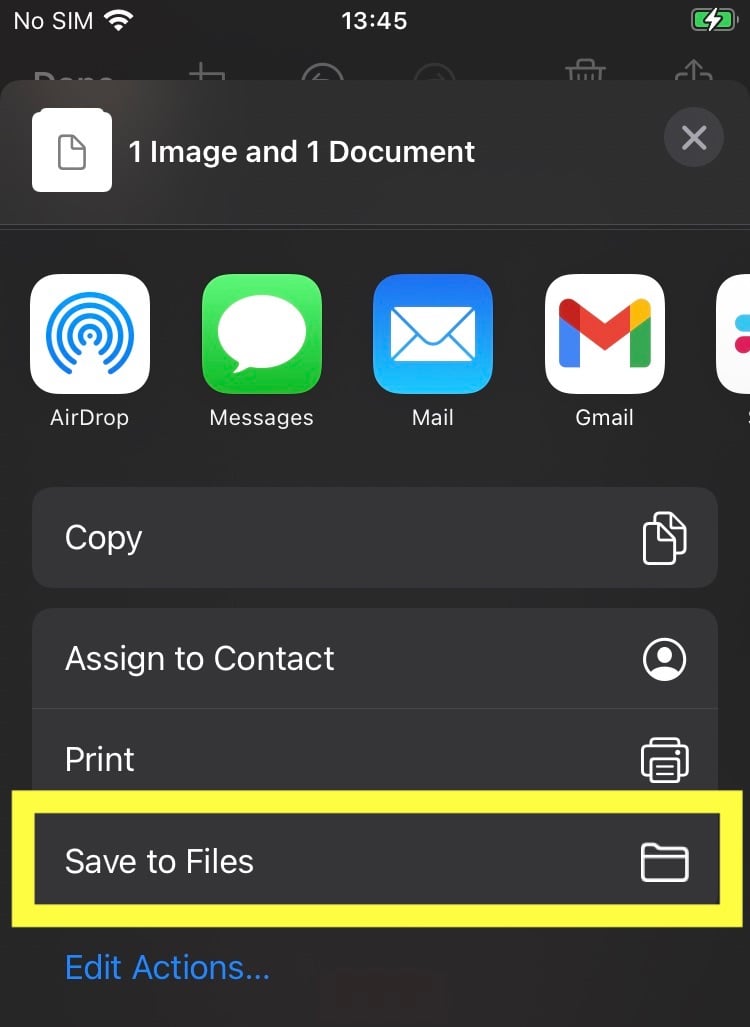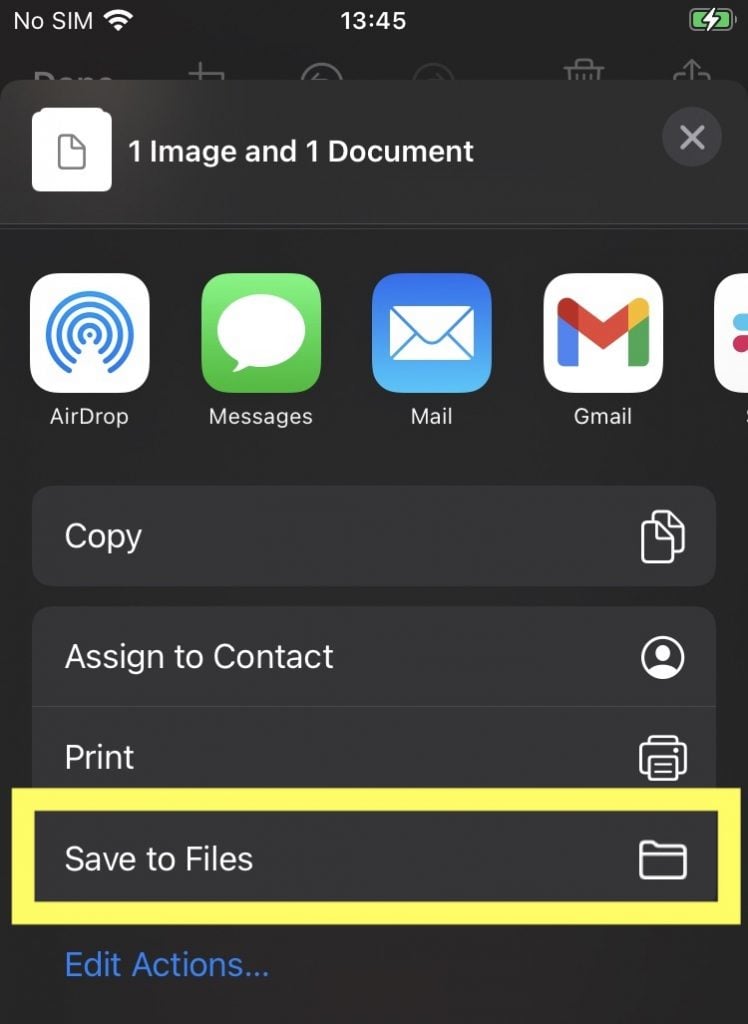 You can also crop the page screenshot as you see fit.
29 | Save Safari Page As PDF iPhone Hack
Sometimes you read a fascinating article on your iPhone and want to keep it with you. You can copy the text in its entirety, or save the link. The first option will have you reading from the Notes app, the second – well, websites don't last forever!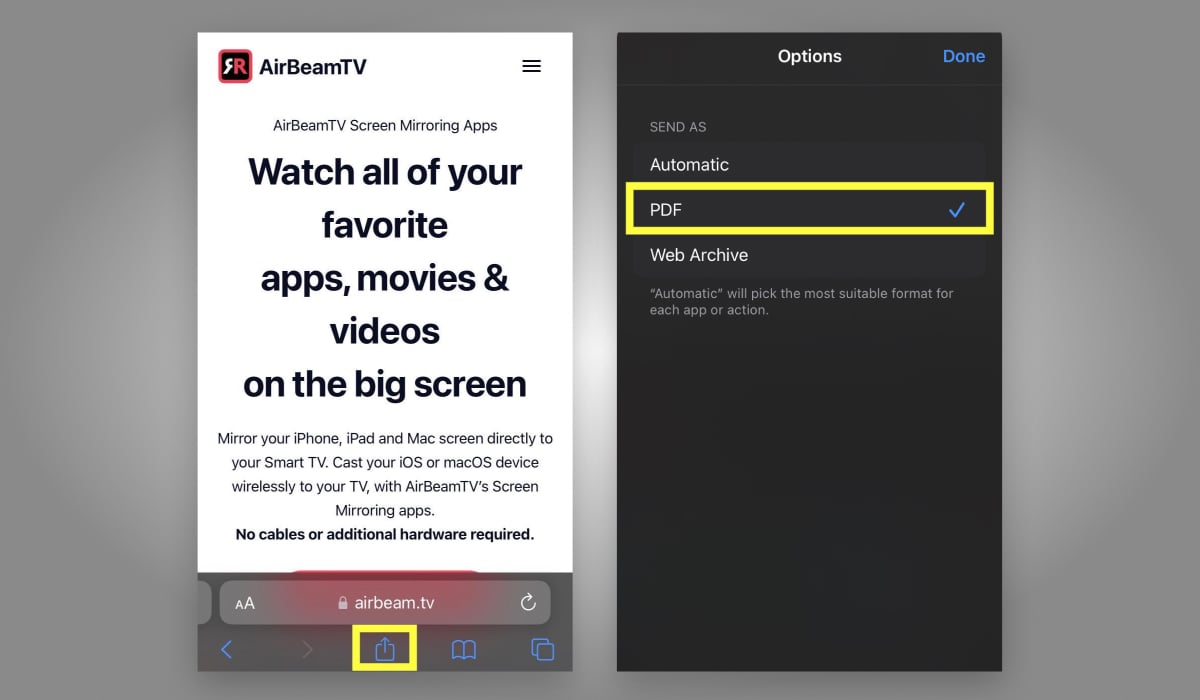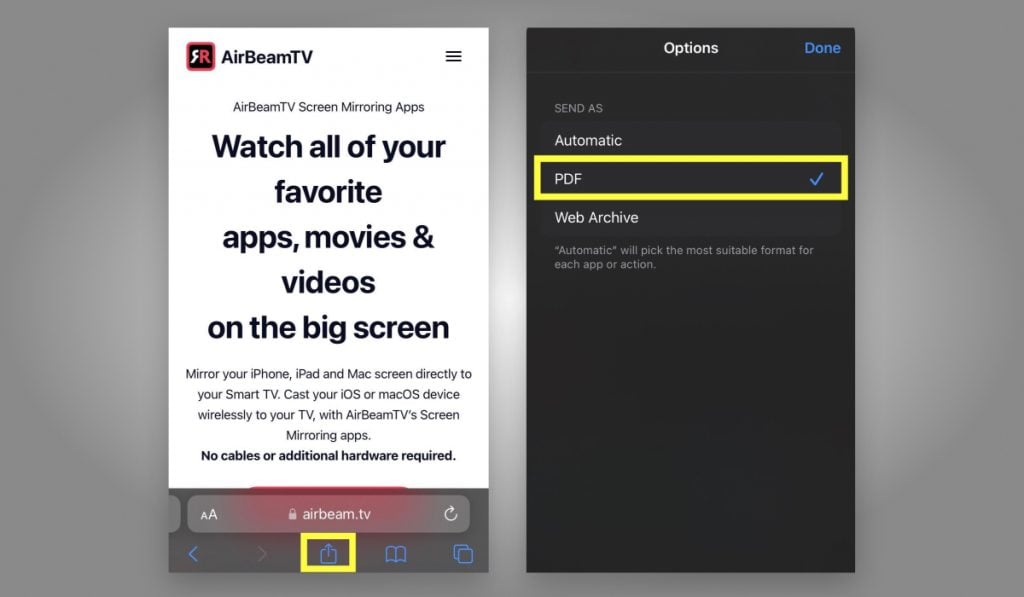 Instead, you can turn the Safari website you're reading into a PDF. That way, you will have a beautiful document with the exact website layout. Here's how to do it:
Go to a page you want to save as PDF.
Click the share button at the bottom of the screen.
Tap the small 'Options' function.
Choose 'PDF'.
Click 'Done'.
Click 'Save to Files' and then 'Save'.
Then, to access your PDF, go to Files and find your saved Safari website.
30 | Get iMessages On iPad Or Mac
If you're working on a Mac, but receive a text on your iPhone, it's annoying to have to go back and forth between devices. Instead, you can turn on text message forwarding. In this way, you'll get all your iMessages to your Apple ID-paired devices. You'll also be able to reply to texts from your laptop.
Here's what you need to do:
Go to Settings – Messages.
Turn iMessage off and then back on.
Your devices with the same Apple ID will pair.
31 | Automatic Phone Call Answers
Sometimes you're just in a zone. You're focused on work, you're cooking or maybe crocheting? Whatever it is, you don't want to be disturbed.
So when a phone call comes through and you have to throw everything down to answer it, it can get pretty frustrating, right?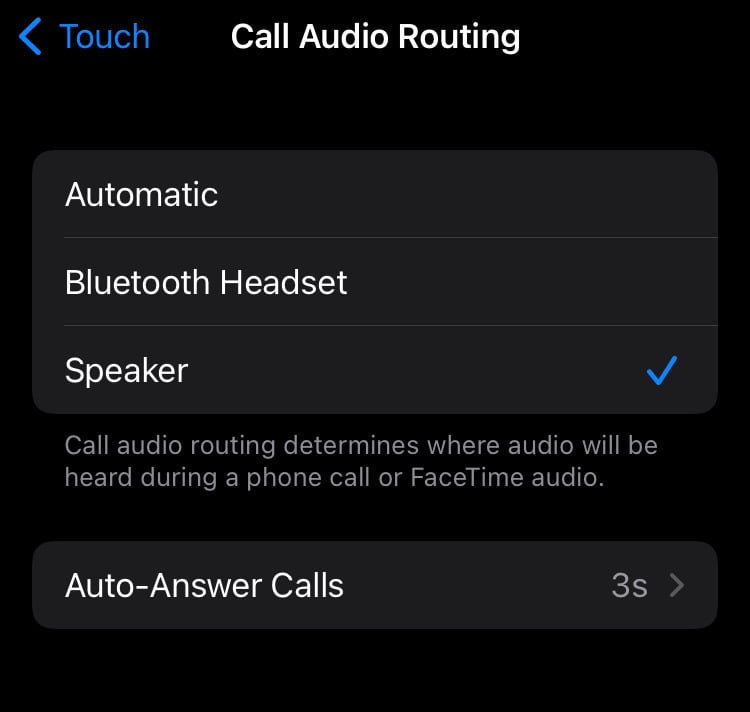 Luckily, one of the iPhone hacks involved letting your smartphone pick your phone up for you. Here's how to enable that:
Go to Settings – Accessibility – Touch – Call Audio Routing.
Pick the outlet for the automatic call pickup – automatic, Bluetooth headset or speaker.
Choose the time after which the iPhone will answer the call.
32 | Guided Access iPhone Hack
We've all been there – you want to show something to your friend on your iPhone. They grab it and start scrolling, clicking, tapping… Even when you have nothing to hide, it can be quite an anxiety-inducing thing!
To prevent that, you can use Guided Access. It's a function of an iPhone, with gives you the ability to mark areas of the screen that will be inaccessible to click on.
Here's how to use this iPhone hack
Go to Settings – Accessibility – Guided Access.
Turn Guided Access on.
Then go to Settings – Accessibility – Accessibility Shortcut, to make sure Guided access is turned on.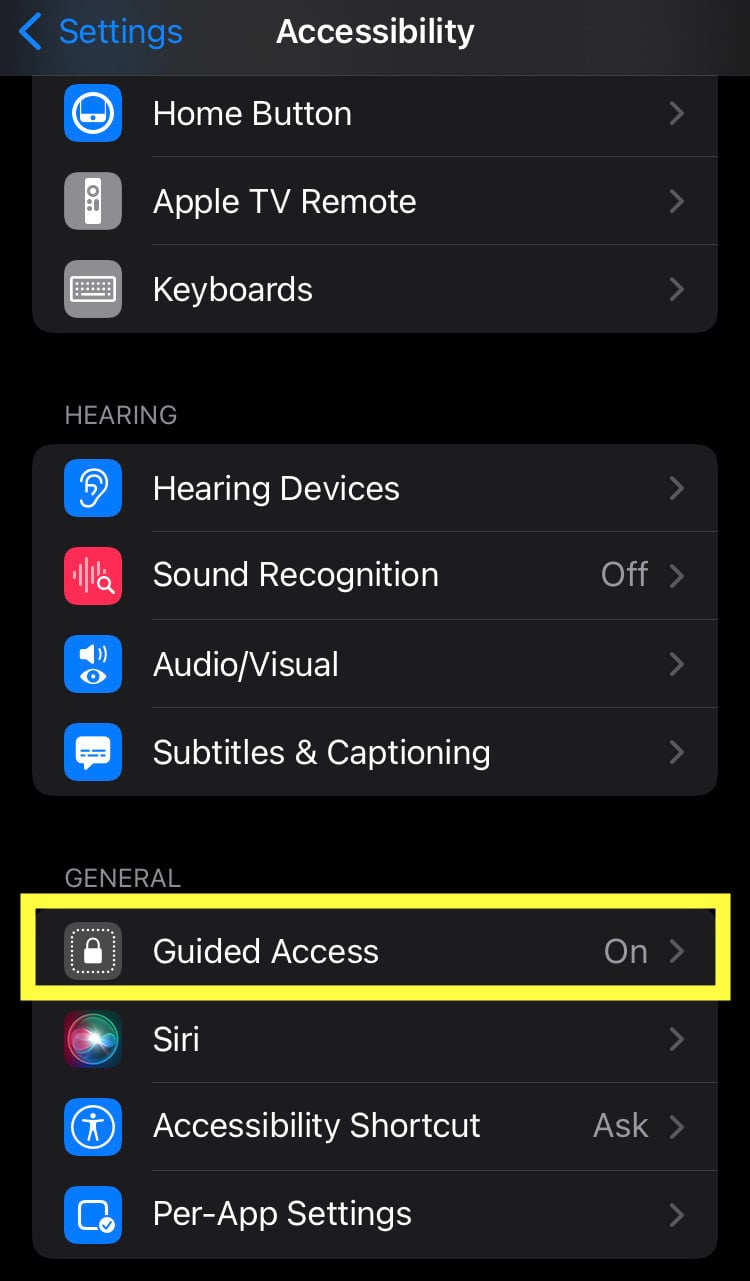 To enable Guided Access, do the following:
Triple-click the Home Button.
Tick Guided Access.
Draw around areas you don't want people to click on.
Click Start.
To edit Guided Access settings:
Triple click the Home Button.
Enter your passcode.
Edit, add or remove the inaccessible areas.
End Guided Access by clicking End in the top-left corner.
Can I use the Guided Access hack on iPhone 13?
Yes! iPhone 13, iPhone 13 Pro and iPhone 13 Pro Max all have the latest iOS version. Guided Access has been introduced with iOS 6 and has remained ever since.
How To Save Battery On iPhone – Hacks
33 | Turn Off Location Permissions
A lot of apps you'll install on your iPhone will ask you to share your location with them. Many of them will gather your location data at all times by default. That causes your battery to deplete much quicker.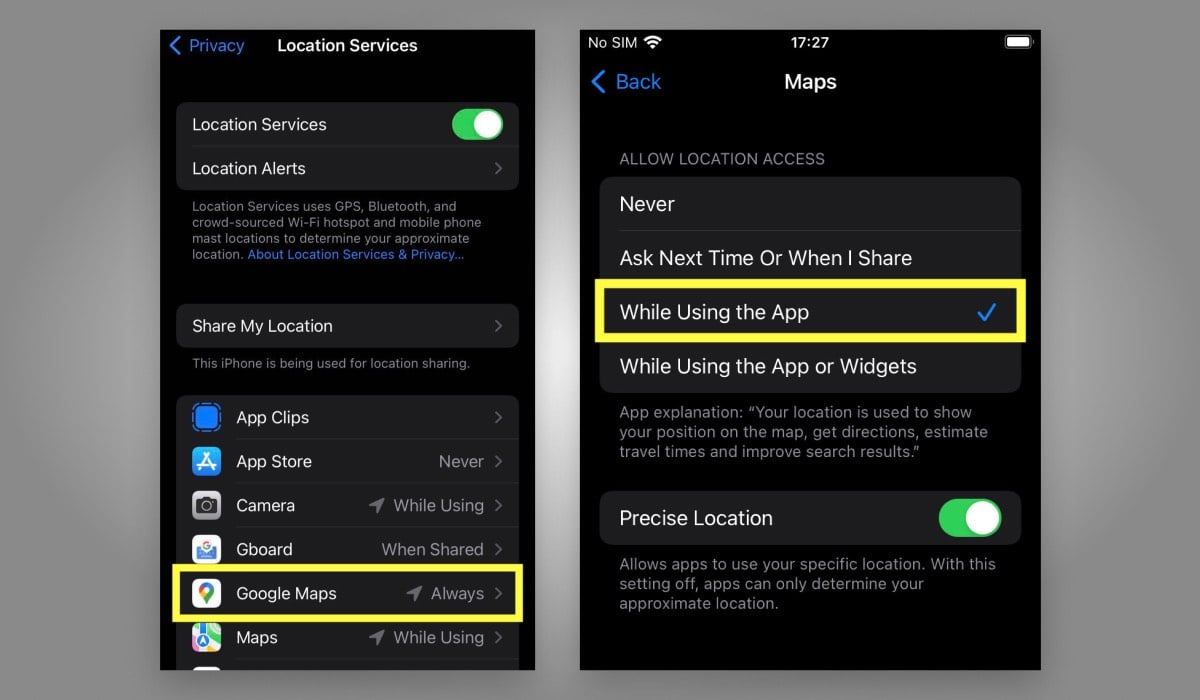 Here's how to change your app location permissions on iPhone:
Go to Settings.
Head over to Privacy and then Location Services.
See which apps have an 'Always' tag marked off.
Change it to either 'Never' or 'While Using the App'.
In this way, your iPhone will not work so hard on gathering your location data at all times, making it use less battery power.
34 | Turn Off Insight Sharing
When setting up your iPhone, Apple will ask you if you'd like to share daily insights and analytics with them. This is to help them create better products and software.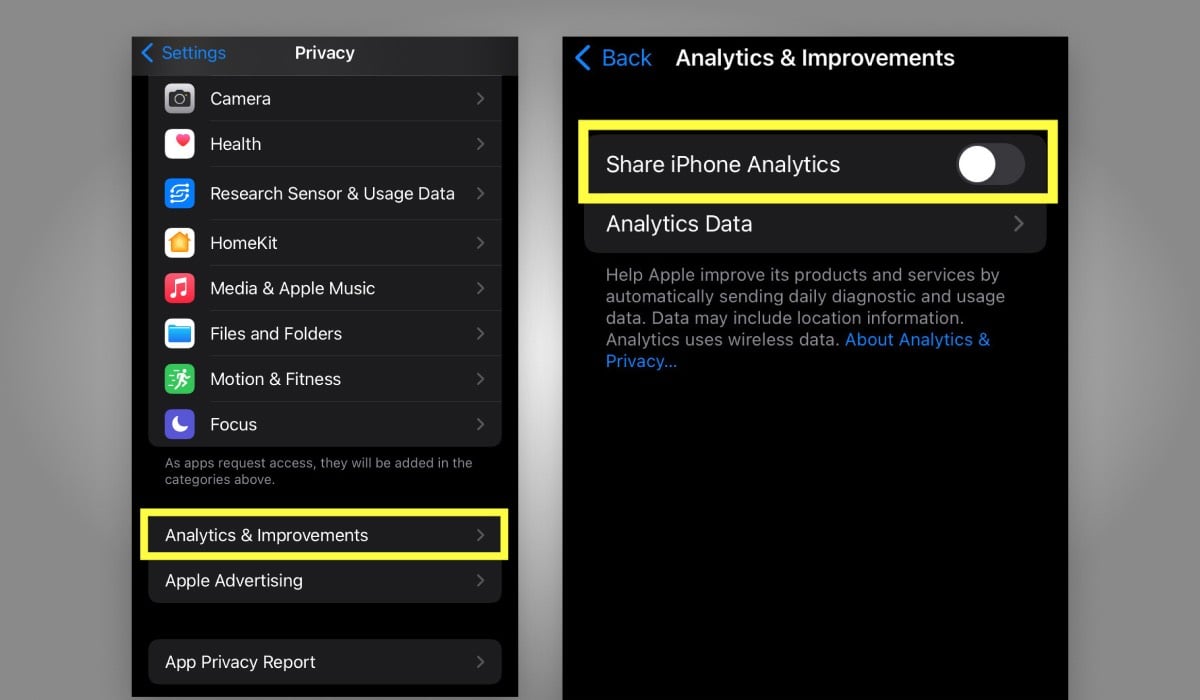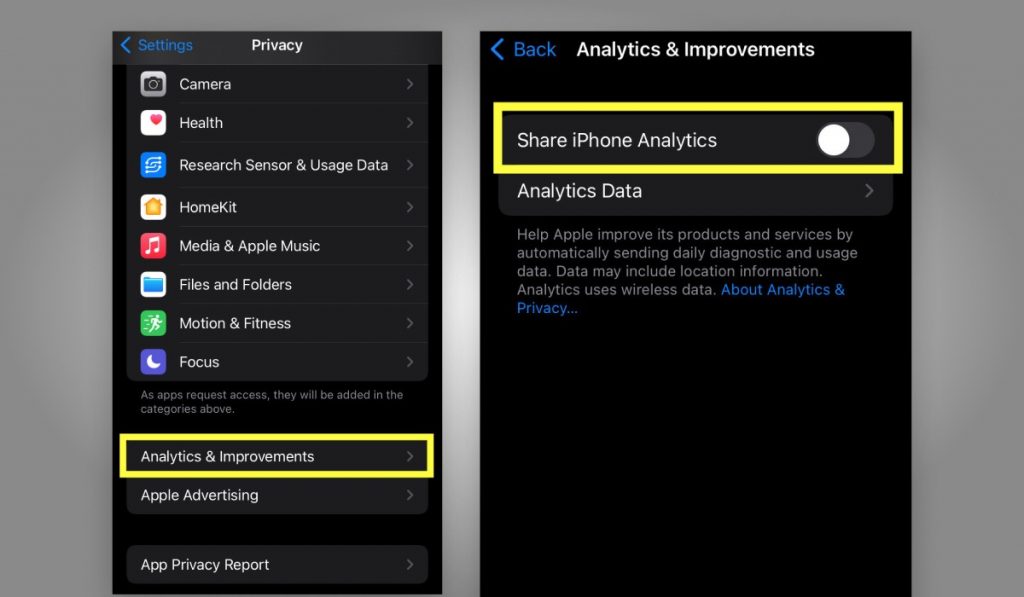 But, sharing your diagnostics costs some data and battery. Here's how to turn it off:
Go to Settings.
Head to Privacy.
Scroll all the way down to Analytics & Improvement.
Tick off the Share iPhone Analytics option.
And don't feel bad for Apple not getting your data – they will be okay!
35 | Charge iPhone With Airplane Mode On Hack
This trick will allow you to charge your iPhone quicker than usual.
When charging, turn on the Airplane Mode on your iPhone.
Why does it work? Being connected to the Internet and receiving notifications, calls or texts makes your battery deplete faster. So when you charge your iPhone that's connected to all the network services, the progress will be slower.
By enabling Airplane Mode, you take away some of the strain on your battery, allowing it to charge a bit faster.
What is Airplane Mode on iPhone?
Airplane Mode disconnects your iPhone from receiving calls and messages. It also disables any Internet connections.
All the notifications coming to your iPhone when in Airplane Mode will reach you once you disable it.
36 | Fetch New Data iPhone Hack
With the Fetch New Data function on an iPhone, you can choose how often do you want your device to check for mail. It's automatically set to 'Push', which means your smartphone will constantly check for new data to update you with.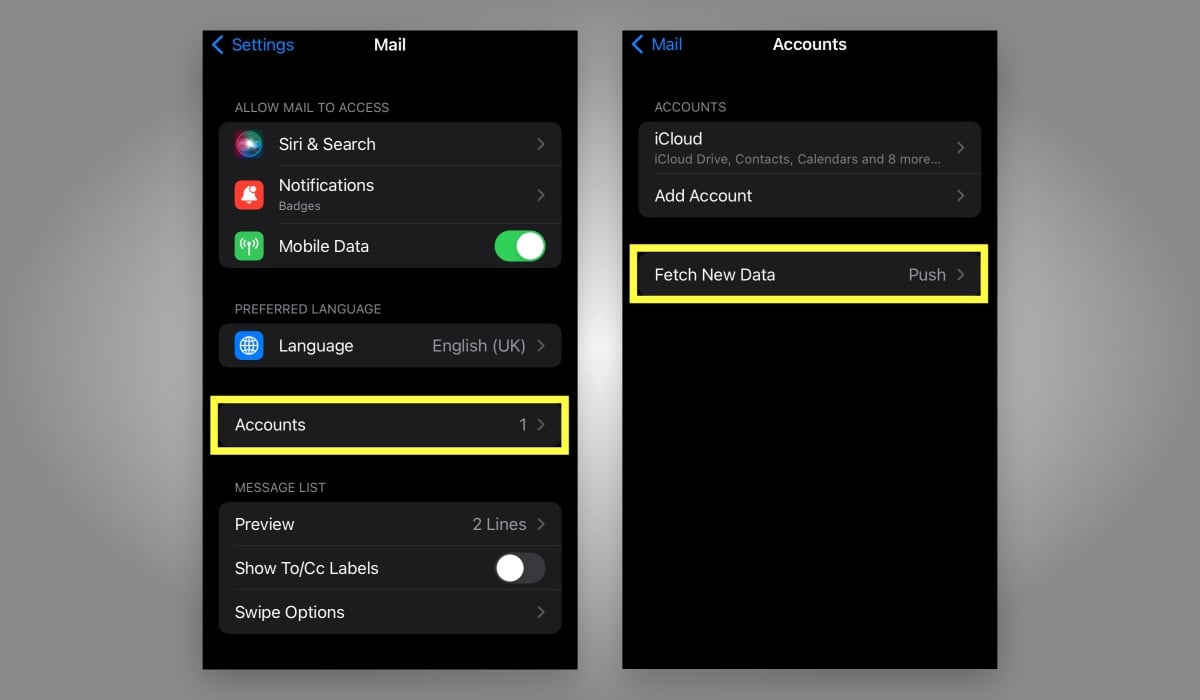 The thing is, Push drains your battery, because it stays in a constant back-and-forth with your Mail app. You can change that setting by doing the following:
Go to Settings – Mail – Accounts – Fetch New Data.
Tick off Push.
Scroll below to the Fetch section.
Set the frequency, with which your iPhone will get new data from Mail – it's set to automatic collection by default.
Pick between 15, 30 and 60 minute intervals, as well as a manual option.
37 | Background App Refresh
Background app refresh on iPhone is a function that updates your applications using the Internet. Think notifications popping up on your screen as soon as you get the message.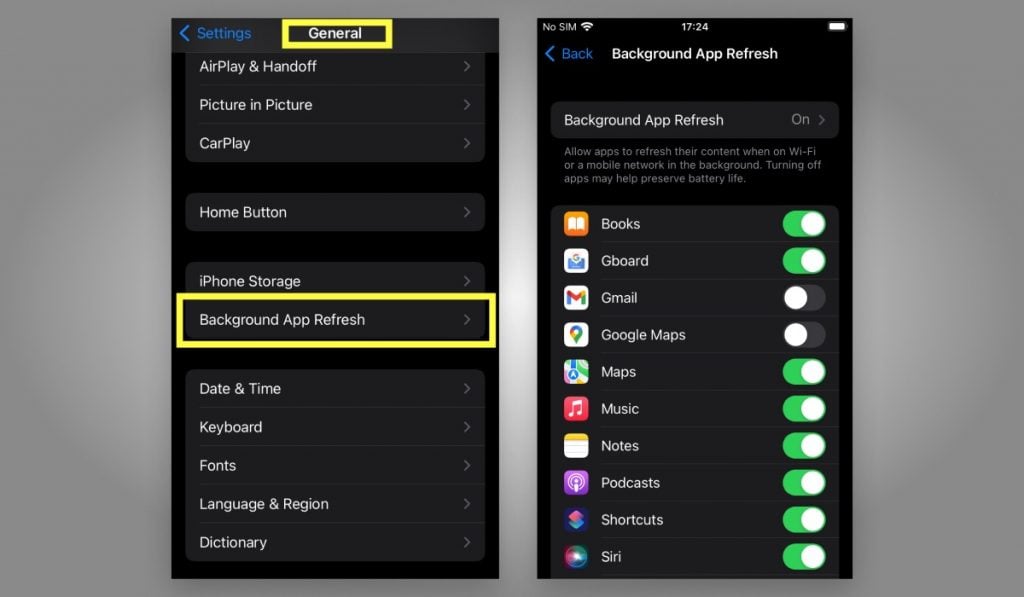 The thing is, such updates use up both data and battery. And not all apps are so essential that you need them updated at all times. While you might want to get message notifications instantly, you can definitely opt out of apps like Books, mobile games or Music!
How to turn off background app refresh
Go to Settings – General – Background App Refresh.
You can turn background app refresh entirely, allow it to only use WiFi, or both WiFi and mobile data.
You can turn off background app refresh for individual apps.
38 | Reduce Motion iPhone Hack
Whenever you open an app on an iPhone, you will see an animation of the icon getting increasingly bigger. Eventually, it turns into the app interface. Then, when you exit the app, it will 'revert' back into the icon in another quick animation. It's a little detail, but it drains your battery.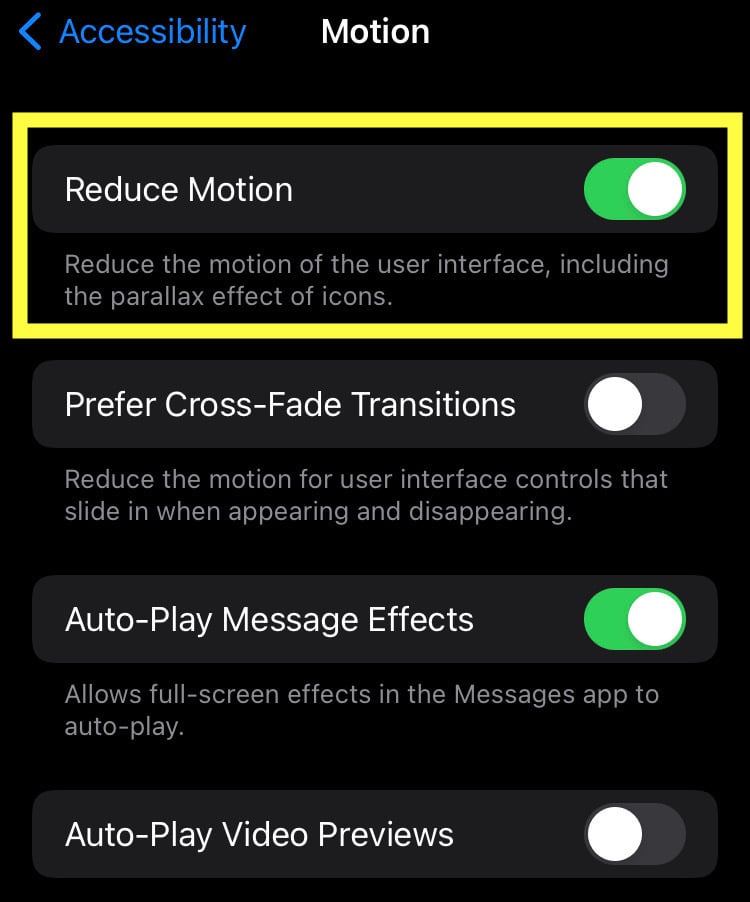 How to turn on Reduce Motion – iPhone SE, 13, 12 and older
Go to Settings.
Head over to Accessibility – Motion.
Tick 'Reduce Motion' option.
If you do that, the transition animations will be very rudimentary. But if you're looking to save battery life on your iPhone, this is one of the best hacks for you.
39 | Restart Your iPhone Once A Week Hack
We all need a fresh start every now and then. That also applies to your iPhone.
If you find your apps lagging and your smartphone being a little slower than usual, it's time to restart it. It will fix all of the crashes, unexpected exits and small malfunctions that build up in the background.
How to restart iPhone
There are three ways you can restart your iPhone.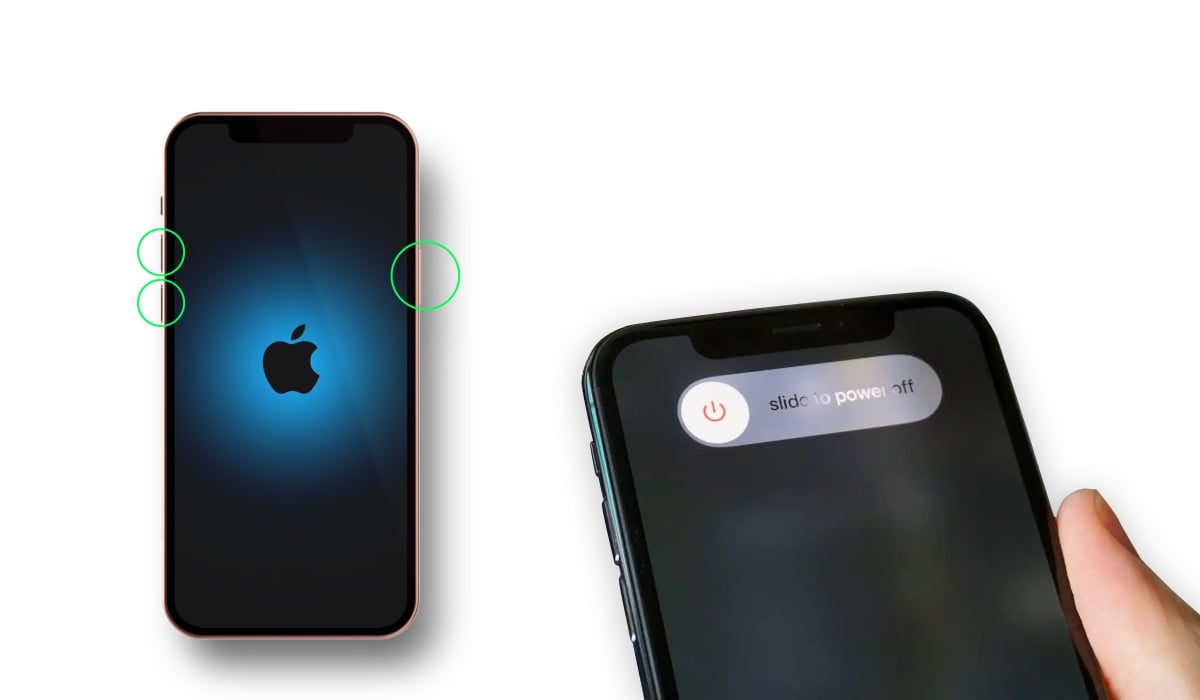 First iPhone restart method
Press and hold volume up (also works with volume down button) and lock buttons.
Slide to power off.
Press and hold lock button to turn iPhone back on.
Second iPhone restart method
Go to Settings – General.
Scroll down and click 'Shut Down'.
Slide to power off.
Press and hold lock button to turn iPhone back on.
Third iPhone restart method
Click volume up button.
Click volume down button.
Press and hold lock button.
Keep holding until the screen turns black.
40 | Update Your iPhone Regularly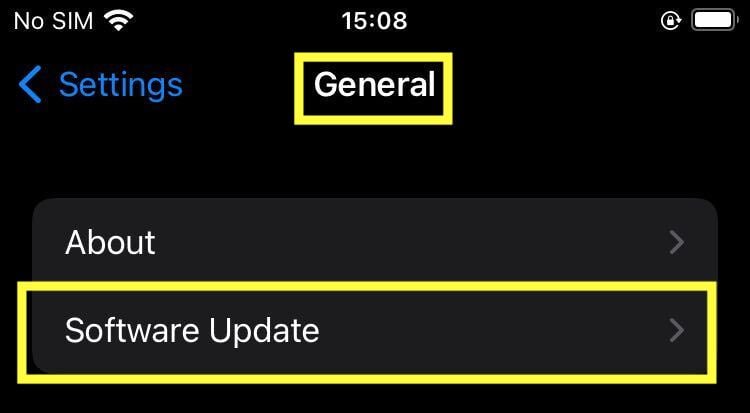 With each update to their OS, Apple doesn't just introduce new features. They also fix bugs.
Faulty features are not fully optimized and burn through battery much faster. That's why you should always keep your software up to date.
How to update iPhone 13, iPhone 12, iPhone SE
This also works on any other iPhone – iPhone 11, iPhone XS, iPhone 8 or older.
Go to Settings.
Head to General – Software Update.
Update your iPhone!
AirBeamTV
With AirBeamTV, screen mirroring your iPhone, iPad, MacBook or Android phone is a breeze. We have dedicated apps for all popular Smart TVs and streaming devices.
Whether you have Samsung, LG, Roku, Panasonic, or more, we have a solution for you.
Want to try us out? Each app has a free trial period!
DISCOVER MORE
Roku vs Firestick – Which Is Better?
Apple TV vs Samsung Smart TV – Which One To Choose?