How To Connect Android To Sony TV With Screen Mirroring App?
Sony TVs are some of the most popular out there. But, well, they do have their limitations! Like what if you want to watch a YouTube video on your TV, but don't want to type in the title with the old clunky remote? Or want to invite your friends over to watch holiday pics, but have no way to cast from your Android to your Sony TV. Your options are either getting expensive HDMI cables and adapters, buying an even more pricy media streamer, or hurdling around a tiny screen, right?
Wrong!
AirBeamTV has the solution for you – Mirror For Sony TV app. With it, easily cast all your favorite Android smartphone or tablet content straight to your large Sony TV screen.
Want to expand what your TV can do? Ditch annoying cables and expensive hardware. Improve your home entertainment in minutes with this free-to-try app!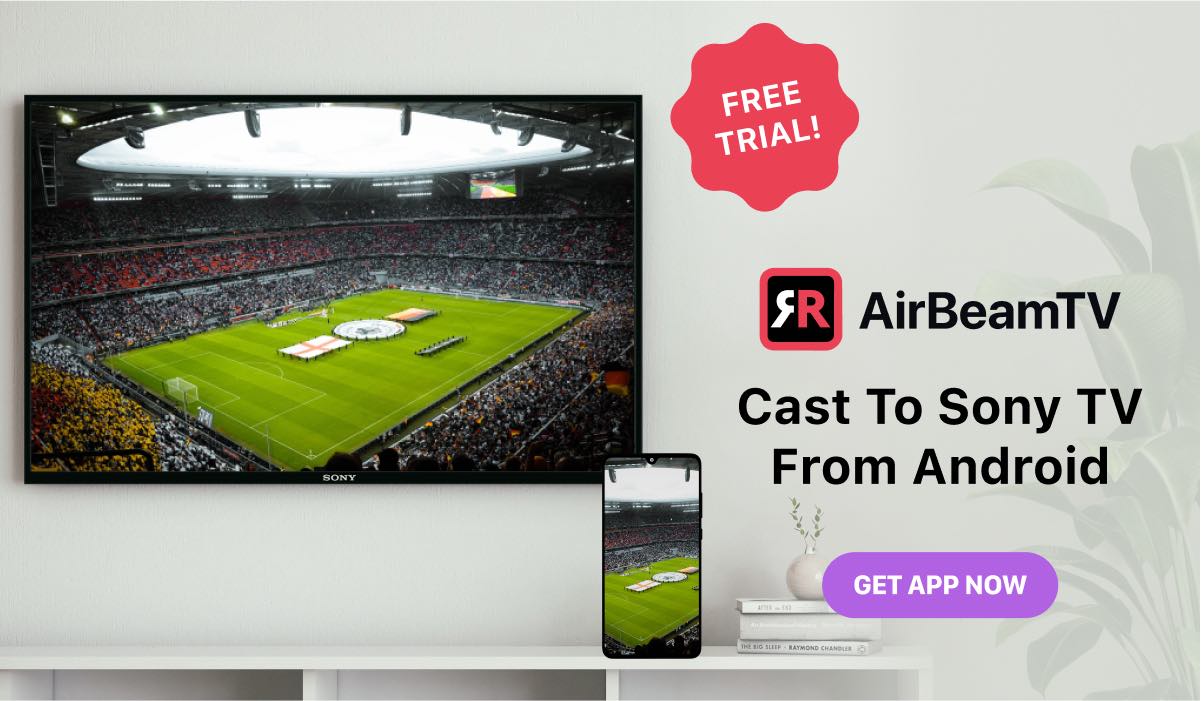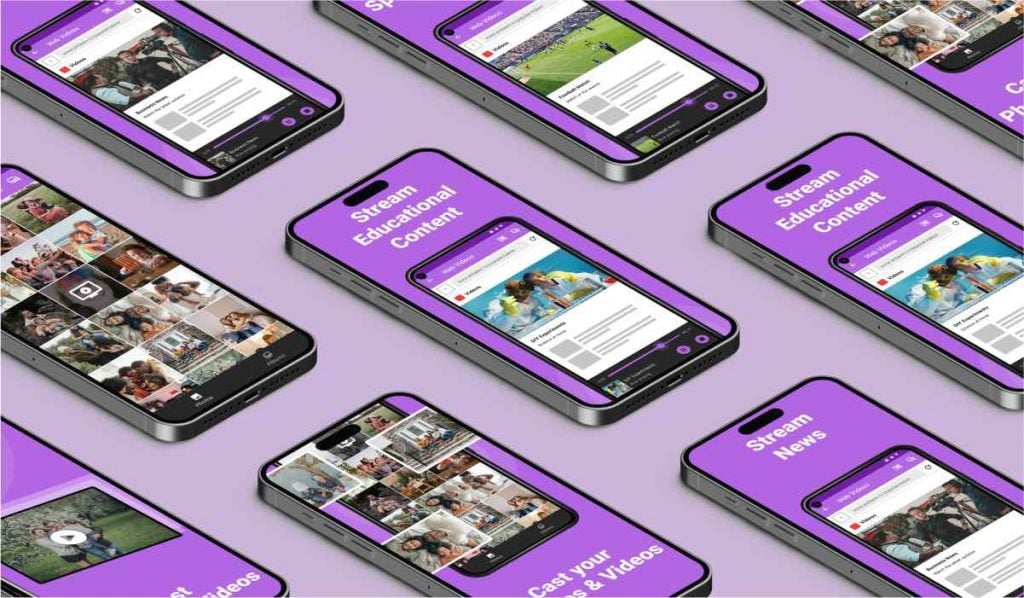 AirBeamTV App To Cast To Sony TV From Android
AirBeamTV has developed this revolutionary app to bring all Android users and Sony TV owners the convenience and possibilities of wireless casting. It works with any Sony TV, whether it's Sony Bravia, Sony, DLNA-based or has the Android TV operating system.
Easily cast any content from your Android device to your large Sony TV with this app! Display photos, videos, web content, livestreams and more on your large TV screen in a matter of minutes.
Benefits
A Sony TV casting app greatly expands the list of things your TV can do. It's like your one-way ticket to better entertainment.
Here are just several things you can do with screen mirroring your Android to your Sony TV:
Comfortably watch holiday photos with all your family and friends.
Experience all your favorite content on a big screen.
Catch up on Twitch streams and your favorite social media apps.
Control what appears on your Sony TV with your smartphone instead of a clunky remote.
Keep your eyes and neck in good shape by avoiding staring at a tiny screen.
Ditch tangled and expensive cables in favor of a single app on your phone or tablet.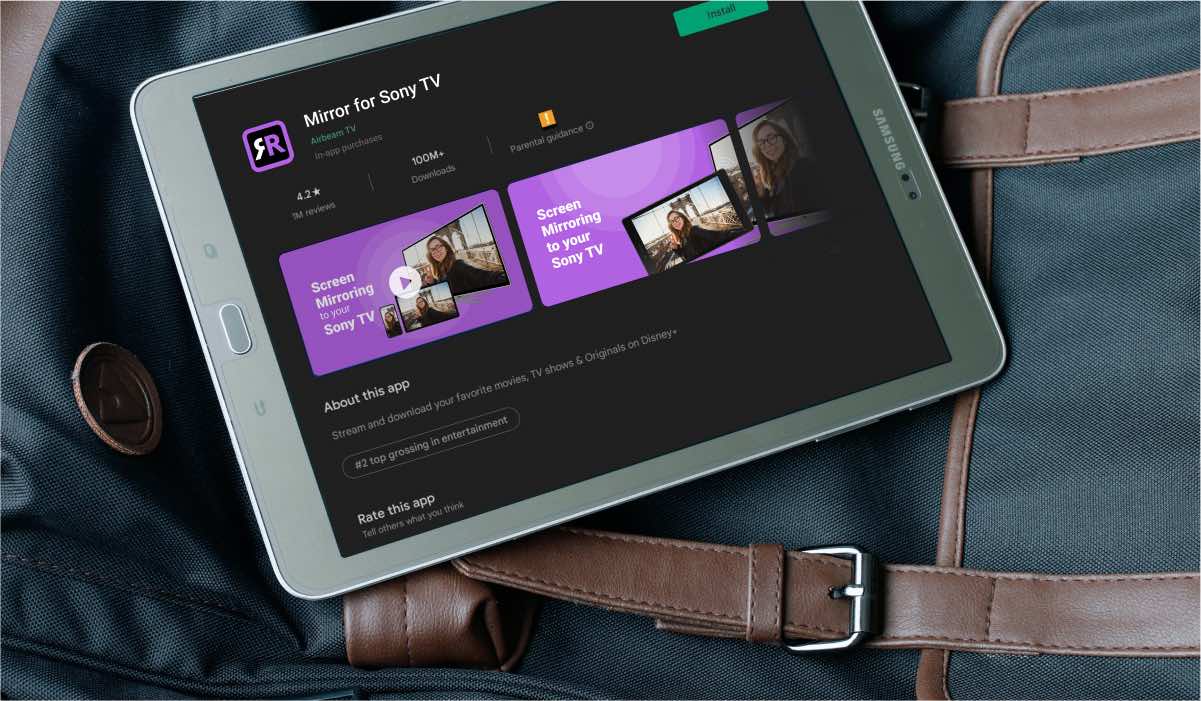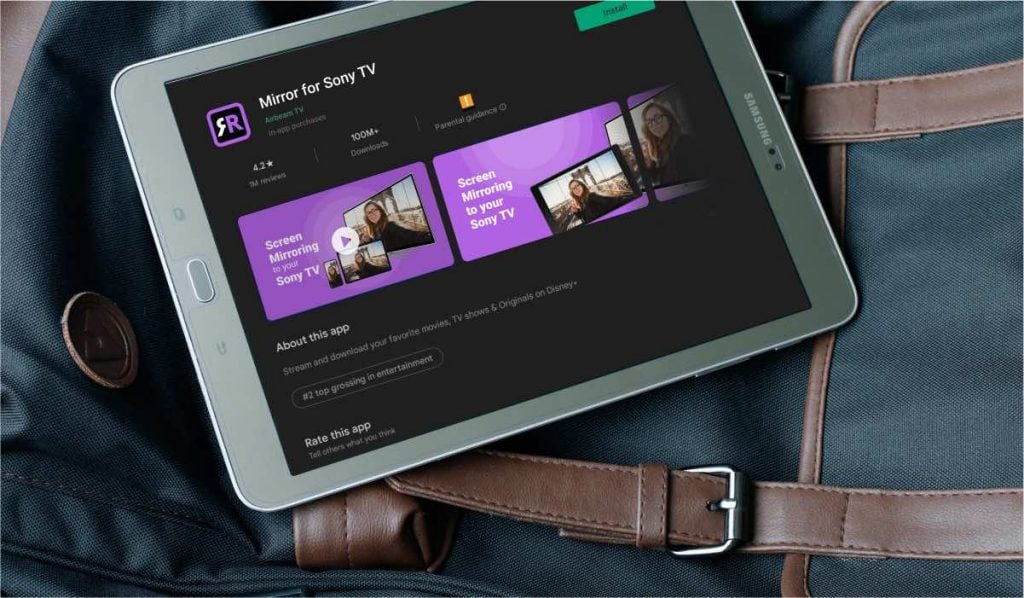 PRO version
Let us start by saying that you can download and try out Sony TV Screen Mirroring completely for free. But if you use screen mirroring frequently or are enjoying the app, we recommend you check out the PRO version.
The PRO version makes mirroring even more easy and enjoyable. Here's what you get in the package:
HD stream quality.
Unlimited casting.
Ad-free experience.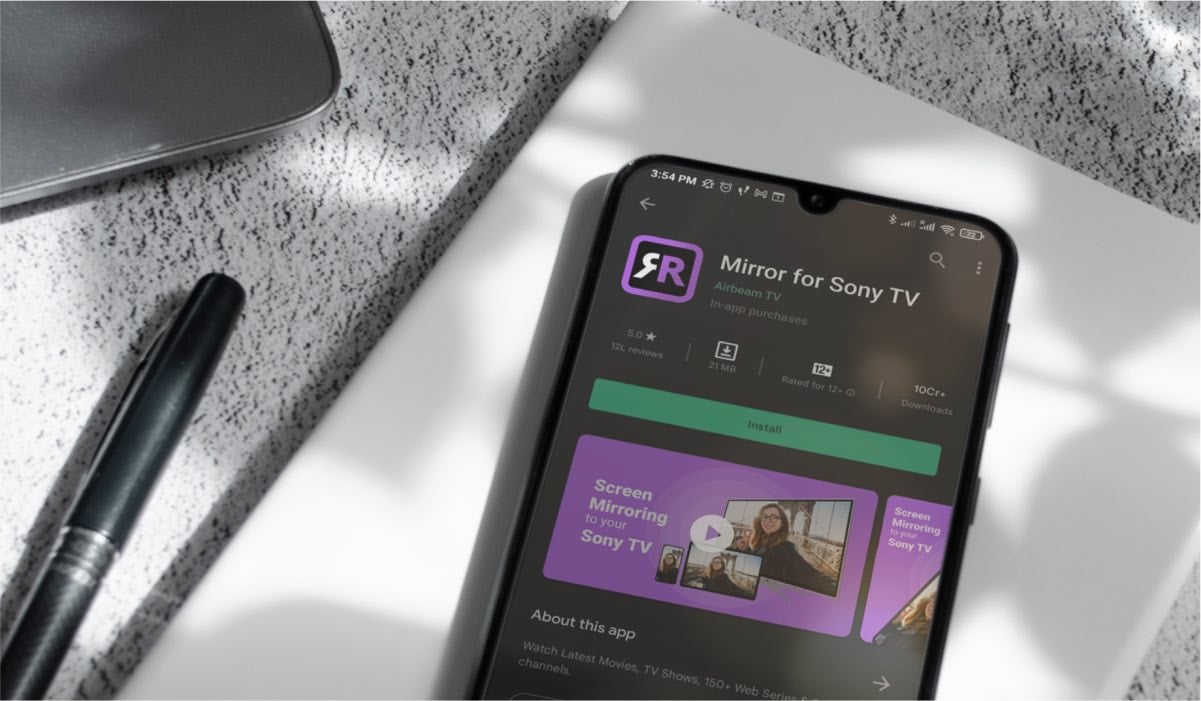 Price
Sony TV Screen Mirroring has three subscription plans for you to explore. Each has its own unique benefits:
Monthly at $5.99
This is our most flexible plan. It's perfect if you want to check the app out and see if it's something for you!
Yearly at $15.99
The yearly subscription is our most popular plan. It's also the best deal for you, giving you both the flexibility and reliability!
Pay-Once Lifetime at $19.99
Just like the name suggests – you pay a single fee and get to use this app forever! This is the plan to go for if you really enjoy our app.
Getting a new Android device? Your subscription will transfer. All you have to do is log in to the Play Store using the same Google account as on your previous Android.
Requirements
You need three things for this Sony TV casting app to work. You're more than likely to have all of them already!
A Sony Smart TV.
Android smartphone or tablet.
Wireless Internet connection.
How To Connect Android To Sony TV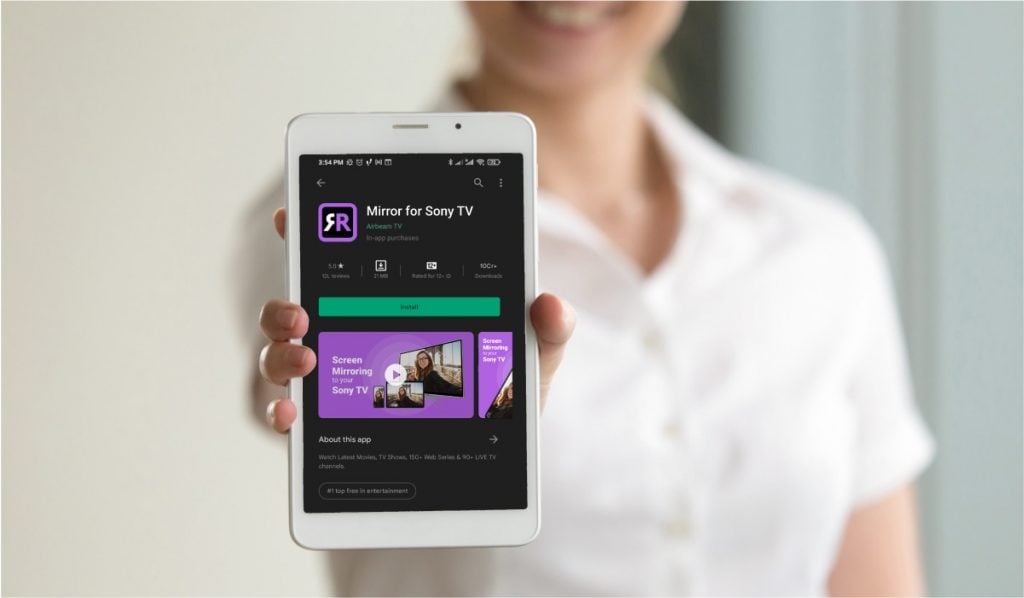 Connecting your Android device to your Sony TV is very easy and quick. Using the AirBeamTV app, you can have the entire process done in less than a minute!
Here's what you need to do:
Launch Mirror for Sony TV.
Move through welcome messages.
Get to the main screen.
Click the cast icon in the top-right corner.
Choose your Sony TV to connect with.
This mirroring app will automatically detect your Sony TV. The only condition is that both your smartphone or tablet and your TV are connected to the same WiFi.
How to start casting from Android to Sony TV
Once you've connected your Android device to your Sony TV, it's time to start casting! While in the Mirror for Sony TV app, do the following:
Go to the main screen.
Click the 'Screen Mirroring' panel on the top-left side.
Adjust the settings on the next panel.
Press 'Start Mirroring'.
Sit back, relax and enjoy!
To turn the stream off, all you have to do is go back to the app and click the 'Stop Mirroring' button.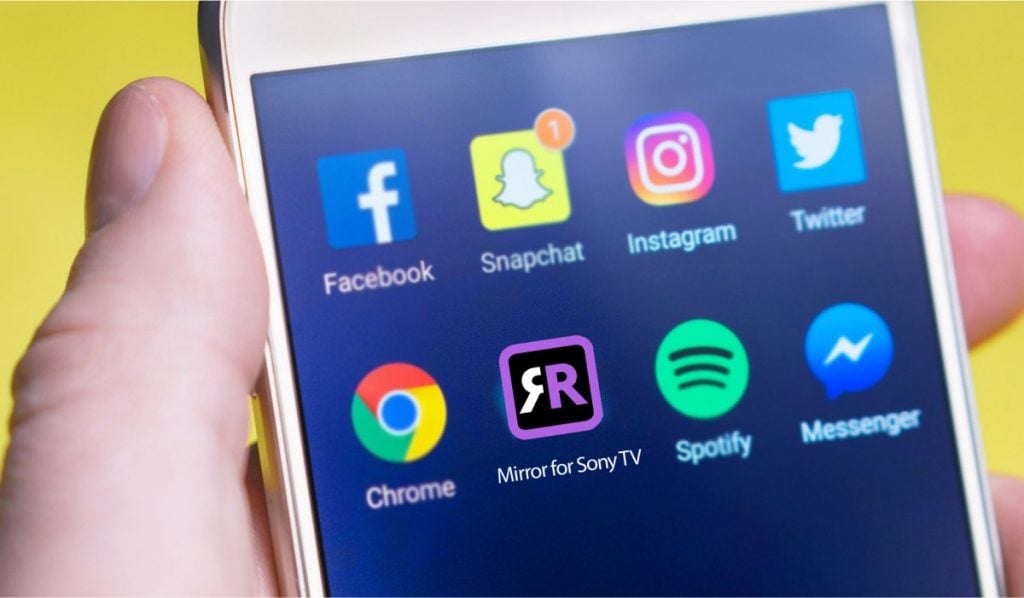 Casting to Sony TV from Android Troubleshooting
Can I Cast To My Sony TV From Android Without Anything Else
You need two things to successfully cast to Sony. Those are your receiver device (Sony TV, in this case) and your sender device – Android smartphone or tablet. And WiFi, of course!
Usually, you'd also need a cable like HDMI and, most likely, an adapter. However, if you want to cast to Sony TV without any additional hardware and tangled cables, look no further than Sony TV Screen Mirroring app by AirBeamTV!
Why is screen mirroring not working on my Sony TV?
There are several reasons as to why screen mirroring isn't working on your Sony TV or Android device.
WiFi
Screen mirroring requires a stable WiFi connection. Otherwise you may experience the stream cutting out randomly. You may try restarting or resetting your router if you have that problem.
Another thing to keep in mind that both your sender and receiver device have to be connected to the same WiFi. In other case, they won't be able to establish a connection.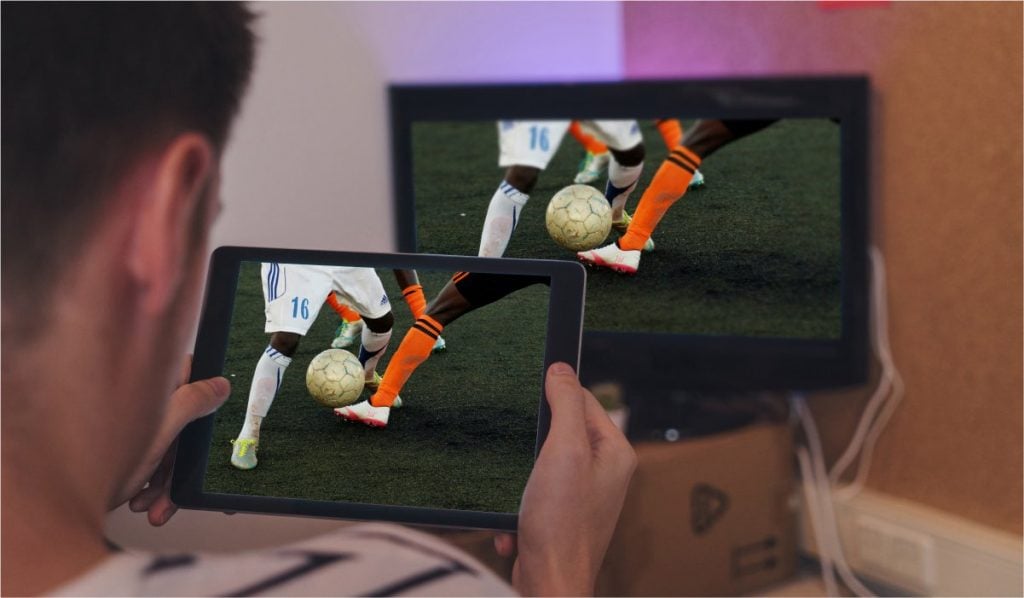 Update your Android and your Sony TV
Sometimes one of your devices may get automatically updated and the other not. This can cause compatibility issues and affect screen mirroring.
If screen mirroring stopped working all of a sudden or you can't get it to work, check if any of your devices has available updates.
Check for updates on Android
Go to Settings – System.
Click 'Advanced'.
Click 'System update'.
There you will see if there are any updates available for your Android device.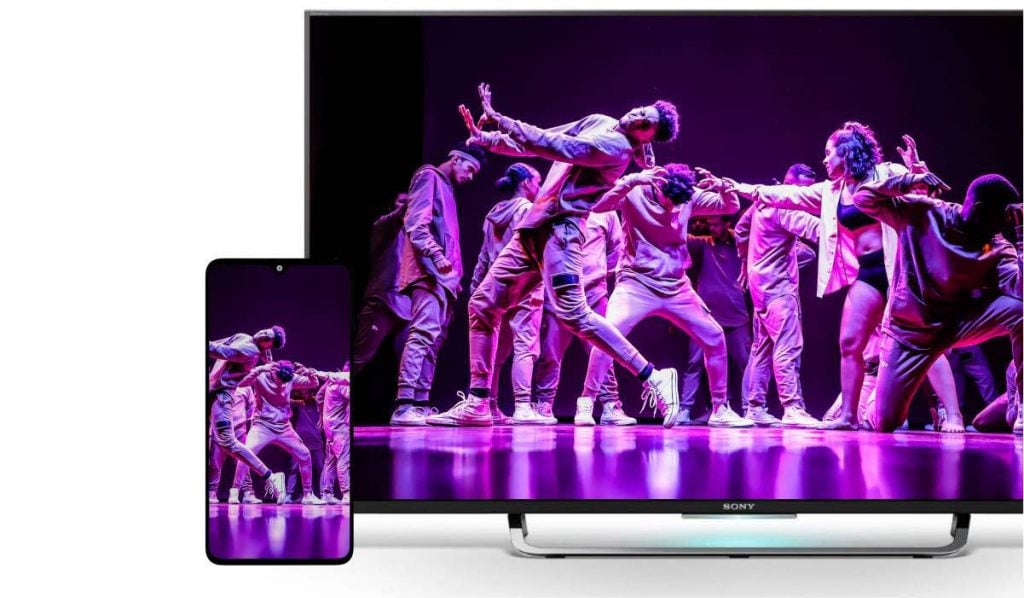 Check for updates on Sony TV
Press the Home button on your remote.
Go to Settings – Product Support or Customer Supports.
Toggle Automatic Software Update or Automatic Software Download.
Confirm.
Update the AirBeamTV app
To update Mirror for Sony TV manually, do the following:
Go to Google Play Store.
Click your Google Account icon in the top-right corner.
Click 'Manage apps and device'.
Go to 'Manage'.
Click 'Updates available'.
Tick Mirror for Sony TV', if available.
Click the update icon in the top-right corner, next to the bin icon.
Wait for the app to download and install updates.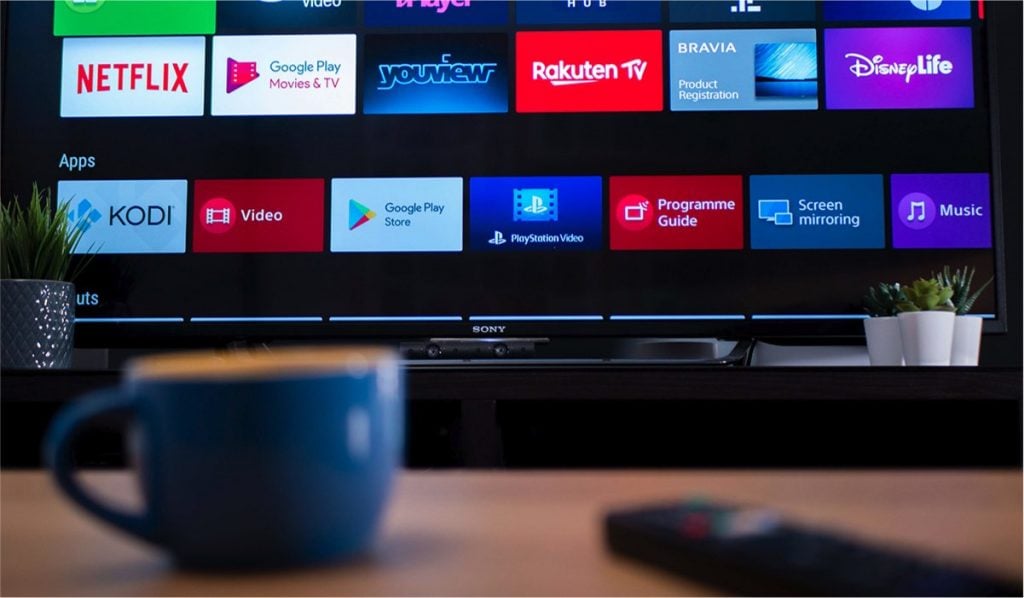 Otherwise, you can opt for automatic updates. This is a good option if you want to stop worrying if you have the latest app version at all times.
Here's how to do it:
Go to Google Play Store.
Click your Google Account icon in the top-right corner.
Click 'Manage apps and device'.
Go to 'Manage'.
Scroll down to find Mirror for Sony TV.
Click on the app.
Click the three dots in the top-right corner.
Tick 'Enable auto-update'.
How to connect soundbar to Sony TV
A soundbar is a great addition to any Smart TV. It makes the experience of watching any content that much better. How? Well, while Smart TVs have great picture quality, the flat screen usually has little space for a good sound system. That's why you feel like turning the volume up during quieter parts but then get blasted in your face with noise during commercials!
A soundbar solves that issue giving you excellent sound quality. If you're someone who cares about audio, it's a must-have.
Before you begin with connecting a soundbar, have a look at the back of your Sony TV. Try to find and ARC or eARC HDMI socket. It will allow you to operate your soundbar with your normal TV remote.
If you don't have ARC or eARC sockets on your TV, don't worry. You can connect your soundbar using a TOS link, also known as a digital optical cable. There are also analog as well as Bluetooth connectible soundbars.
Connecting a soundbar to your Sony TV is as easy as plugging the cable to both devices and choosing the correct input in your audio settings!
Conclusion
Now you know how to improve your home entertainment in minutes. You also know how to vastly extend what your Sony TV can do. All we can do now is wish you happy mirroring!
Do you have any other issues with the app that we haven't covered in this article? Don't hesitate to contact our customer service specialists! They will be more than happy to assist you.
Discover More:
Cast To Sony TV From Android With A Free App
How To Fix Your Sony TV Black Screen In Record Time?
Connect Android Phone & Tablet To Chromecast In Record Time
How To Cast To Panasonic TV From Android