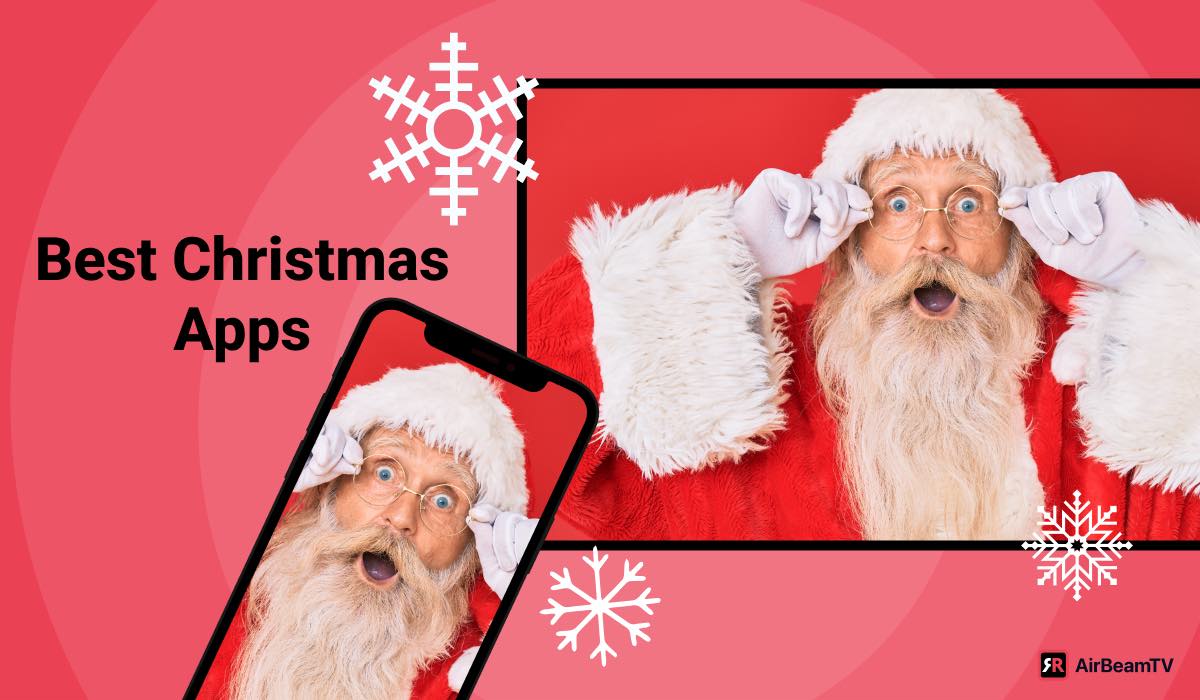 Top 12 Christmas Apps For Your Smartphone, Tablet or Mac
The holidays are a time for family, fun, and festivities – but what about when you need to kill some time? It can be tough to find the right app to keep you entertained during the holiday season. Between all of the new games, movies, and books out there, it's hard to know where to start. You might want to get on your phone in search for the best Christmas apps.
AirBeamTV has got you covered. We've collected the best Christmas apps for iPhone, iPad and Android so that you can make the most of your holidays. Whether you're looking for a new game to keep you occupied or a movie to watch with the family, we've got you covered.
Table of Contents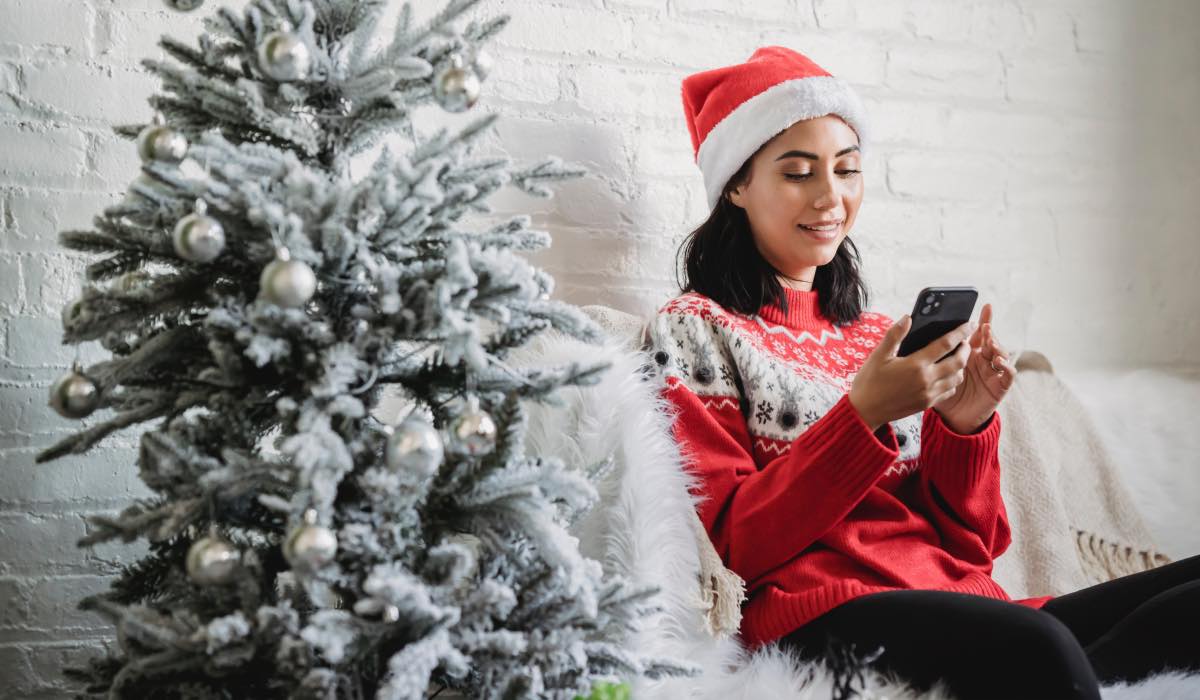 Christmas Photo Apps
1 | PhotoMeister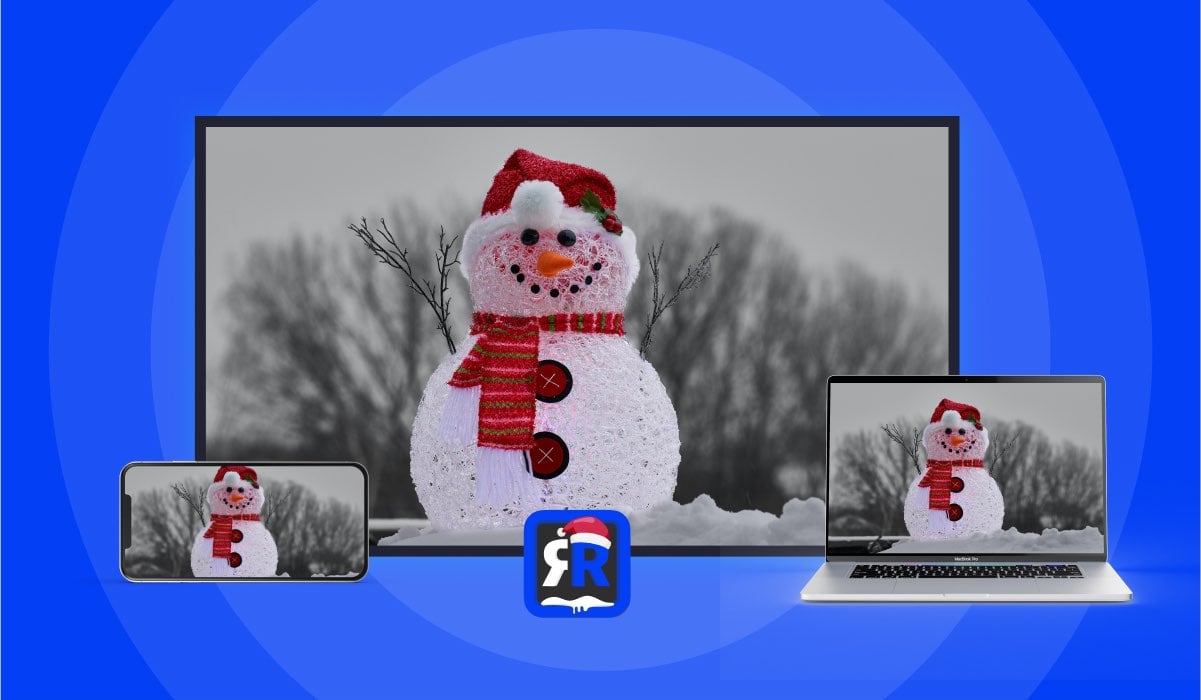 It's that time of year again! The trees are decorated, the lights are up, and everyone is taking festive photos. But what's the best way to capture all of those holiday memories?
PhotoMeister, of course! PhotoMeister is the perfect Christmas photo app, with a wide range of fun and festive features. From creating holiday themed collages to adding special effects to your photos, PhotoMeister has everything you need to make your Christmas photos look their best.
Requirements
iPhone, iPad or MacBook.
Smart TV.
WiFi connection.
So why not give PhotoMeister a try this Christmas? You won't be disappointed!
Apps For Christmas Party
2 | PartyMeister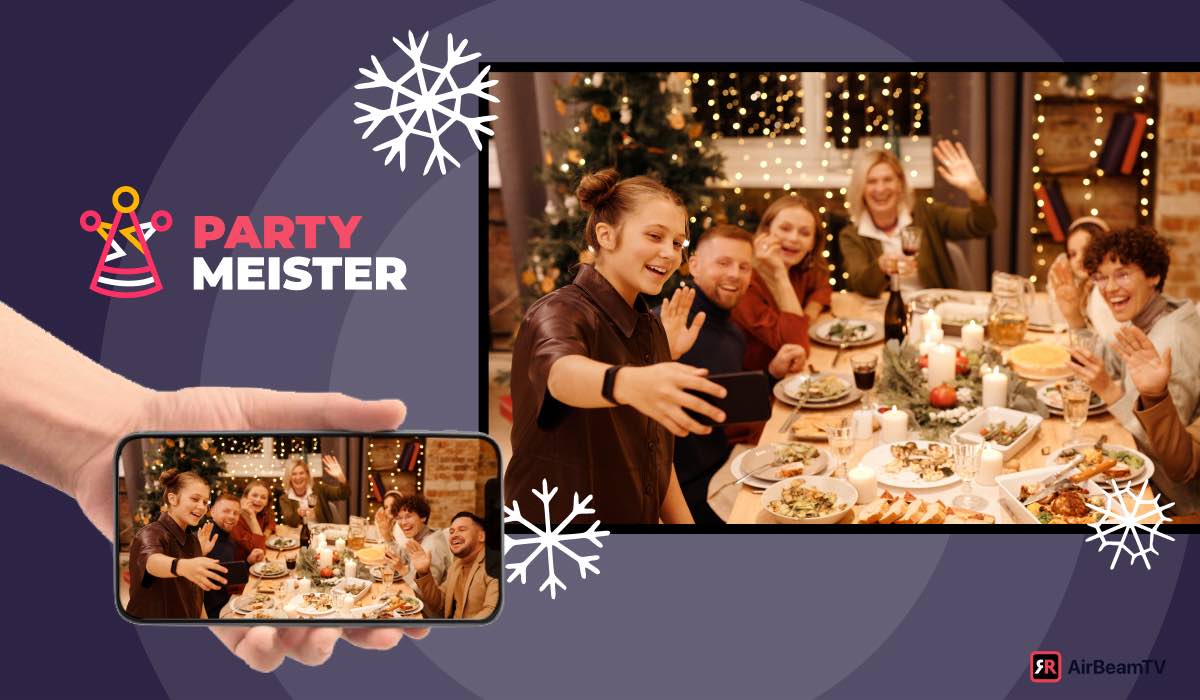 PartyMeister is the perfect app for any Christmas party! Not only does it allow you to share photos (in real-time) on your TV. It also has a built-in slideshow feature. Watch all of the photos of you and your friends or family in a slideshow on TV.
Just join the the Christmas party by scanning the QR-code. Take a pic. And enjoy your Christmas sweater selfie on TV. Plus, there's a photo sharing feature for when the party is over. Easily send all Christmas pics to your family or friends.
Requirements
Smartphone or tablet
Smart TV
WiFi connection
So what are you waiting for? Download PartyMeister for free today and start planning the perfect Christmas party!
Apps To Watch Christmas Movies
When it comes to watching Christmas movies, there's no better way to do it than with AirBeamTV. That's because our screen mirroring technology lets you watch your favorite movies on the big screen, without any hassle.
Just launch our app and wirelessly connect your device to your TV, and you'll be ready to watch all your favorites. And since our app is available on both iOS and Android, you can use it no matter what platform you're on.
So whether you're an iPhone user or an Android user, you can still enjoy the best Christmas movie experience with AirBeamTV.
3 | Mirror For Samsung TV
If you've got a Samsung Smart TV, then we've got something special for you this holiday season. The Screen Mirroring Samsung TV app by AirBeamTV lets you easily stream Christmas videos and movies right to your television. The best thing? It works on iPhones, iPads, MacBooks and Android smartphones and tablets!
Requirements
iOS, macOS or Android device
Samsung Smart TV
WiFi connection
Merry Christmas!
4 | Mirror For LG TV
LG Smart TV fans, it's time to get excited! The LG TV Screen Mirroring + Cast app makes it easy to stream Christmas videos, films, series and movies on your television. Just like the Samsung app, get LG TV Screen Mirroring for your iPhone, iPad and MacBook. Got an Android smartphone or iPad? airBeamTV has a dedicated Android LG TV screen mirroring app
Developed by AirBeamTV – market leader in screen mirroring applications – the app is a must-have for anyone with an LG Smart TV. So what are you waiting for? Download the LG TV Screen Mirroring + Cast app today and start watching your favorite Christmas movies on the big screen!
5 | Mirror For Sony TV
If you're looking for the best way to cast Christmas movies, films and videos to your Sony Smart TV, look no further than AirBeamTV. This app is designed specifically for Sony TVs, and it offers a number of features that make it ideal for streaming holiday content.
First of all, AirBeamTV is very easy to use – simply connect your phone or tablet to your Sony TV and start casting. The app also supports full HD 1080p resolution, so you'll be able to enjoy all your favorite Christmas movies in high definition.
Plus, AirBeamTV comes with a built-in media player, so you can easily control playback of your Christmas content. So why wait? Download AirBeamTV for free today and start streaming Christmas movies, films and videos to your Sony Smart TV.
6 | Mirror For Panasonic
Are you a Panasonic TV owner? Do you want to make your Christmas day special with just one app? Stream all your favorite Christmas movies and videos. Cast all the Christmas party photos on your TV and watch them with your family.
This AirBeamTV app connects your iOS or MacOS device straight to your Panasonic TV. No cables or hardware necessary! Simply connect your iPhone, iPad or MacBook to your Panasonic TV and enjoy the magic of Christmas!
7 | Mirror For Roku
Do you have a Roku device hooked up on your television? Then you just might like this! With the Mirror For Roku AirBeamTV app, you can easily cast all of your favorite Christmas content to your TV. It works with iPhones, iPads, MacBooks and Android devices.
It's definitely one of the most useful Christmas apps out there! Why is that? Roku turns any of your HDMI-equipped screens into a Smart TV. It gives you a lot of options when it comes to the displays you can cast Christmas photos, videos and movies to! Discover the Roku screen mirroring app and make your Christmas more magical this year.
8 | Mirror For Fire TV
AirBeamTV Fire TV Stick Screen Mirroring is the best Christmas movie streaming app for Firestick because it's easy to set up and use. AirBeamTV makes it possible to stream movies from your smartphone & tablet to your Fire TV Stick, and it doesn't require a lot of technical know-how.
AirBeamTV also offers a free trial, so you can try it before you commit to a subscription. And if you're not satisfied with the AirBeamTV experience, you can always cancel your subscription and get your money back. So why not give AirBeamTV a try this Christmas? You might just find that it's the best Christmas movie streaming app for Firestick after all.
9 | Mirror For Chromecast
Google's media streamer turns every television into a Smart TV. And now, you can even stream anything from your phone, tablet or computer to any TV. As long as you use your Chromecast device.
Discover the Chromecast screen mirroring app by AirBeamTV and get the best home-entertainment experience. Cast Christmas movies, party photos, videos, apps and anything else your hears desires! Take advantage of the free trial, as well as three unique payment plans – Monthly, Yearly and a Lifetime Pay-Once!
10 | MirrorMeister
Got several TV-brands at home or rather want to have one-fits-all app to watch Christmas movies? Then here's something for you! MirrorMeister is a screen mirroring app for iPhone, iPad & Mac that supports all TV-brands and media streamers.
So it doesn't matter if you have a Samsung TV in your living room and Sony upstairs. With MirrorMeister you can easily stream videos and movies to any brand. It works on every television! Isn't that great?
Christmas Fireplace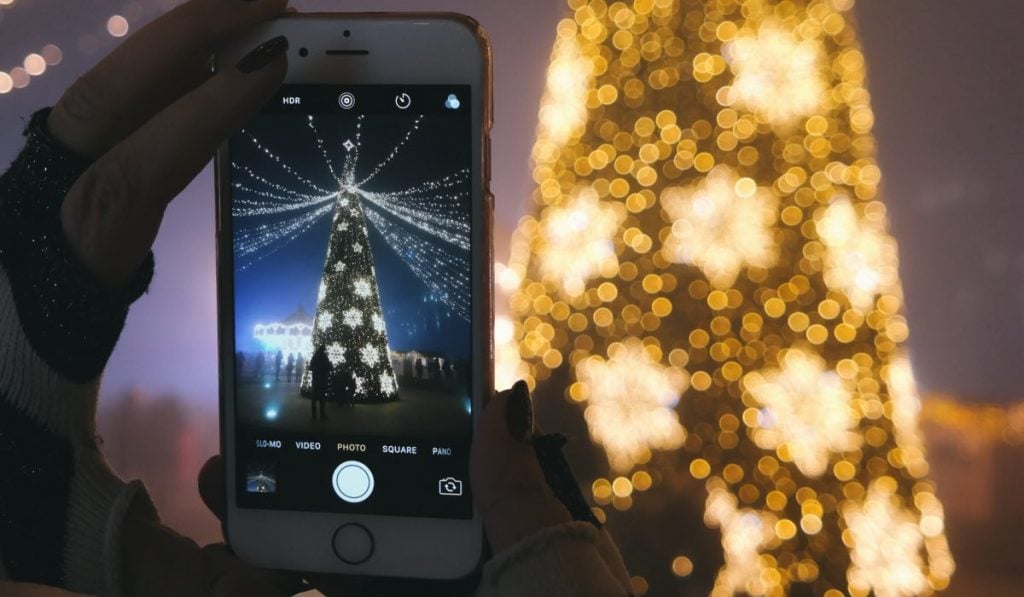 If you're looking for a way to get into the Christmas spirit, why not turn your television into a Christmas fireplace screen? The screen mirroring apps from AirBeamTV, you can do just that.
All AirBeamTV apps – except includes a free Christmas fireplace screen feature that will transform your TV into a cozy fireplace. This works thanks to the built-in free media file that plays a fireplace fire. It is almost indistinguishable from a real Christmas fireplace.
This Christmas fireplace fits in every house. So whether you're snuggled up on the couch with family or enjoying a quiet moment alone, you can enjoy the warm glow of a virtual fire. And who knows, maybe you'll even start to feel like Santa Clause himself.
< id="remote-control-app">Christmas Remote Control App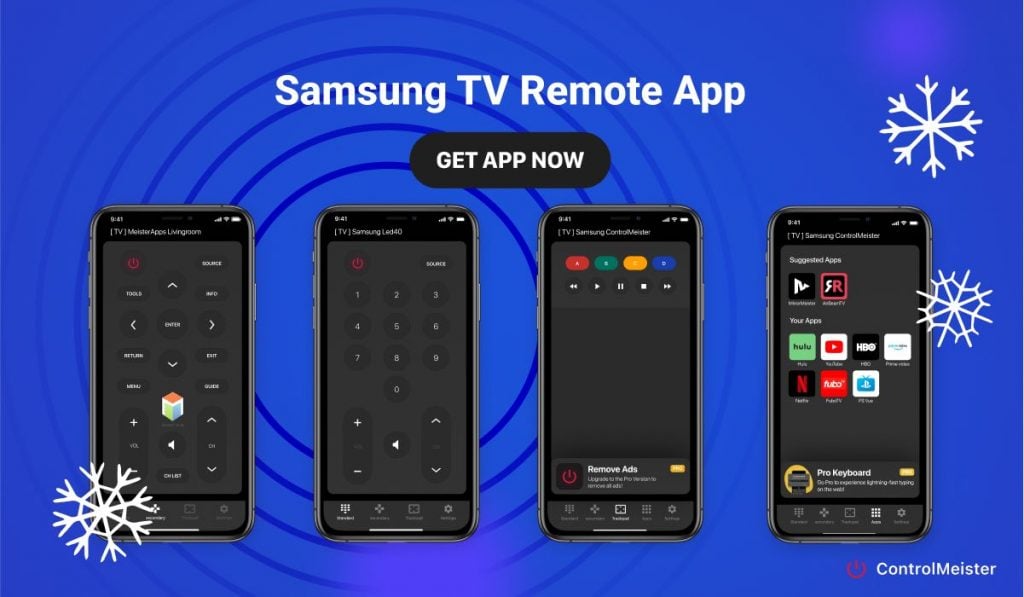 11 | ControlMeister
Christmas is a time for family, friends, and spending time together. But it can also be a time of annoying Christmas TV commercials, Christmas music played on repeat, and Christmas movies that you've seen a million times. How many more times can you hear 'Last Christmas' or 'All I Want For Christmas Is You'? That's where ControlMeister comes in.
ControlMeister is the best Christmas app for Samsung TVs. Turn your iPhone into a remote control with this free iOS application. With ControlMeister, you can remotely and easily change the channel whenever the Christmas TV annoyance comes on!
Features
Keyboard
Touchpad
Advanced controls
Normal controls
Control the volume, mute the TV, and even turn it off if necessary. With this app you always have a remote control with you.
Free Samsung Remote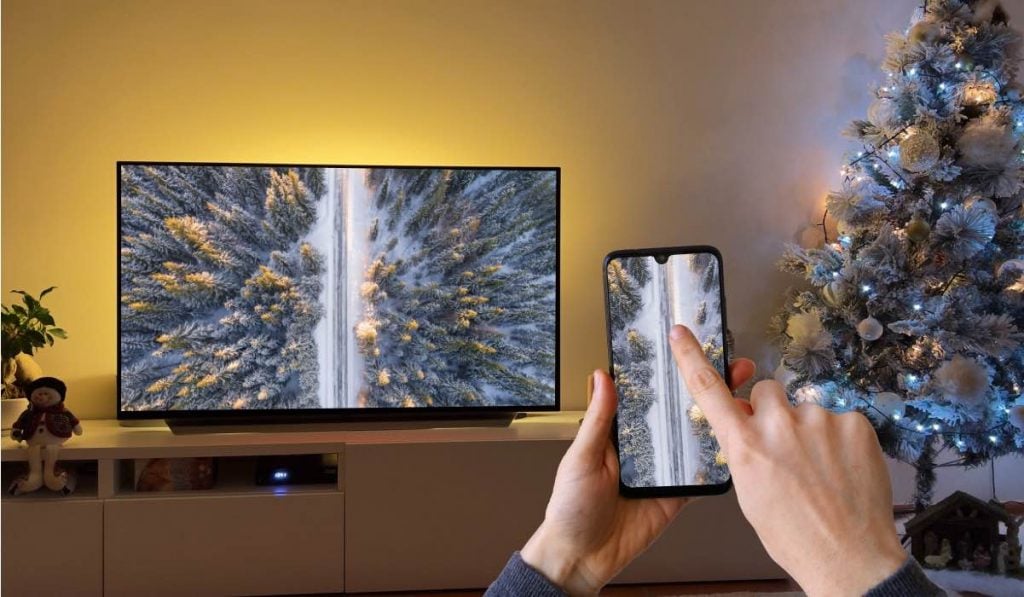 The best thing about this remote control app for Samsung TVs is that it's free. That's right! Use it without even paying for it. Or, gift this free Christmas app to friends or family.
No more losing your Christmas remote control in the couch cushions. No more fighting over the remote control. From now on you always have a remote control in your pocket.
Enjoy the Christmas season by downloading ControlMeister for free today. It's the best Christmas app for Samsung TVs!
12 | VideoMeister
VideoMeister is a great Christmas app for iOS or Mac users! VideoMeister helps you create beautiful Merry Christmas videos with your friends and family. You can add your own photos and videos, choose from a variety of Christmas-themed backgrounds, and even add music to your videos.
VideoMeister makes it easy to share your videos with others, and you can even save them to your camera roll to watch later. Best of all, VideoMeister is completely free! So if you're looking for a great way to spread some holiday cheer, be sure to check out VideoMeister.
Christmas Wallpaper Apps
Turn your tv into a wallpaper and enjoy beautiful, famous paintings on the big screen. Here's what you need to do:
Visit the homepage of AirBeamTV.
Click 'Start Mirroring For Free'.
Select your TV-brand or media streamer.
Tap your preferred device.
Download the application.
Connect device to TV.
Take a subscription.
Click the famous paintings feature.
What Christmas movies can I watch for free on YouTube?
Christmas time is upon us once again, and that means it's time to break out the Christmas movies. If you're looking for something to watch for free on YouTube, there are plenty of options available.
For example, you can check out:
A Christmas Story
Miracle on 34th Street
It's a Wonderful Life
Or, if you're in the mood for something a little more modern, you can always go for "Elf" or "The Nightmare Before Christmas."
No matter what your taste, there's sure to be a Christmas movie that you can enjoy for free on YouTube. So grab some popcorn and get cozy – it's time to get into the Christmas spirit!
What are the best Christmas movies for toddlers?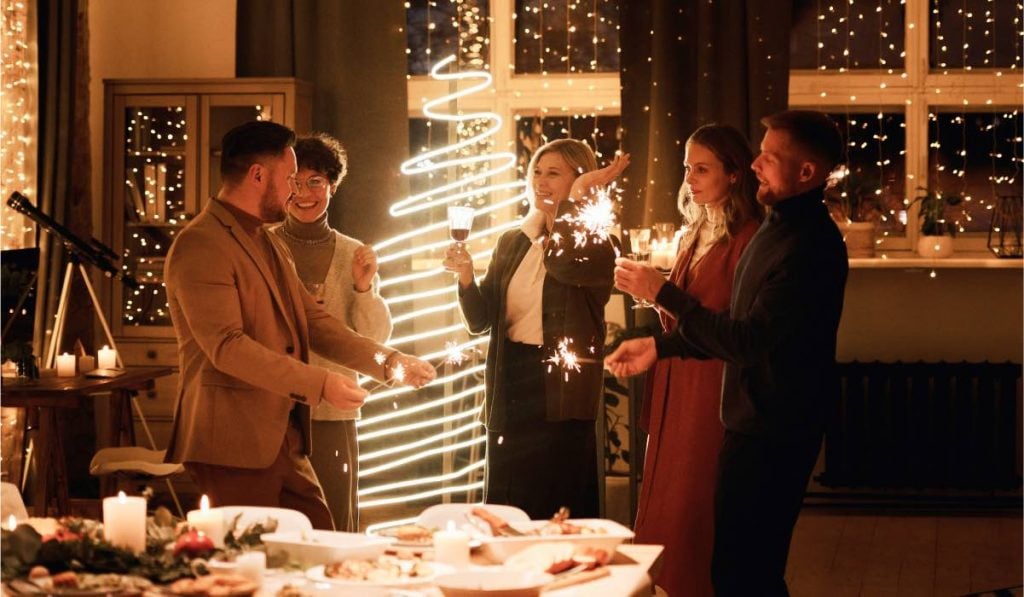 While some Christmas movies are too scary or violent for younger viewers, there are plenty of options that are perfect for toddlers.
One of the most popular holiday movies for toddlers is "Frosty the Snowman." With its cheerful songs and lovable characters, "Frosty" is a timeless classic that has been delighting audiences for generations.
Another great option for toddlers is "Rudolph the Red-Nosed Reindeer." This Rankin/Bass stop-motion classic features an adorable cast of creatures who help Santa save Christmas.
For something a little more modern, "The Polar Express" is a beautiful CG-animated film that tells the story of a boy's magical journey to the North Pole.
These are just a few of the many fantastic Christmas movies that are perfect for toddlers. So put on your favorite holiday PJs, curl up with a blanket and some hot cocoa, and enjoy one of these fantastic films with your little ones.
What DirecTV channels apps have Christmas movies?
Christmas is a time for family, friends, and Christmas movies. But what Christmas movie should you watch? And where can you find it? To help you out, we've put together a list of the best Christmas movies available on DirecTV apps.
"Elf" is a Christmas classic about a man who was raised by elves at the North Pole and must return to the human world to find his father and spread Christmas cheer.
"The Polar Express" is an animated adventure about a boy who takes a magical train ride to the North Pole on Christmas Eve.
"A Christmas Story" is a hilarious tale of a boy's misadventures with a BB gun on Christmas day.
"Miracle on 34th Street" is a heartwarming story about a department store Santa Claus who may or may not be the real Santa Claus.
So whether you're looking for laughs, tears, or a little bit of both, these Christmas movies on DirecTV apps are sure to get you into the holiday spirit.
How To Gift An iPhone or iPad App To Someone?
Too late to buy a Christmas present and afraid of disappointing someone? No worries! Surprise your loved ones this Christmas with one of the above apps.
One-Time Purchase
All the above apps are free to download. After the free trial period, you will be asked to choose a subscription form. That means you have to make a one-time purchase to give these apps as a gift during Christmas. Therefore, opt for a so-called lifetime purchase. With this option you are not committed to anything and you can give it to someone as a gift without having to pay a subscription fee.
Here's How To Gift An iPhone or iPad With Subscription to someone:
Open the App Store.
Search for the app you wish to gift.
Tap the share button.
Click the gift button.
Enter the recipient's email.
Personalize the gift by adding a message.
Follow the on-screen process.
Keep in mind that there are some terms and conditions to gifting apps. For example, some app gifts can only be redeemed in the same country it has been gifted from. What is more, you can only turn paid apps into gifts.
How To Gift An Android App To Someone?
Would you like to give someone an Android app? Then you have come to the right place. Our experts explain how you can do this. Ofcourse you can always use a Google Play Store giftcard. Buy it online or in a physical store. It's available in multiple retailers and at various prices.
Sometimes the perfect gift is the one the giftee can choose for themselves!
ALSO DISCOVER:
Mirror Your Phone To PC or Mac
Hisense Screen Mirroring App With Free Trial