The Disney Plus app came out at the end of 2019 (and we couldn't be happier). It's easy to see why it has already become so popular, with access to the legendary Disney movies, plus entertaining content from Marvel, Star Wars, National Geographic, and Pixar. Why settle for watching from the small screens of your phone or laptop? You can easily figure out how to cast Disney Plus to TV, on the big screen.
You have a number of options to enjoy Disney Plus from your television set, as Disney's new streaming platform is compatible with many devices. The app works with popular streaming sticks, set up boxes, and gaming consoles. You can also use Google Chromecast to stream content from your iOS or Android mobile device to a TV. If you don't have a streaming device connected to your TV, you can cast Disney Plus from your phone, tablet or computer using an HDMI cord. Keep in mind that you may need to purchase hardware, like an adapter for your phone or tablet.
If you have a smart TV, Disney Plus already launched its own standalone app. Once you download the Disney Plus app on your TV, you can access all their content from there. If you don't own an Apple TV, you can still cast Disney Plus. Screen mirroring apps, like AirBeamTV, are the easiest option for Mac and MacBook users. You can cast Disney Plus to TV wirelessly from your computer right from your Chrome or Firefox browser—convenient, affordable, and cable-free.
Ready to get started watching all your favorite Disney content in high definition? Keep reading to find out how to cast Disney Plus to TV in just a few simple steps.
AirBeamTV App To Play Disney Plus On TV
With Disney Plus screen mirroring, you can sit back and cast all the Magic Kingdom has to offer wirelessly. The AirBeamTV app is a highly-rated option, compatible with Chrome or Firefox browsers from your Mac computer or MacBook—No bulky wires or cables needed!
When it comes to pricing, AirBeamTV offers an ideal choice for screen mirroring. You only pay one time in the Mac App Store or through their website. You won't have to worry about a monthly subscription fee. AirBeamTV works with all popular smart TV brands. You won't need to purchase additional hardware, like an HDMI cord or adapter. This is especially great if you have kids, as you won't have to worry about them tripping over bulky cables. Just head to the app store to download. Then start Disney Plus screen sharing on your television
Disney Plus Screen Mirroring
If you want to avoid the clutter of a bunch of cables, then Disney Plus screening mirroring apps are the way to go. These apps will "beam" the screen of your phone, tablet or computer to your television.
The AirBeamTV app to mirror video and audio from Disney Plus will work on any Mac, iMac, MacBook (Pro) or Mac Mini with the Chrome browser installed. AirBeamTV screen mirroring also works with Firefox browsers.
If you have an Apple TV, you'll need Apple TV HD fourth-gen (2015) and up, or an Apple TV 4K. Although Disney says they support AirPlay, reviews suggest some technical issues when trying to use AirPlay to cast movies.
Even if you don't own a smart TV, you can cast Disney Plus to TV using Chromecast. Just set up the Disney app on your device. Choose a show or movie to watch on Disney Plus. Then tap on the Chromecast icon in the upper right corner.
Why Won't Disney Plus Cast To TV
Still having issues on how to cast Disney Plus to your TV? You may just need a quick fix. Try a few of the following first:
● Restart your mobile device or computer.
● Check your internet to make sure you are connected.
● Update all major drivers such as chipset, sound, video, or network drivers.
You may run into problems casting Disney Plus to your TV because of firewall settings. To fix this, you'll need to allow incoming connections for mirror to TV applications. When Disney Plus won't cast to TV, try the following steps:
1. Go to your System Preferences
2. Choose "Security & Privacy"
3. Click on Firewall and select Firewall Options
4. Uncheck the box next to "Block all incoming connections". This prevents your Mac from
casting Disney Plus and other content to your TV.
5. Check the box next to "Automatically allow signed software to receive incoming
connections". (See image below)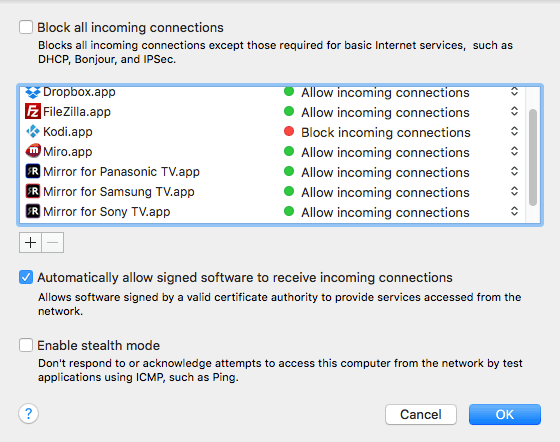 You should be good to go. Proceed with normal steps for Disney Plus screen mirroring. To enjoy the best quality mirroring, make sure that you update your devices to the most current software for the latest compatibility.
Disney classics, Nat Geo original documentaries, throwback TV shows, action-packed movies from Marvel and Star Wars—It's easy to see why Disney's streaming platform is the go-to choice for at-home entertainment. Want to get the best experience? Cast Disney Plus to TV on the big screen with mirroring apps that turn your living room into a cinema!