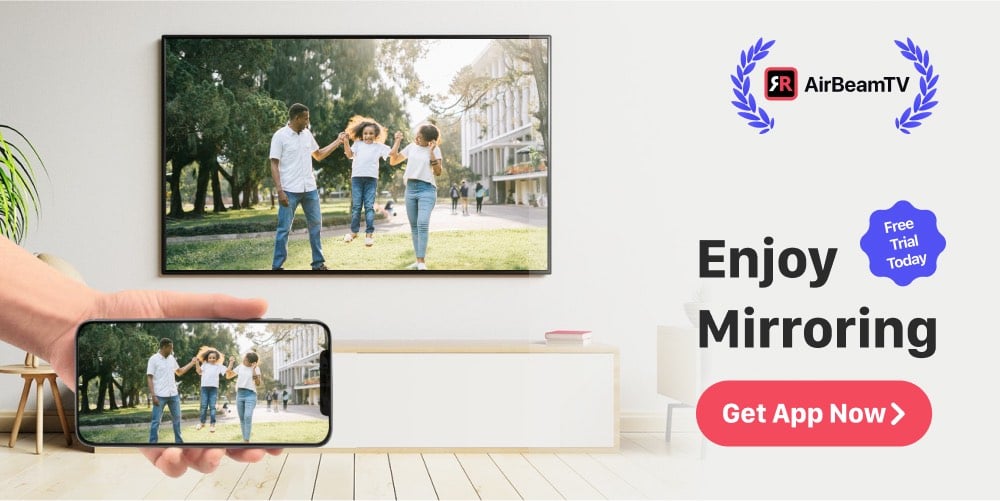 Ultimate Screen Mirroring Tech Guide
What Is Screen Mirroring?
Screen mirroring for iPhone, iPad or Mac, also called wireless screen mirroring, is a technology that lets you stream or cast videos, photos and apps to a Smart TV screen. This can be useful when you want to share photos or videos with a group of people, or when you want to work on a project using a larger screen.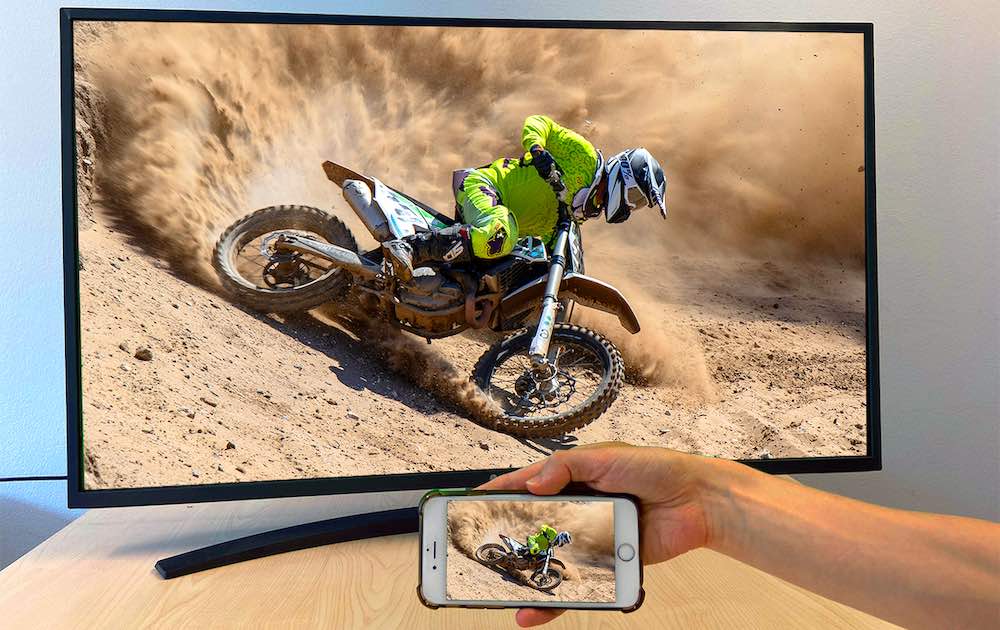 In order to use screen mirroring, you will need a compatible device and an adapter or cable that can connect the two devices. Once everything is set up, simply activate the screen mirroring function on your device and select the correct TV or projector from the list of available options. The content from your phone, tablet or computer will then be projected onto the bigger screen!
How Does Screen Mirroring Work Technically?
A senior AirBeamTV developer explains screen mirroring like this:
Screen Mirroring Developer Quote:
The app detects TVs available in the local network. Using various detection protocols (different for various TVs).
The app provides a stream link (URL) and asks the selected TV to play it. Using various communication protocols (different for various TVs).
The TV starts playing the video stream from the given link (URL).
The app generates the video stream with the screen content and system audio in real-time.
The HTTP server embedded in the app serves the generated video stream data to the TV.
Simplified, for completely non-technical people:
The screen mirroring app asks the TV to play its video stream.
The app generates the video stream with the screen content and system audio.
The TV plays this stream.
How Does Screen Mirroring Work on iPhone?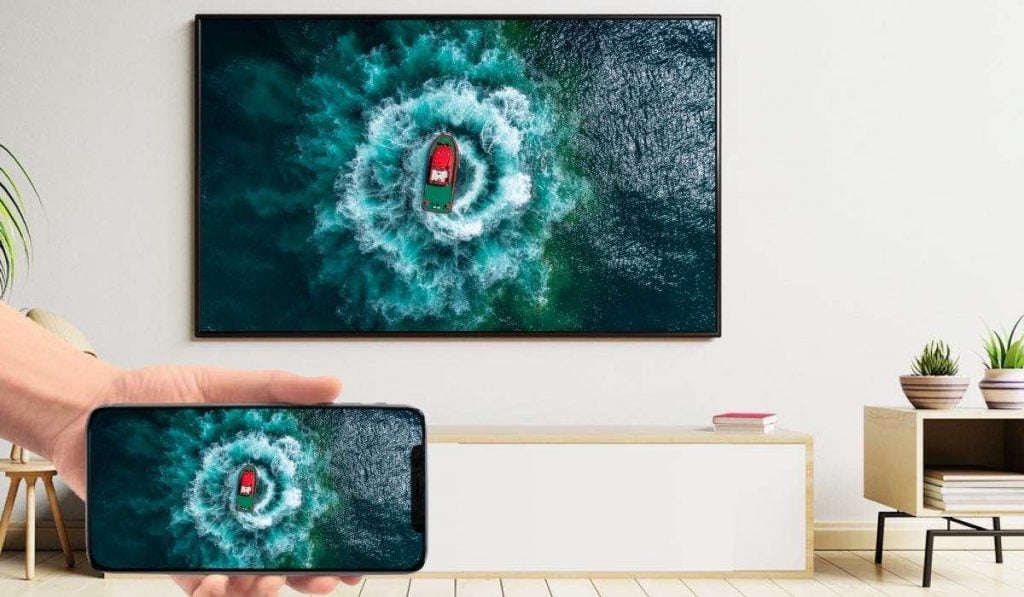 You can screen mirror your iPhone to any tv really. It doesn't matter which television brand or model you have.
When you want to show what is on your iPhone screen on a tv, you can use the AirBeamTV app to do so. The app works by mirroring your iPhone screen to a nearby television or monitor. This allows everyone in the room to see what is on your screen, making it ideal for presentations or watching media together.
In order to use the app, you simply need to connect your iPhone to the television or monitor, via WiFi or media-streamer (like Chromecast, Fire TV or Roku). Of all the media streamers on the market, our developers think Amazon's Fire TV Stick 4K Max is the best.
For step-by-step instructions on how to screen mirror your iPhone to a Samsung TV, please follow our guide on How to Screen Mirror iPhone to Samsung TV.
In our experience, this device delivers the highest quality and least technical issues. In no time at all, you can turn any TV into a smart TV with this Firestick.
Once connected, you will be able to enjoy the AirBeamTV app and start sharing your screen. The app is available from the Apple App Store and has a free-trial.
Screen Mirroring Apps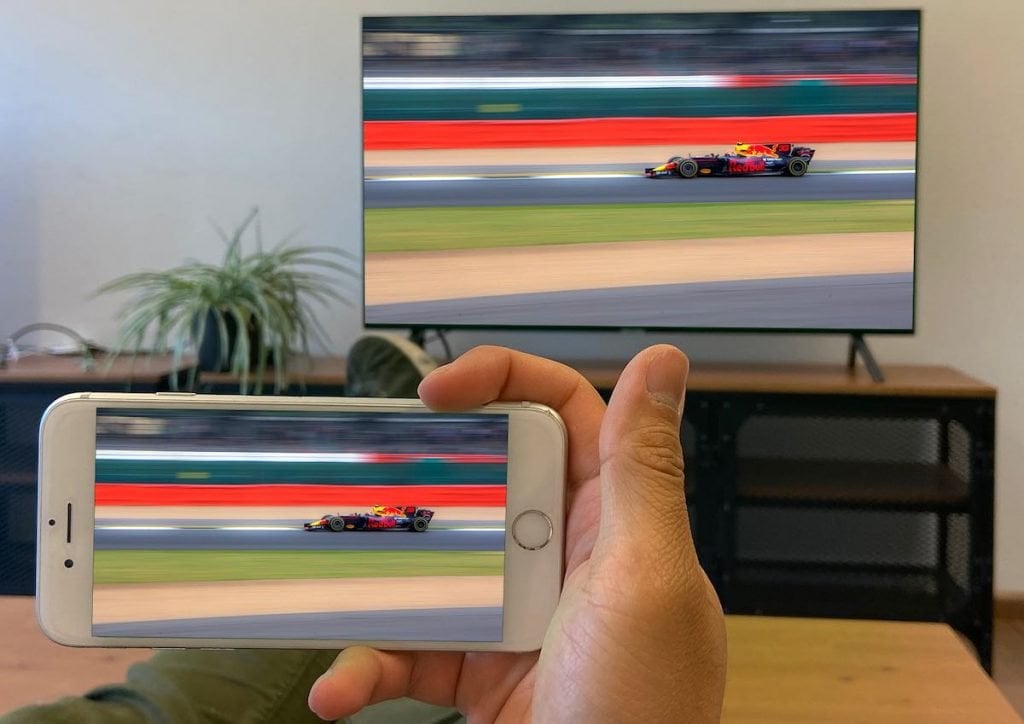 Best Screen Mirroring App
By using AirBeamTV Screen Mirroring apps, you don't need any unsafe cables or expensive hardware. Enjoy everything wirelessly. Easily watch everything on your big TV.
Also, we will never record your screen into files and we don't send any content to a server. We only temporarily store data in the memory of your phone or computer before it is streamed to TV. Upon streaming, the content is removed from memory.
Tip: On the brand page of your Smart TV we explain in more detail how to install and use our app.
Will Screen mirroring Work Without WiFi?
Screen mirroring is a technology that allows you to share your screen with another device. In order to use screen mirroring,you need to have a Wi-Fi connection. Without Wi-Fi, screen mirroring will not work. This is because the technology relies on Wi-Fi to establish a connection between devices. So if you're wondering whether you can use screen mirroring without Wi-Fi, the answer is no – it does not work without a Wi-Fi connection.
Does Screen Mirroring Use Bluetooth?
While bluetooth is a popular method for wireless connectivity, it is not used for screen mirroring. Instead, screen mirroring typically uses either Wi-Fi or a wired connection. Wi-Fi connections are typically faster and way more reliable than bluetooth, making them the preferred option for most users.
Is Screen Mirroring Safe?
Screen mirroring is a super safe way to share your screen with another device. When you use this method, your device doesn't have to be physically connected to the other device. All you need is a wireless connection and AirBeamTVs app. This means that you can share your screen with anyone, anywhere.
Plus, there's no risk of losing any data. When you use screen mirroring, your data is securely stored on your device. So, whether you're sharing your screen with a colleague or friend, you can rest assured that your data is safe.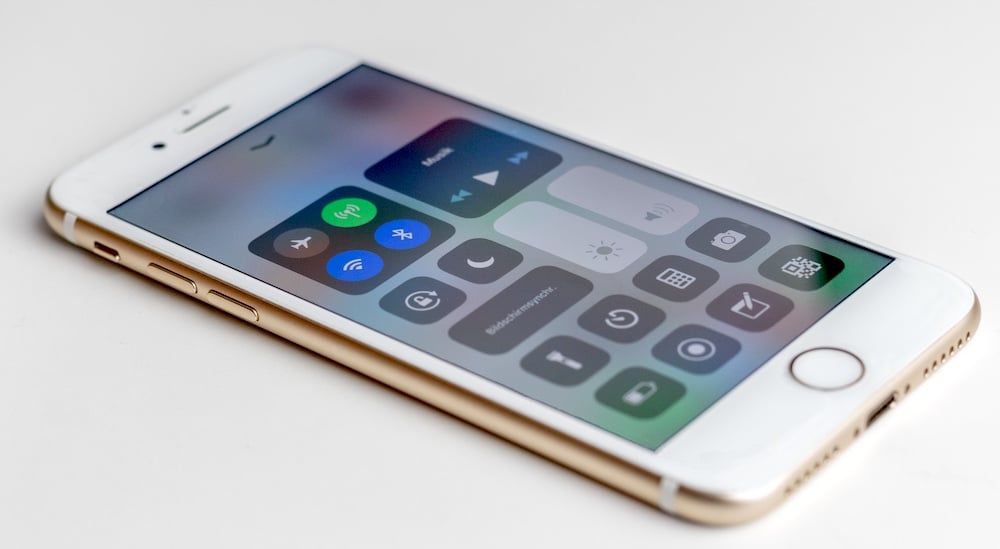 Why Screen Mirroring Lags?
Our apps generate a video stream with your screen's content. It sends this stream to a TV and asks to play. Every TV plays it in its own way, which is unfortunately outside of our control. Most TVs buffer the stream to play it smoothly. This TV buffering introduces a delay on the TV screen.
Can Screen Mirroring Be Hacked?
The senior developer of AirBeamTV answers this question as follow:
In theory everything can be hacked. But feels unlikely for a few reasons:
Hacking is difficult and very time consuming. But, why would someone hack you to see your content…?
Screen mirroring happens inside your local network. Unless your modem is explicitly configured to allow connections from outside, your local network is not reachable from outside. Even if it is configured, it's probably very limiting, doesn't allow access to any devices on your local network.
So don't worry about being hacked while screen mirroring.
Is Airplay The Same As Screen Mirroring?
AirPlay mirrors the device screen with a very low latency. This is great if latency is important for you. E.g. if you are doing something interactive, such as gaming. However, it can also turn out to be a problem, especially if you are watching a movie. Due to the low latency, you are likely to experience many video interruptions with AirPlay. Especially if your Wi-Fi network is not very strong.
One of the common WiFi problems is poor signal. Prevent this by using a WiFi repeater. In our opinion, this WiFi extender Booster from NetFun is currently the best choice out there. When we first tested this device, we immediately experienced a faster internet connection, which accelerated our daily work.
AirBeamTV apps are playing the video stream with a higher latency, which allows to absorb many network issues, and keep playing the video smoothly. This often provides a better movie watching experience than AirPlay screen mirroring.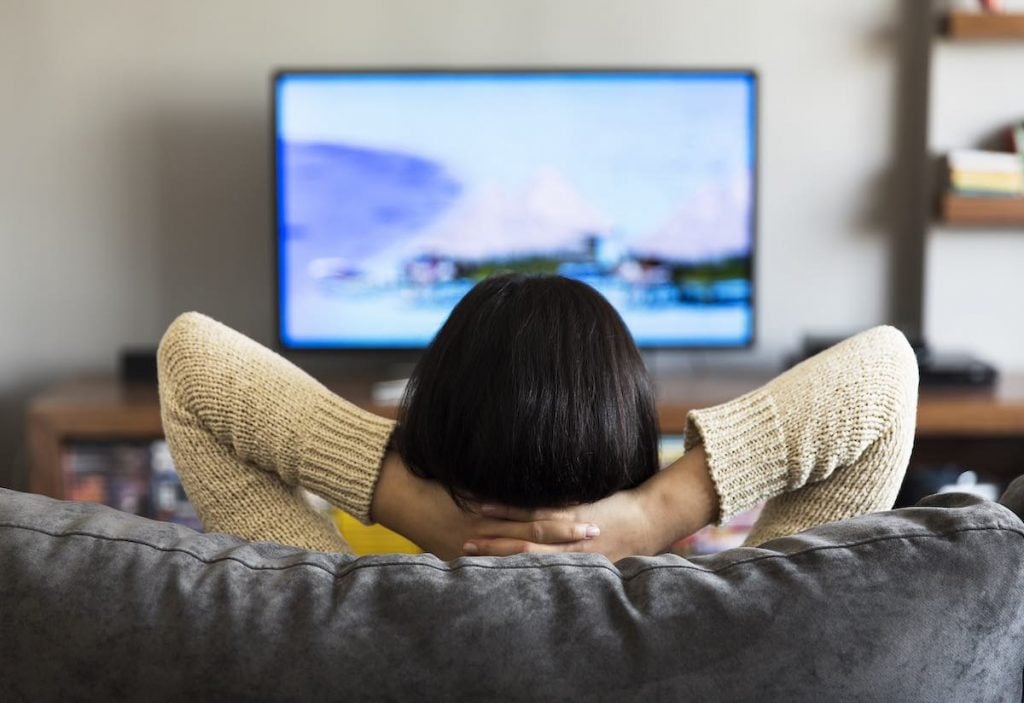 Where is Screen Mirroring on Android?
There are several ways to mirror Android to TV. AirBeamTV offers the best screen mirroring experience for Android devices. With AirBeamTV, you can watch movies, TV shows, and play games on your big screen, without ever having to worry about wires or cables.
AirBeamTV uses the latest in wireless technology to ensure that your screen is always clear and sharp. In addition, AirBeamTV offers a variety of features that make it easy to use, including the ability to mirror your screen in portrait or landscape mode.
Best of all, AirBeamTV offers a free-trial on the Google Play Store where it's available for all Android phones & tablets. So if you're looking for the best screen mirroring experience for your Android device, be sure to check out AirBeamTV.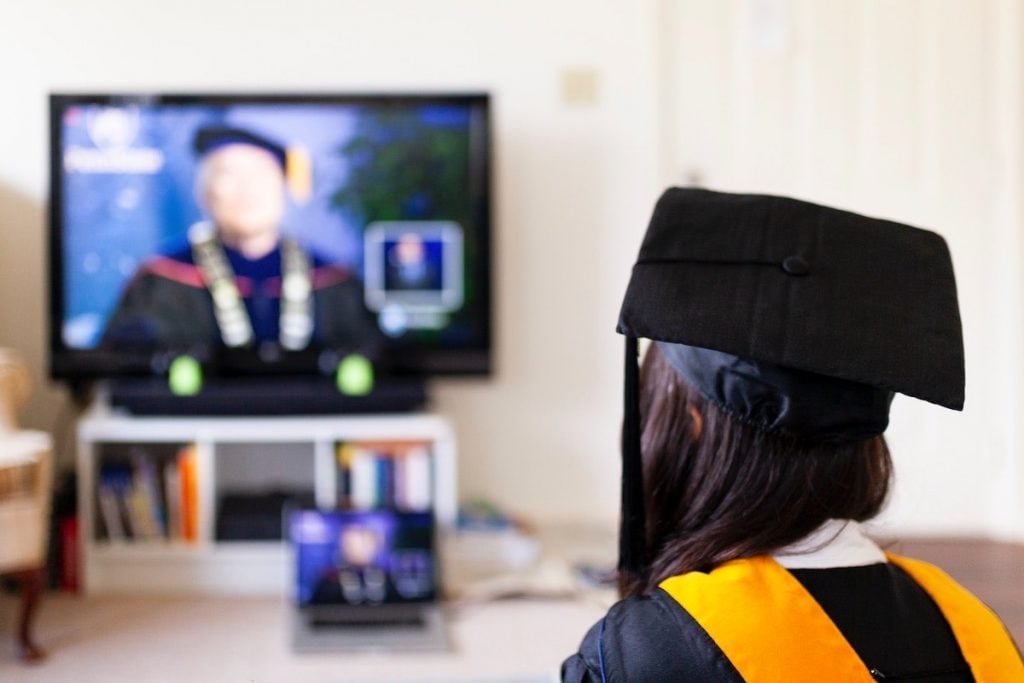 What is Screen Mirroring Called on Samsung?
Smart View is the screen mirroring feature on Samsung devices that allows you to share your screen with a compatible TV or streaming device. You can use Smart View to share your phone or tablet's screen with your TV, and you can also use it to control your TV using your device's touchscreen. Smart View is a great way to share photos, videos, and other content with your family and friends.
Here's how to use Smart View:
Connect your Samsung device to the same Wi-Fi network as your compatible TV or streaming device.
Open the Smart View app on your device and select your TV from the list of available devices.
Once you're connected, you'll be able to see your device's screen on your TV.
You can then use your device's touchscreen to control your TV, or you can use the Smart View app to cast content from supported apps like Netflix and YouTube.
What Are Screen Mirroring Benefits?
Enjoy videos, photos, presentations, apps and other content on the big screen.
Wireless (when using screen mirroring apps).
Prevents eyestrain.
Increase productivity.
Engage colleagues.
Safe
Control the content you share with a simple tap on your phone.
Screen mirroring apps have the latest technology and are future-ready.
ALSO DISCOVER:
Chromecast vs Firestick: Which Is Better?
Top 22 LG TV Apps You Should Have