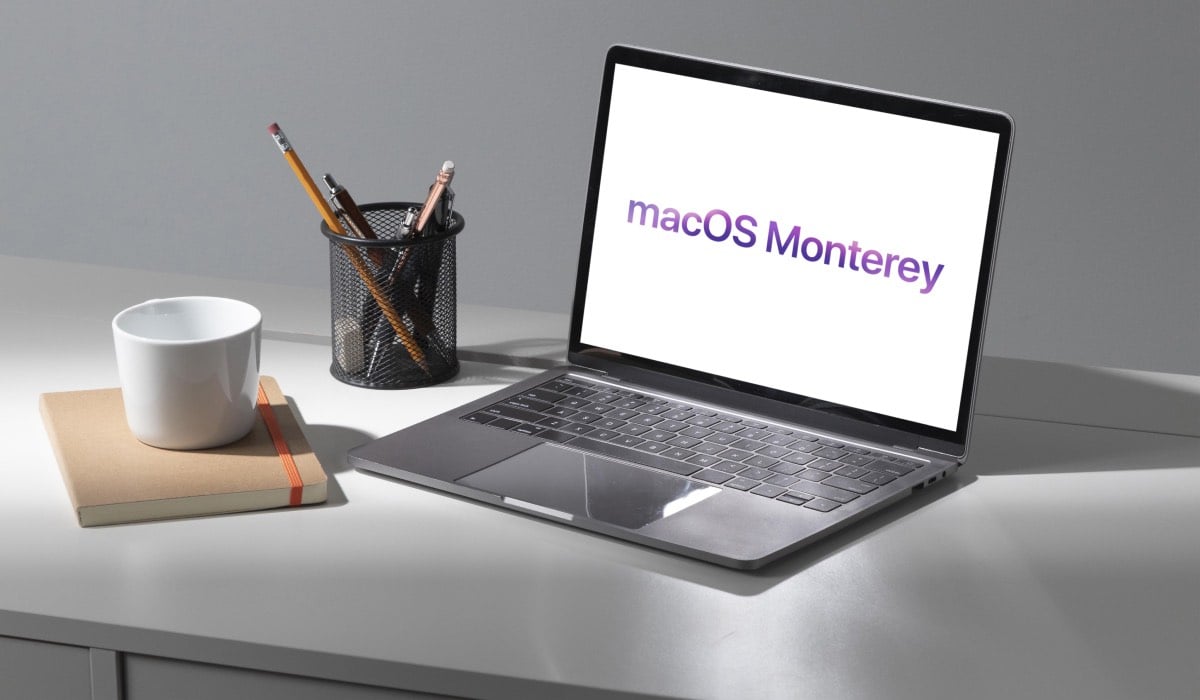 When you're screen mirroring your Mac with macOS Monterey to a TV for the first time, you'll get a notification asking you to allow screen recording on Mac. It may seem odd and suspicious to you. And yet without it, you can't enjoy your favorite content mirrored to a big screen!
In this FAQ, we will explain why allowing screen mirroring on Mac is risk-free.
What is macOS Monterey
MacOS Monterey or macOS 12 is the latest (as of 2022) update to the Mac operating system. It's the 18th version. It follows macOS Big Sur released back in November 2020.
What's new in macOS Monterey
New SharePlay and spatial audio functionalities to FaceTime.
A better, improved Safari experience.
Use several devices using a single mouse or trackpad with Universal Control.
Shortcuts App for Mac.
Improved privacy measures.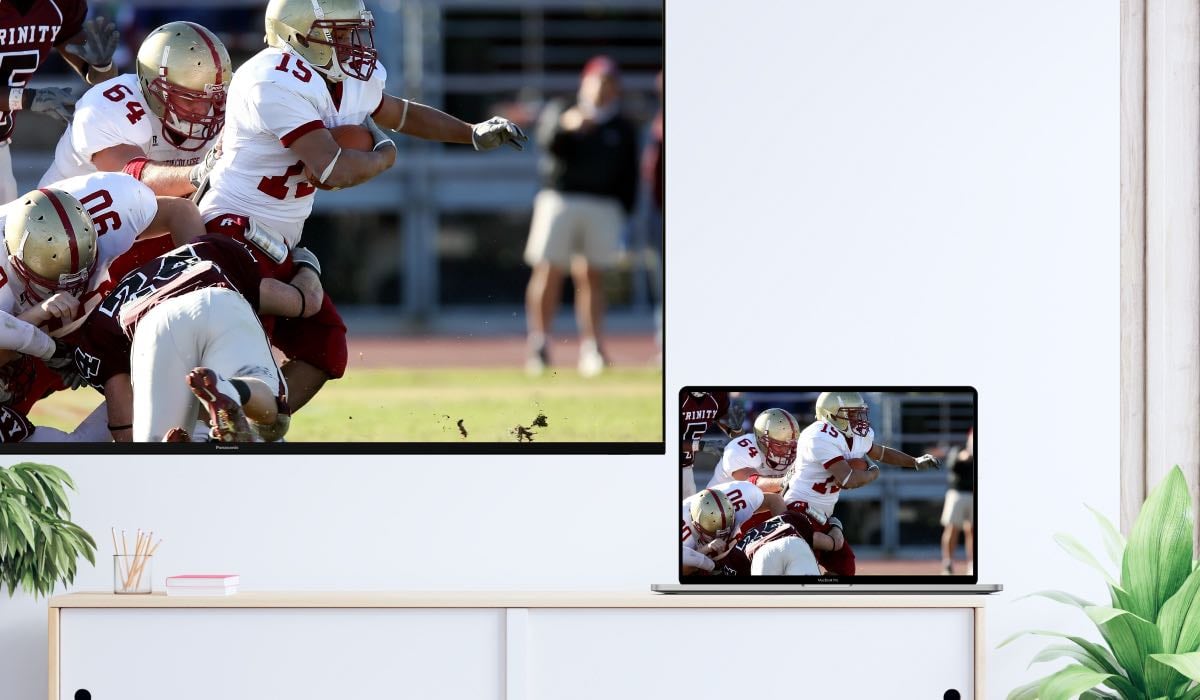 What is screen recording
Screen recording is when you smartphone registers all that happens on your screen. You can later access this in form of a video.
Screen recording is very useful for showcasing instructions or allowing playback of Internet videos without having to save them.
Is screen recording the same as screen mirroring
Although both share the same first word, screen recording and screen mirroring are NOT the same thing. The first captures everything going on on your screen.
Screen mirroring on the other hand takes your entire screen and projects it onto a bigger screen. For example, AirBeamTV apps mirror iPhone, iPad or MacBook screen to Smart TVs! With them, you can easily enjoy content, browse the Internet and use your favorite apps on a large screen!
Want to mirror your MacBook screen to TV? AirBeamTV has a useful app for you! Try it for free right now!
How to start screen recording on Mac
Use a combination: command + Shift + 5.
Choose whether to record a selected area or the entire screen.
Click 'Record'.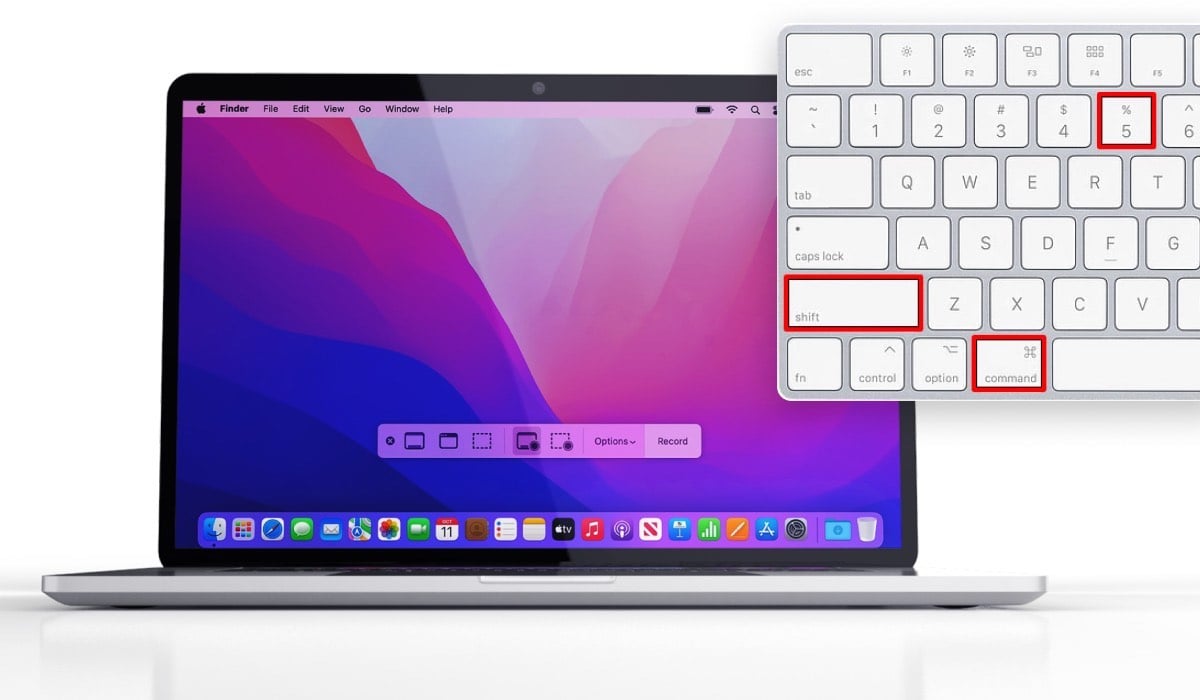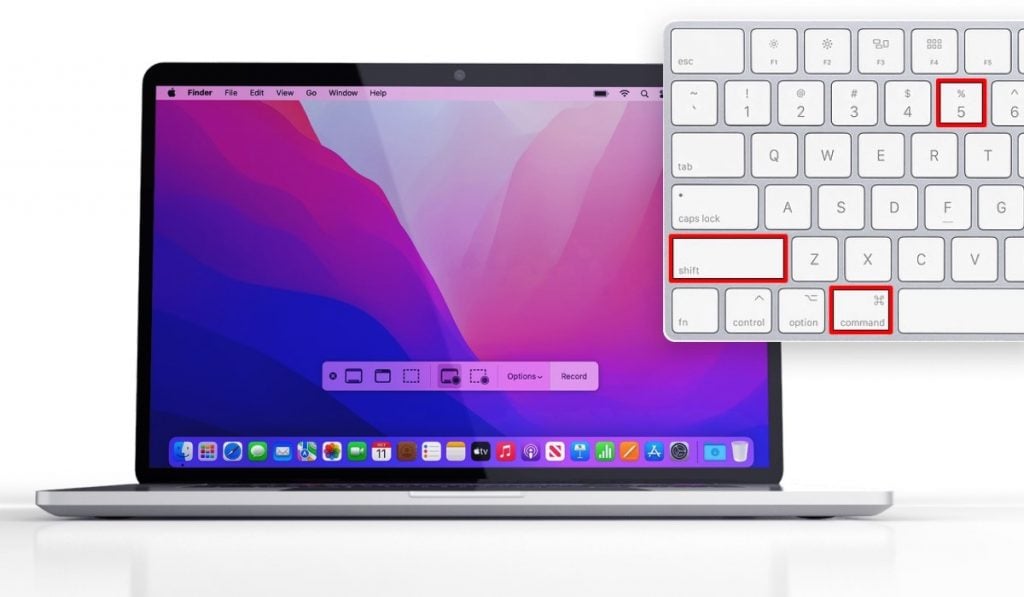 How to stop screen recording on Mac
Use a combination: command + Shift + 5.
Click the record icon in the middle of the panel.
Click the pop-up to see the recorded screen.
How to allow Screen Recording on Mac with Monterey?
If you are using macOS 12 Monterey, you need to allow Screen Recording in Privacy Settings. Read the step-by-step guide below:
1| Once you press the "Start Mirroring" button, your Mac will show this message: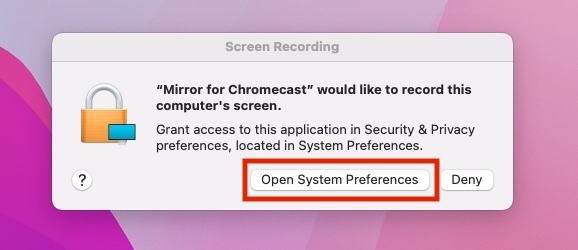 2| Go to System Preferences and "Security & Privacy":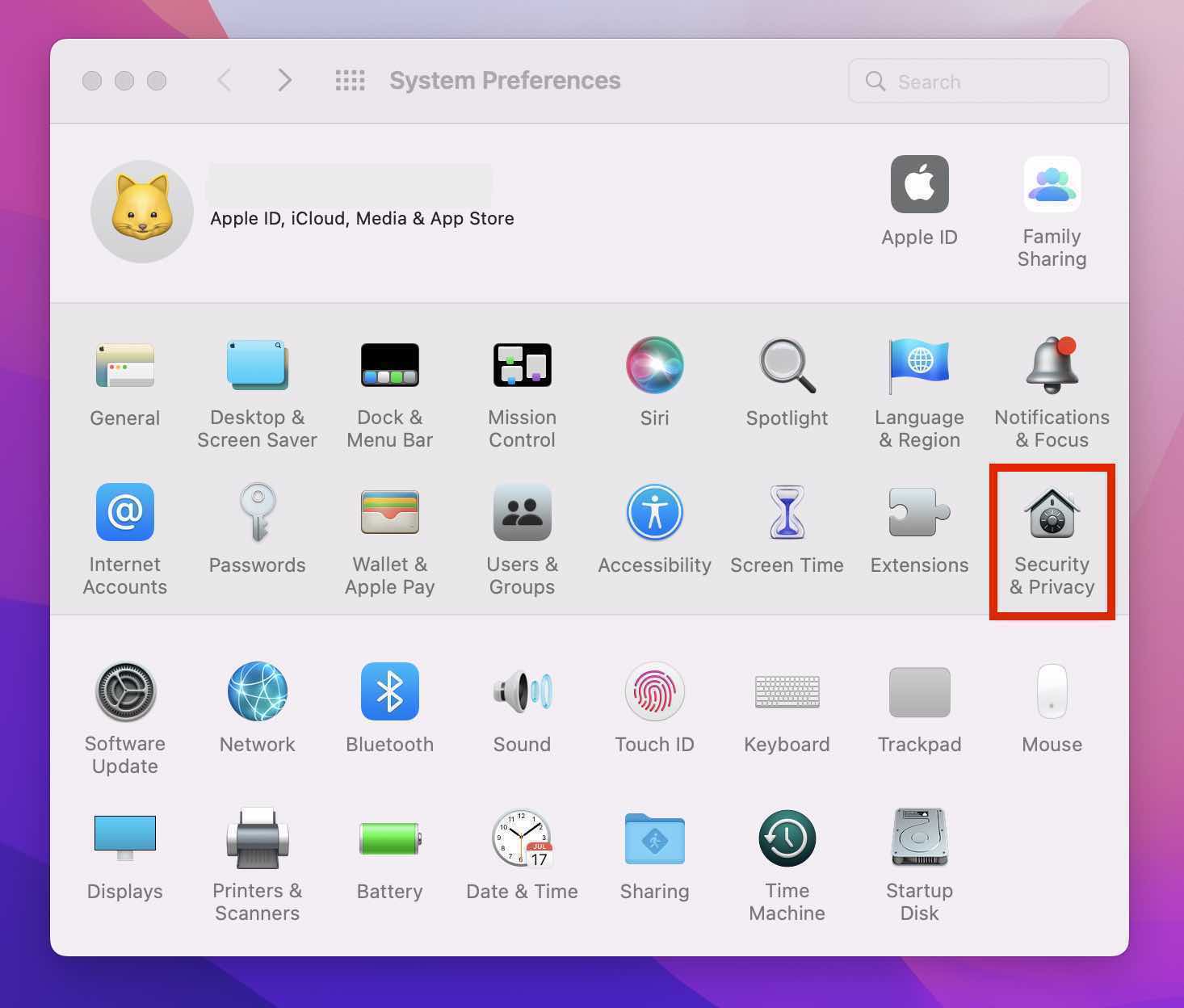 3| Click the Lock icon and log in to be able to make changes: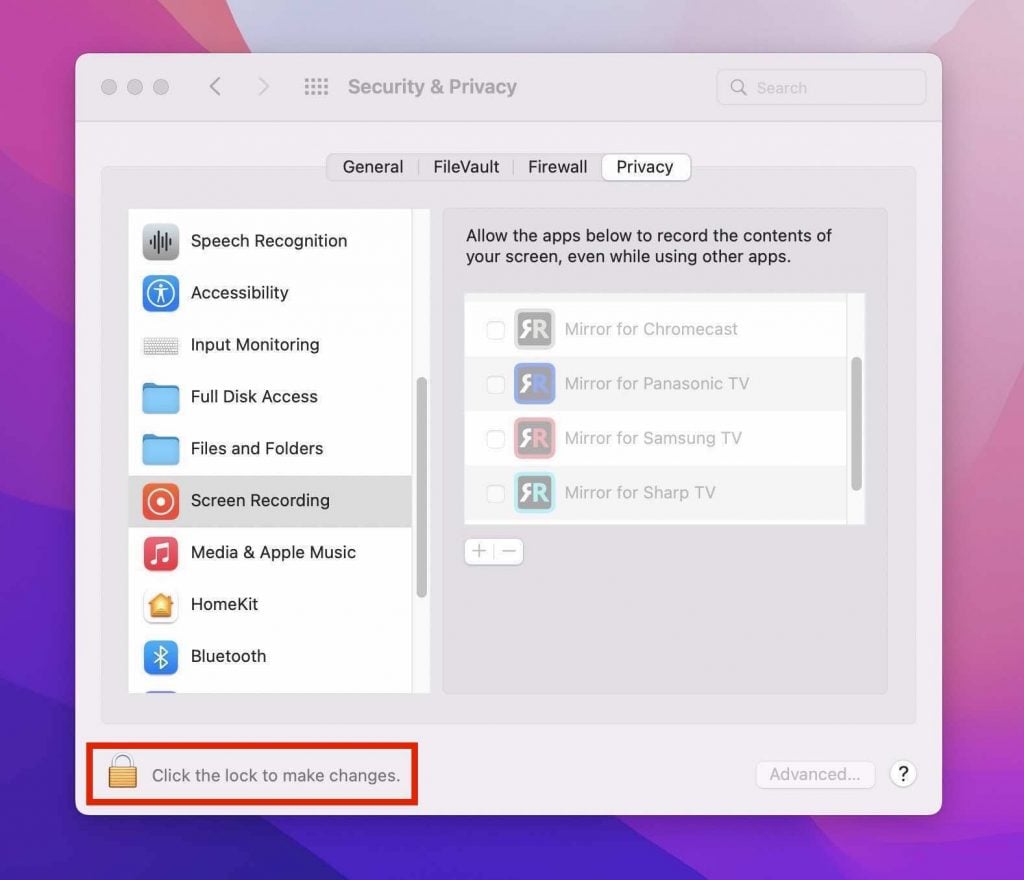 4| Pick Screen Recording from the list: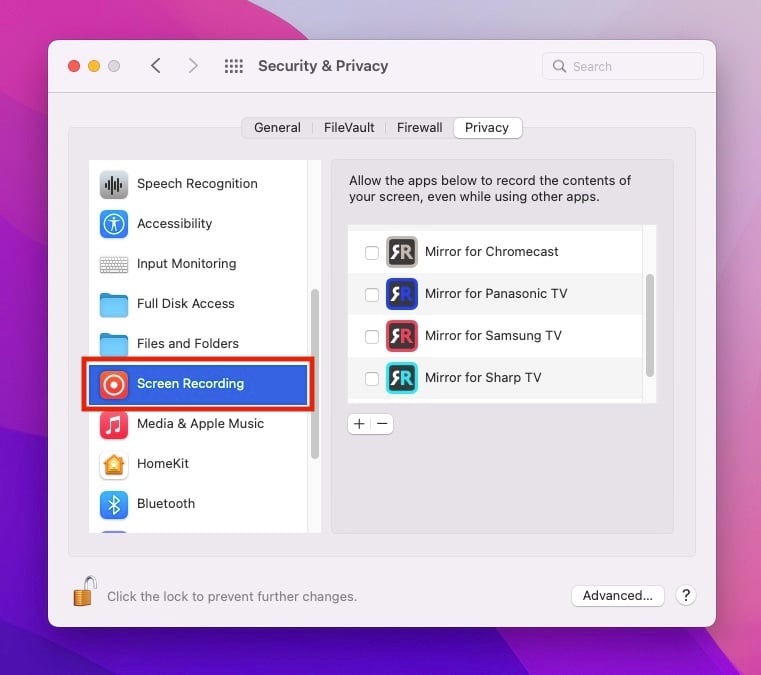 5| Then click on the checkmark next to the screen mirroring app you are using: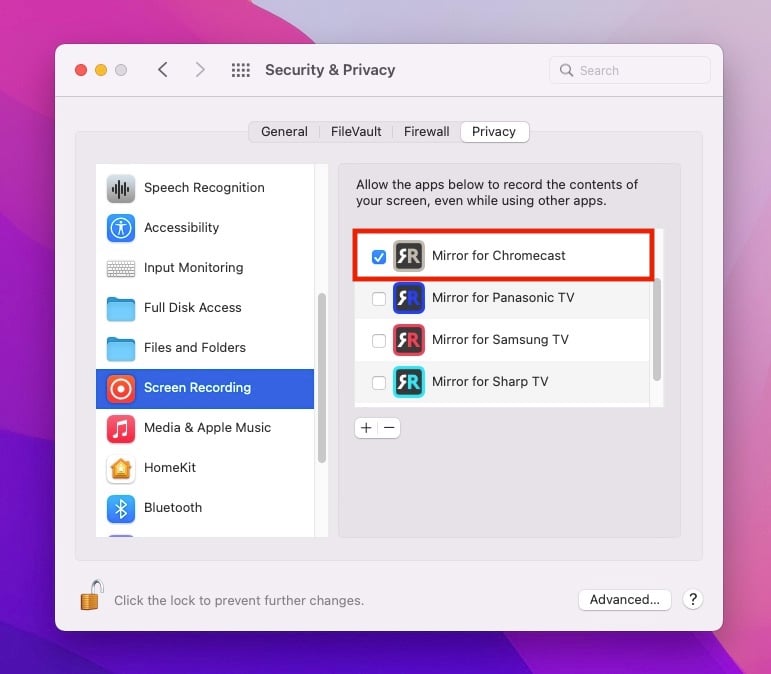 6| When you have the screen mirroring app opened, you will see this message; please select "Quit Now":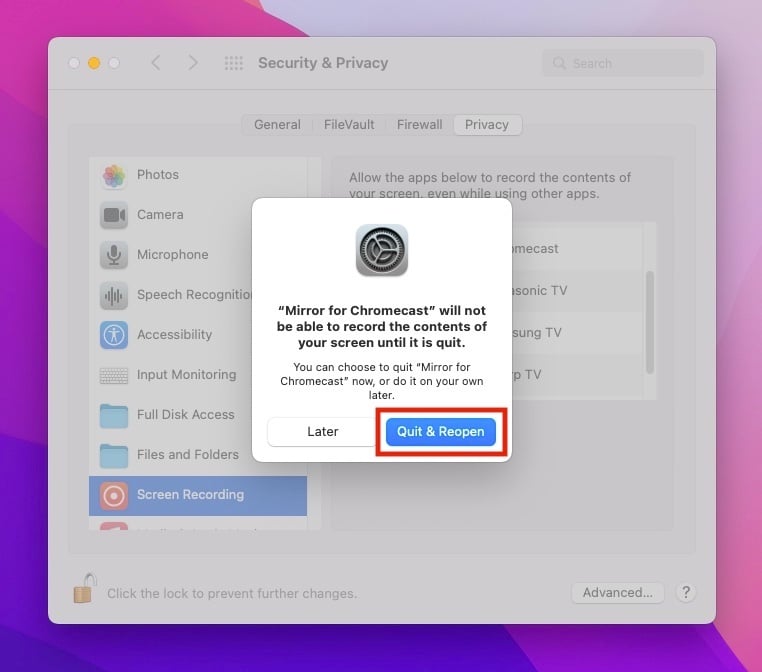 Now it is done. Just open the app again and enjoy mirroring!
Mac security and privacy – screen recording
From its conception, Apple put security and user privacy at the top of their list of priorities. MacOS 12 introduced some new measures. Among those are:
Automatic upgrade from HTTP to HTTPS on Safari, where available.
New Passwords functionalities.
An Erase All Contents function.
Should I allow screen recording on Mac?
A common concern of screen mirroring users is that their screen is being recorded and that the recording is later stored. It's a valid worry. However, AirBeamTV apps only use the recording of your screen to facilitate the mirroring.
That means our apps record your screen and send it over to your TV. Upon hitting the TV screen, the recording ceases to exist – we DO NOT store it.
For more information, please refer to our FAQ item about screen recording and security.
Learn More:
Screen Mirroring isn't working on my iPhone/iPad with iOS 15 or iOS 14
Why Do Apps Block Screen Mirroring?
When I use Screen Mirroring from my iPhone or iPad, I don't have any sound on TV