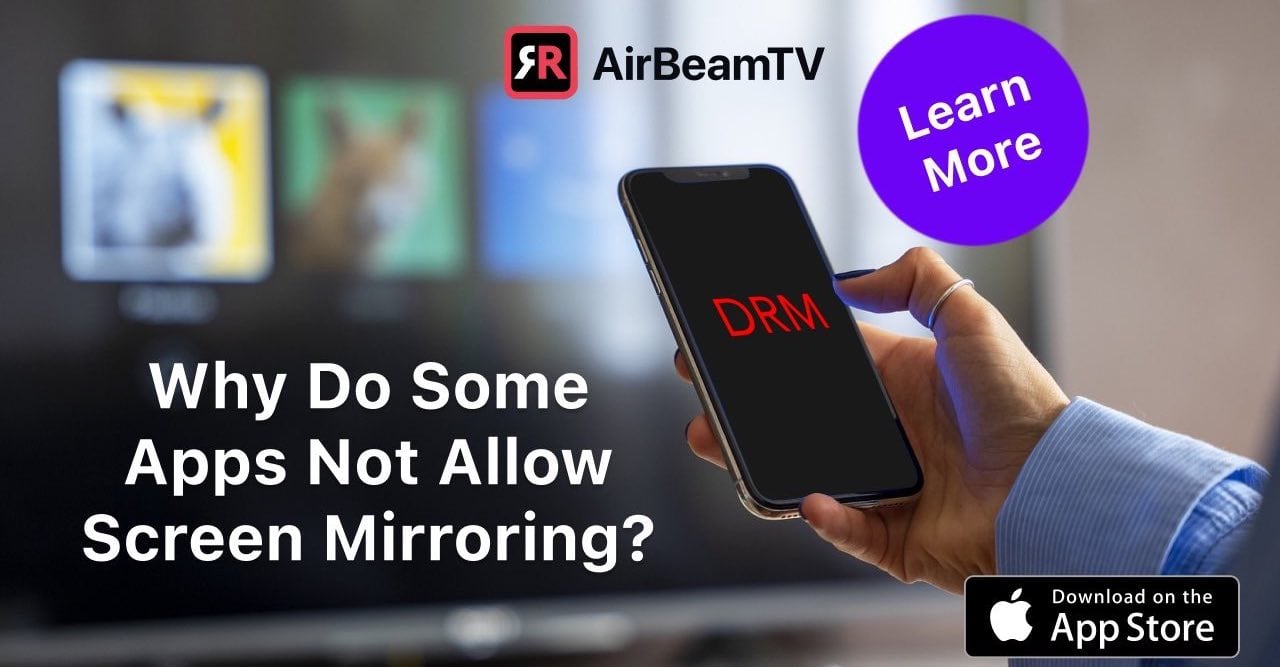 Why Does My Screen Mirroring Not Work?
Some apps block Screen Mirroring. This means that application developers can choose themselves if they want to block Screen Mirroring. For instance, Netflix,
Disney Plus
and
Apple TV
 have decided to block this. Learn more and discover ways to bypass it in this useful article.
DRM
DRM, or digital rights management, is a type of technology that is used to protect digital content. DRM technology uses encryption and other methods to control how digital content is used and accessed.
DRM technology can be used to control who can access digital content, how long they can access it for, and what they can do with it once they have accessed it. DRM technology can also be used to prevent unauthorized copying or distribution of digital content.
DRM technology is often used by businesses to protect their copyrighted material, such as software, music, and ebooks. DRM technology can also be used by individuals to protect their own personal digital content, such as family photos and videos. DRM technology can even be used to control the use of physical devices, such as printers and USB drives. DRM technology is an important tool for businesses and individuals alike in the digital age.
What is DRM protected?
DRM-protected content can only be accessed by authorized devices, and it can only be used in accordance with the terms set by the copyright holder. DRM technologies can make it difficult for consumers to copy or transfer content they have purchased, which has led to some criticism of DRM-protected products. However, DRM technologies are essential for protecting the intellectual property of copyright holders.
Test DRM
There is a simple test that you can do to see if the app that you want to mirror has blocked Screen Mirroring:
Open the app you want to use.
Slide up Control Center on your iPhone or iPad.
Click on Screen Recording and start recording the screen to your Camera Roll.
Watch the app that you want to mirror and at some point stop the screen recording.
Then go to your Photos app and watch the video that was recorded.
If the recorded video shows the app you want to mirror, it works fine.
If the video is empty, then the app you want to mirror does not allow screen mirroring.
Now What?
If an app is protected with DRM then screen mirroring will not work. Unfortunately, AirBeamTV can not change that. Our screen mirroring apps mirror everything (movies, videos, series, etc) that is not protected with digital rights management.
Wait! There is one thing you could try though…
Video Tutorial
Check out this useful vlog on how to bypass screen mirroring restrictions.
While it is disappointing that Netflix, Disney, Paramount and other companies have chosen to block screen mirroring, there are ways around this restriction. By understanding DRM and how screen sharing works, you can be better equipped to watch your favorite shows and movies on your own terms. We hope you'll try out the AirBeamTV solutions to enjoy your favourite content on your own devices.
Does the NFL mobile prevent screen mirroring?
Yes! Unfortunately you can not screen mirror NFL Mobile to your smart tv. It's DRM, decided by NFL. Also discover the FAQ-page of AirBeamTV, or try one of our screen mirroring apps. They have a free-trial today!
ALSO DISCOVER: