The volume output from my Mac to my TV is very low
Some users have experienced problems with low volume output on their TV while mirroring from the Mac.
First of all:
Make sure that the volume output on your Mac (use the keyboard volume buttons) is set to maximum volume
Increase the volume on your TV with your TV remote control
If you are using the Mirror for Roku or the Mirror for Fire TV app, please increase the volume on the Roku or Fire TV as well
If you still have low volume output, then open "Audio MIDI Setup" on your Mac. Just type the name in the Spotlight search on the right top corner of your Mac.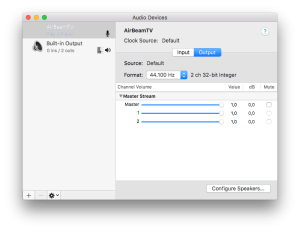 Select AirBeamTV and set Master, 1 and 2 to 1,0 (which is the maximum).