The Best App For Wedding Party Photos
Capturing the perfect wedding party photos can be a daunting task. You want to make sure that all of your friends and family are in the shots, but getting everyone organised and into position can be a real challenge.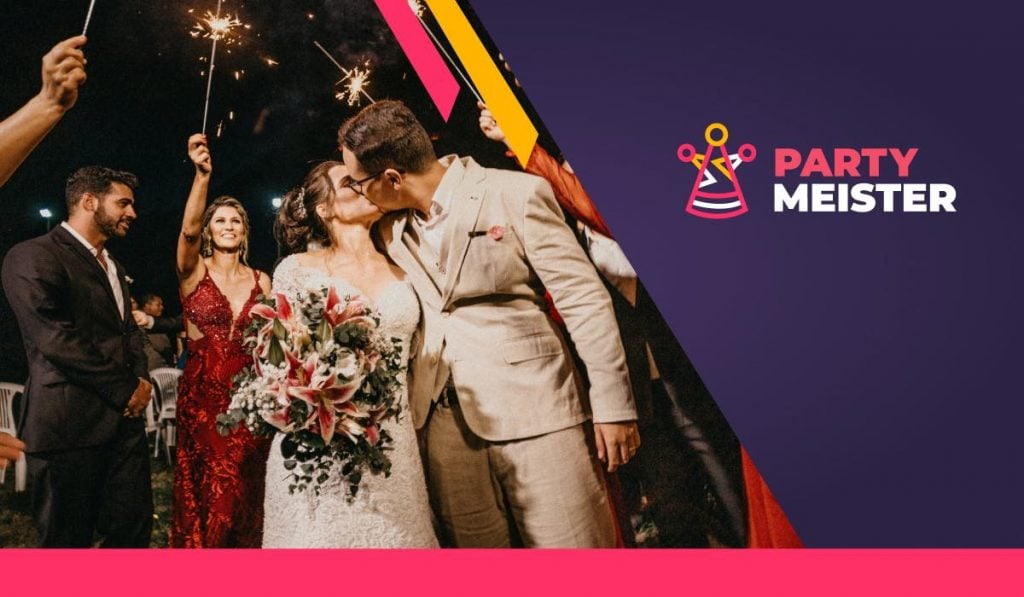 Not only do you have to worry about capturing the perfect photo, but you also have to worry about keeping track of your phone or camera during the festivities. If you drop it or someone steps on it, your big day will be ruined.
Here's the solution! The revolutionary PartyMeister app lets you take photos with ease, and share them with your guests in real time. No more missed moments, wasted time or worries. Just relax and enjoy your special day.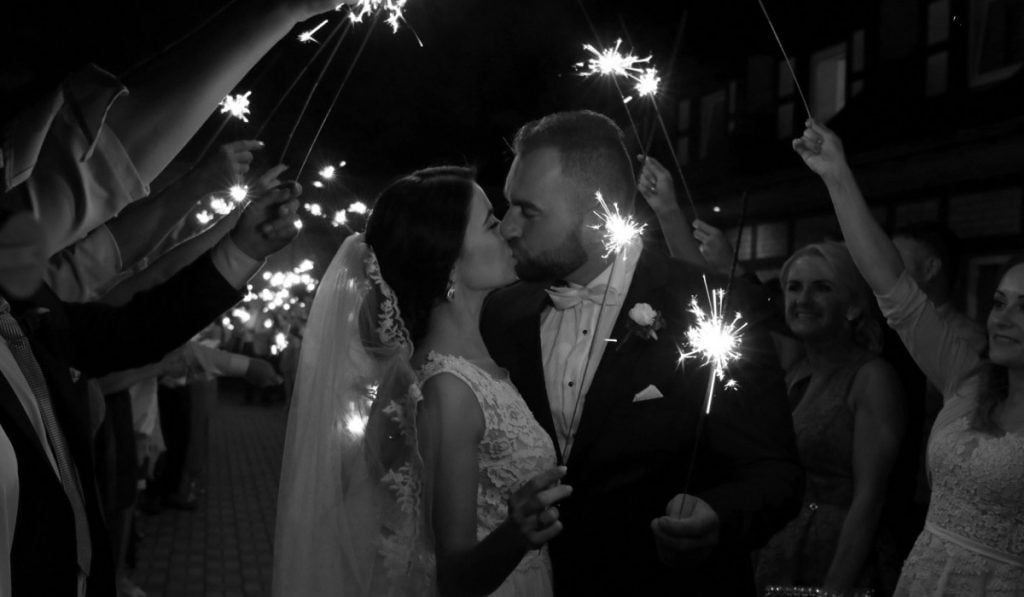 Wedding Party Photos App
PartyMeister is a brand-new photo sharing app powered by your guests. It lets everyone with a smartphone add their own photos to a live slideshow displayed on a Smart TV.
With PartyMeister, you get something that was previously unattainable. Namely, a real-time collection of memories captured by your friends and loved ones. A wedding photographer only goes so far – with PartyMeister you get so much more.
You get laughs at a silly selfie, a one-in-a-million snapshot done by your cousin, your first dance captured from multiple angles,… All of this happens as you and your guests enjoy this one-of-a-kind occasion.
And then when your special day is over, you can come back to those special memories at any moment.
Wedding Party Photo App For Free
PartyMeister is a free app. Yes – you can set it all up completely without any costs! With it, you and up to 10 guests can upload 150 watermarked photos.
If you're planning a wedding, you might want to consider the paid version. You get unlimited photo uploads and guests, no watermark and no ads.
How much is PartyMeister premium?
PartyMeister premium comes in three subscription plans:
Weekly at $3.99 – a perfect option for a one-off event.
Monthly at $7.99 – best if you have a busy party month!
Yearly at $14.99 – with a yearly plan, PartyMeister will be with you whenever you need to liven up your party!
How Does PartyMeister Work?
As a host, you use PartyMeister to establish a connection between your iPhone and an HDMI-equipped display. It can be a Smart TV or a large screen with a streaming device such as Roku or Fire TV connected to it.
To get the slideshow started, add three photos. Then, as guests start to pour in, they can scan a QR code on the TV screen and contribute their own photos with their iOS or Android devices.
The guests don't need to have the PartyMeister app on their smartphone. Guests upload pictures through an easy-to-follow in-browser page.
PartyMeister requirements
If you're a host, you only need 3 things to make PartyMeister work:
An iPhone with the PartyMeister app installed.
WiFi-capable display. Either a Smart TV or a (projector/ beamer) screen with a streaming device, like Roku, Firestick or Chromecast.
WiFi connection at the wedding party venue.
If you're a guest; join in on the fun with any smartphone or tablet. Here's what you'll need:
Any smartphone or tablet – whether it's iPhone, Android phone or tablet, Windows Phone or an iPad, it'll work with PartyMeister!
Internet connection – either WiFi or cellular data.
PartyMeister Advantages
1 | Easily get all wedding pics
Wedding guests take 2000 photos at weddings and new couples never get to see them. But now you can use the PartyMeister app, which automatically shares all captured images with your friends so they will know what went down!
2 | Impress loved ones
Impress friends and family with this revolutionary application that has never been seen before. Your special photos contribute to the whole day, especially if they're 'perfect pictures' or cool selfies!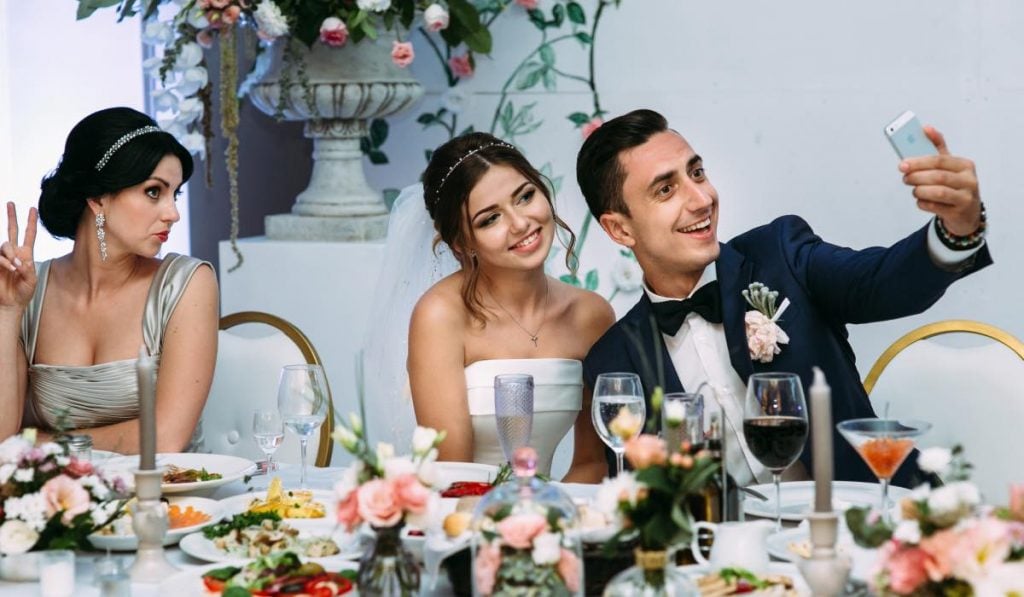 3 | Get more wedding candid photography
Candid wedding party photos are the best, aren't they? They're natural, unposed and show genuine emotions.
But it's always a bit of a challenge for a wedding photographer to capture that. They may have spent some time getting to know you, but they don't know any of your guests. Can they capture the essence of each person present at your wedding party?
With PartyMeister, each guest can take dozens of beautiful candid wedding party photos of you and other people. Let's just say that some things are just better when they're left to your loved ones!
4 | You won't miss any important moment
A mid-sized wedding party usually includes around 100 people. That means endless interactions and little moments, often happening at the same time.
No matter how good your wedding photographer is, they just won't be able to capture everything that's worth capturing. They can't be in all places at all times!
PartyMeister solves that problem by making each guest a photographer! That way, you'll get photos from every corner of your wedding party.
5 | Get cheaper wedding photography
Hiring a wedding photographer is a huge cost. Especially if you want photos from the entire wedding party. And organizing a wedding is already a massive financial undertaking in itself.
If you're looking to make some cuts, you can consider hiring a photographer for an hour or two. That's plenty of time to take all of the group pics, first dance photos, pictures of the ceremony and even some photos during the wedding party!
For the rest of your wedding party, guests can take photos for you with PartyMeister! And at no extra cost to yourself – you can download the app for free!
6 | See wedding party photos at the reception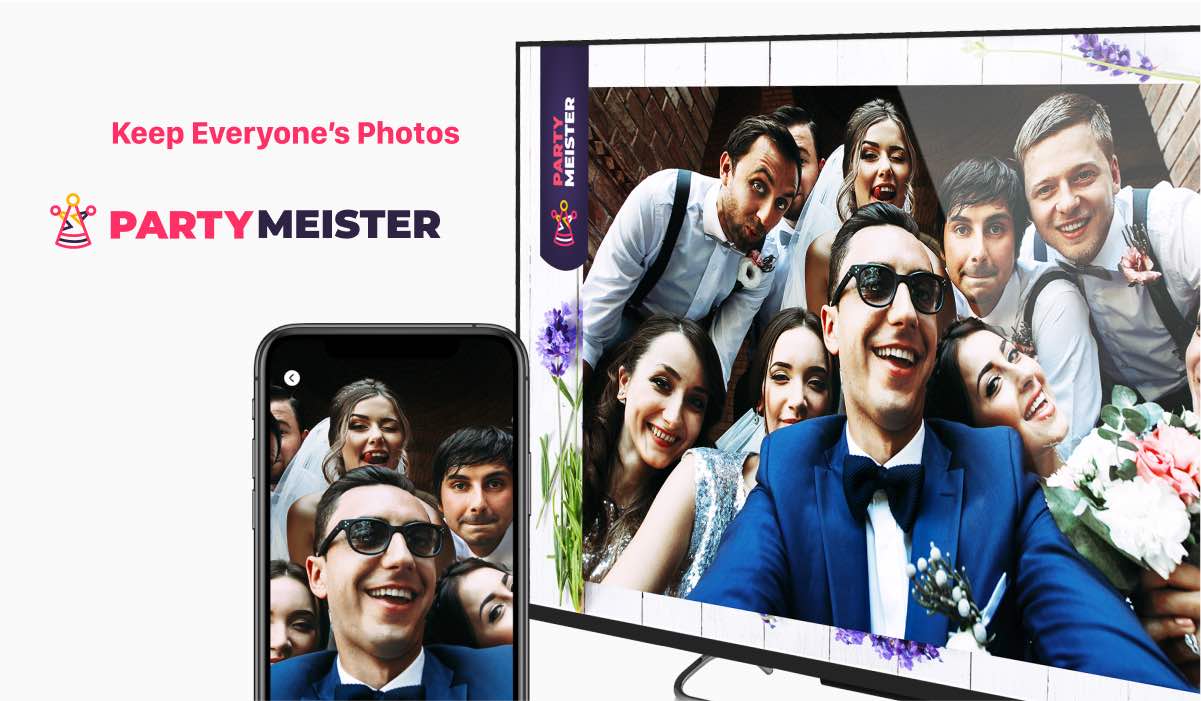 You no longer have to wait for the photographer to painstakingly edit all of the photos to actually see them – get them instantly on a big screen!
Let's be honest for a second. After your wedding party, you won't see the photos for at least a couple of days. They have to be sorted through and edited – that just takes time!
With PartyMeister, you get an instant access to all the wedding party photos taken by your guests. Not only that – they will all be displayed on a large TV screen, for everyone to enjoy!
7 | Completely wireless
PartyMeister works by connecting your iPhone and the TV through WiFi. That means you don't need any clunky cables or hardware. Everything happens right on your smartphone!
8 | All guests can participate
You don't have to worry about your guests not being able to join in on the fun. PartyMeister works with any smartphone, be it iPhone, Android or Windows Phone.
As long as you can scan a QR code with your phone – you can be a PartyMeister guest and upload wedding party photos!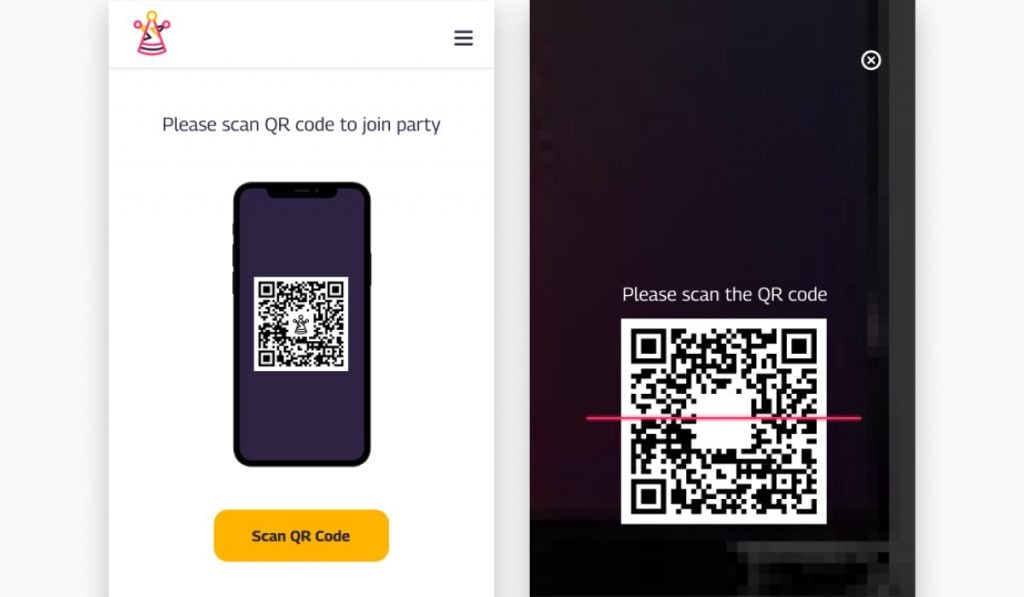 9 | Works with any iPhone and any display with HDMI
To host, you only need an iPhone with PartyMeister installed, a WiFi-connectible display and a WiFi connection.
What screen can I use with PartyMeister?
You can use any display that you can connect to WiFi. That includes:
Smart TVs from all leading manufacturers – Samsung, LG, Panasonic and other popular Smart TV brands.
A Smart TV with a streaming device such as Roku, Fire TV, Apple TV or Chromecast.
A TV without WiFi capabilities, but with a streaming device.
Any displays, such as monitors or screens that have an HDMI plug.
PartyMeister Features
Wedding party photos get saved in the PartyMeister app
All of the wedding party photos your guests took and uploaded will stay with you. You can access them at any moment through the PartyMeister app. They will be there in a form on a neat photo album.
New photos have priority in the slideshow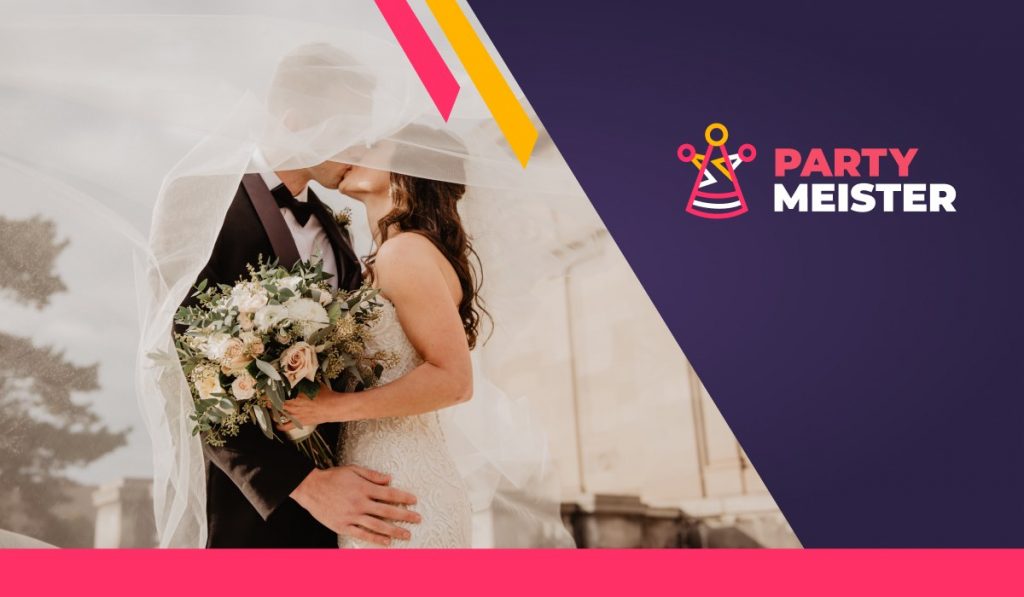 Let's say you have 100 guests at your wedding party and they all upload photos to the PartyMeister stream. Won't they pictures get buried in an avalanche of other photos?
PartyMeister has a solution to that. The app displays photos in a carousel. Whenever a guest uploads a new photo, the app will prioritize it and put it in front of the queue. After it's been displayed, it will find its way to a randomized photo carousel.
Moderation Function
People at a wedding party might sometimes get silly ideas – that includes the photos they take! But not to worry – they won't be able to upload anything and everything.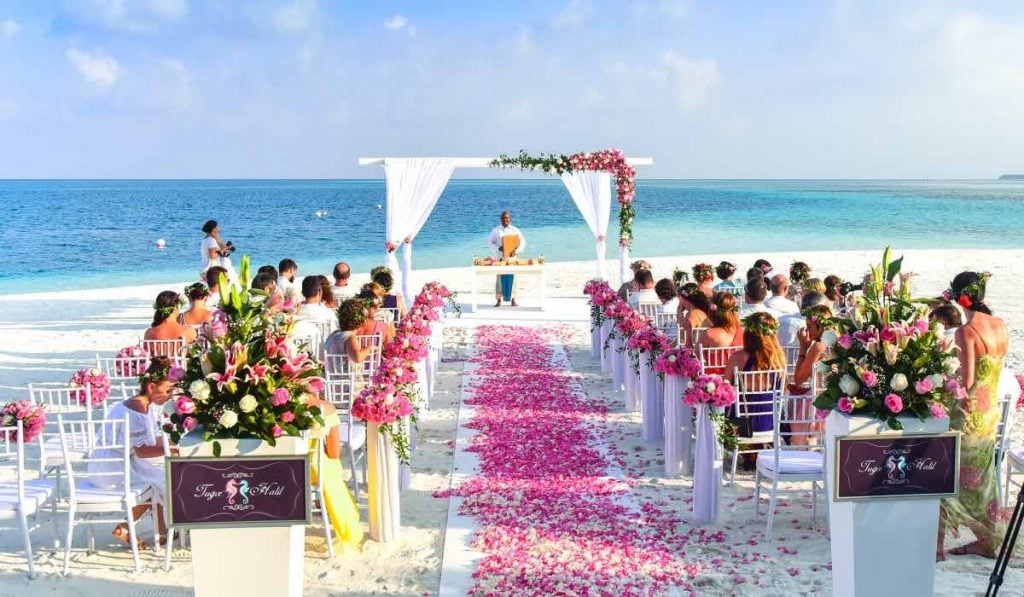 PartyMeister has an optional moderation feature. That means you as a host can review all of the uploaded pictures and choose which ones to display.
With the moderator feature, you (and your guests) won't be bothered by blurry or unwanted photos. Show only beautiful pictures!
The great moderator function stops uncomfortable surprises like out of focus candid shots.
20 unique backgrounds for your slideshow
Make your wedding party photo slideshow as personalised as you want!
With PartyMeister, you get 20 unique background images for your slideshow. Choose the one that fits the theme of your wedding best!
How to show photos on TV with Roku?
Wedding Party Photos Ideas
How to pose for wedding photos?
1 | Listen to your wedding photographer
Your wedding photographer will know best how to capture you. They're a professional, after all!
2 | Try a few mock sessions
A great way to boost your confidence on the big day is to have some mock sessions. It will help you determine your best angles. Then, during your wedding party, you'll know best how to pose to photos.
3 | Don't be afraid to get quirky
Wedding is the time for you to shine your true self. Don't be afraid to incorporate silly props into your photoshoots. Whether it's showcasing your hobbies or getting back to your old toys, your future self will appreciate that!
4 | Be yourself and enjoy the day
This is quite simple – enjoy yourself! Your wedding party photos will show that!
5 | Smile naturally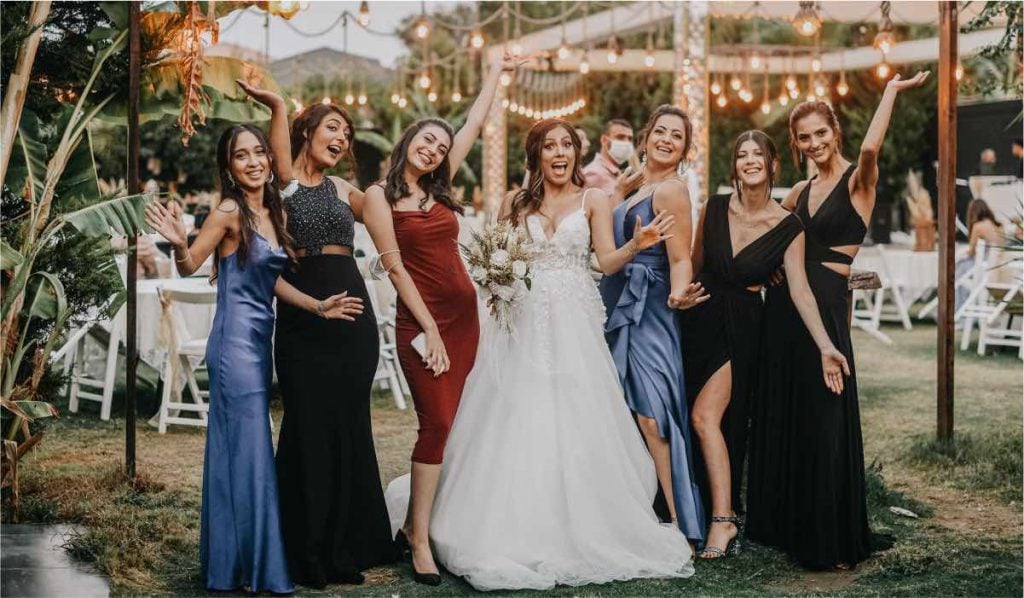 There's nothing worse than a forced smile! Don't push yourself! A wedding is a joyful occasion – a smile will come to you naturally and the party photos will reflect your true self.
How To Pose For Wedding Party Photos Without Photographer?
PartyMeister is all about wedding photos made by your guests. Since those will be taken with a smartphone or a tablet and not with a camera, the way you'll pose might be a little different.
Here are some pointers for you to make posing in front of a smartphone or tablet camera a breeze!
How to pose for selfies
Not incidentally, selfies make some of the best pictures uploaded to PartyMeister. They just brim with personality!
The best selfies are the ones that capture the joy of the moment. Look straight into the phone screen, crack a big smile and be yourself!
Best selfie angles
For group photos, the best angle is a to-the-top-and-to-the-side one. That way you can capture several people at once, without excluding anyone!
For one-or-two person selfies, try moving the smartphone camera around to find the best angle. Generally, taking pics a bit from the top brings about the best results!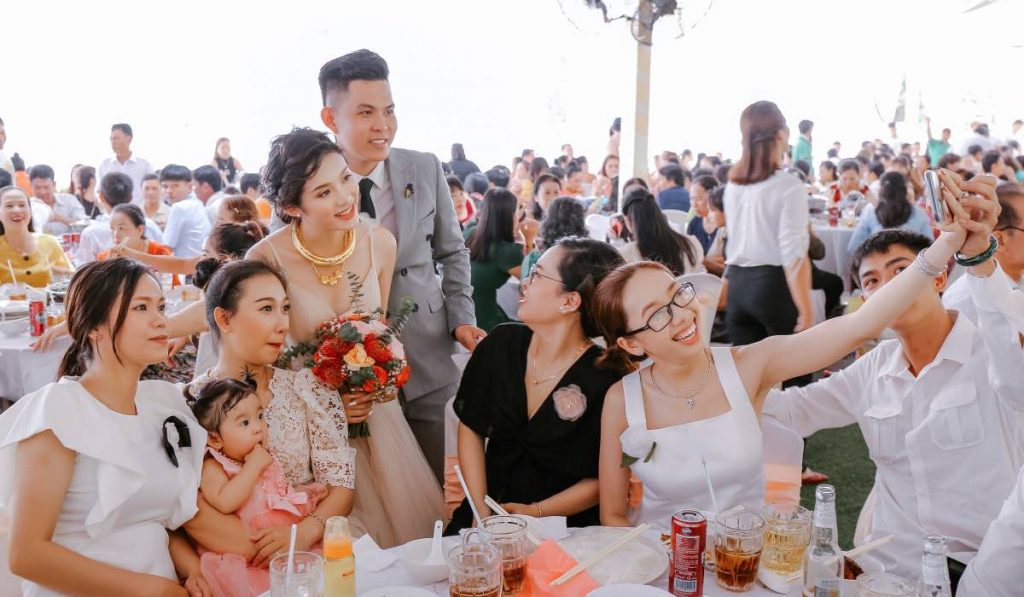 Stand up straight
This will make you seem taller, more serious and will showcase you in the best light!
Do something fun with your arms and legs
Whether it's putting your hands on your hips, or propping up one of the legs by standing on your toes, it will make for a varied photoshoot!
Keep loose!
When someone is taking a picture of you on a smartphone, get relaxed and let your confidence shine! Whether it's a sassy pose, or a cheeky smile, it will make your wedding party photos that much better!
How to take perfect wedding party photos on a smartphone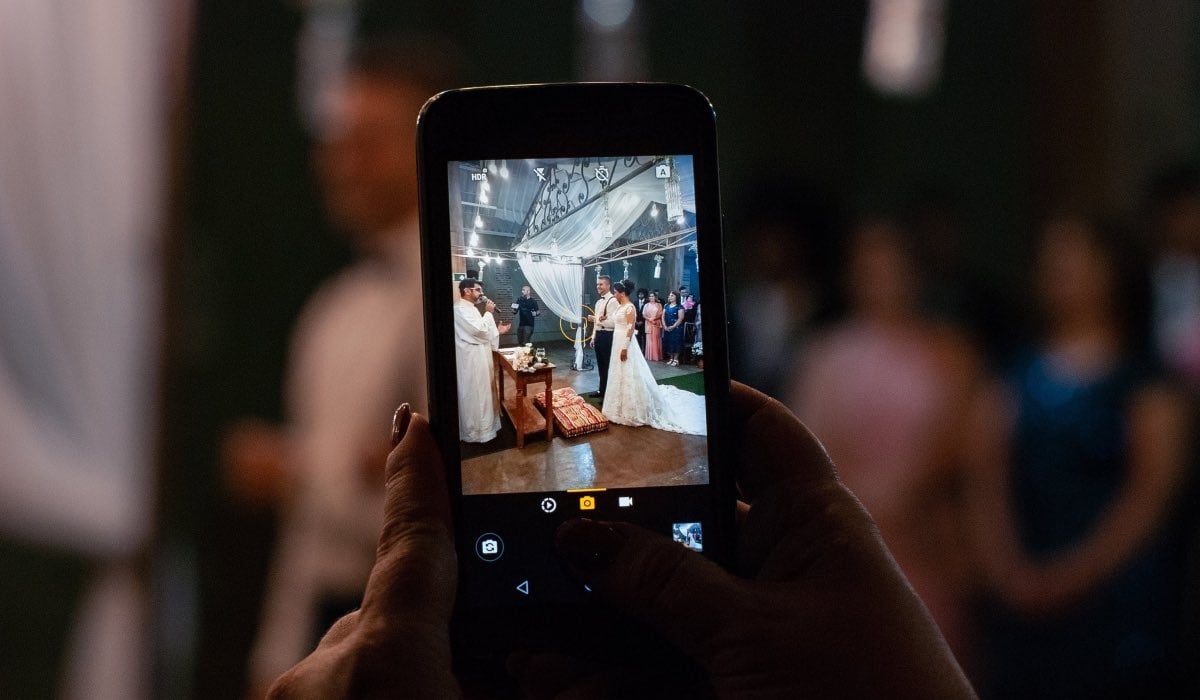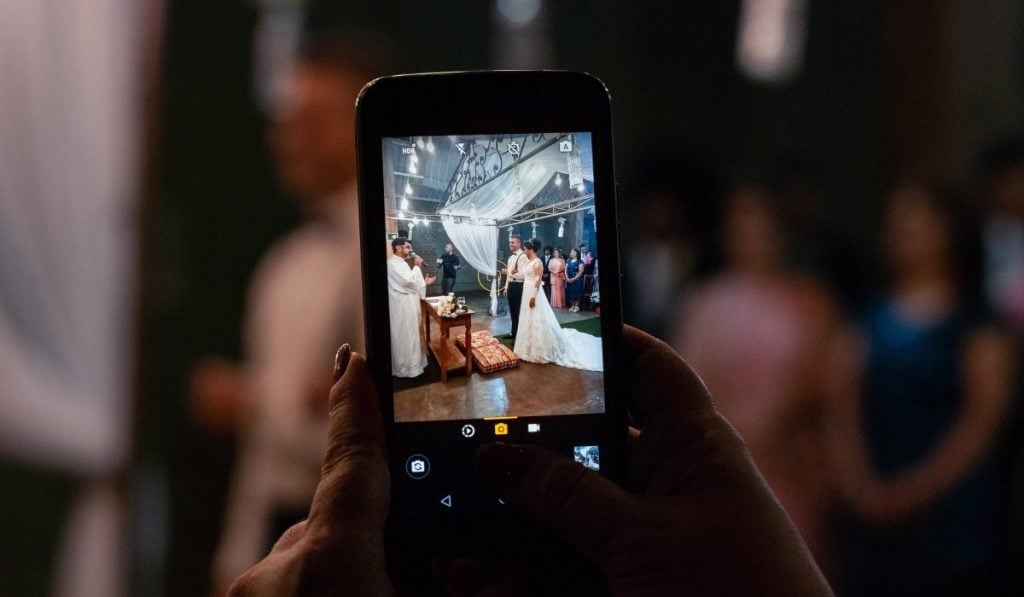 iPhone burst mode
Sometimes the perfect shot reveals itself a second after you took the photo. Using burst mode will allow you to easily take multiple pictures at once and then choose the best to upload to PartyMeister.
Use functionalities
Your smartphone camera is a powerhouse of functionalities. Use features like grid, flash or zoom to make your photos better!
Capture the moment
A handheld smartphone is a perfect tool for quick photos! Don't be afraid to whip it out when you see something worth capturing!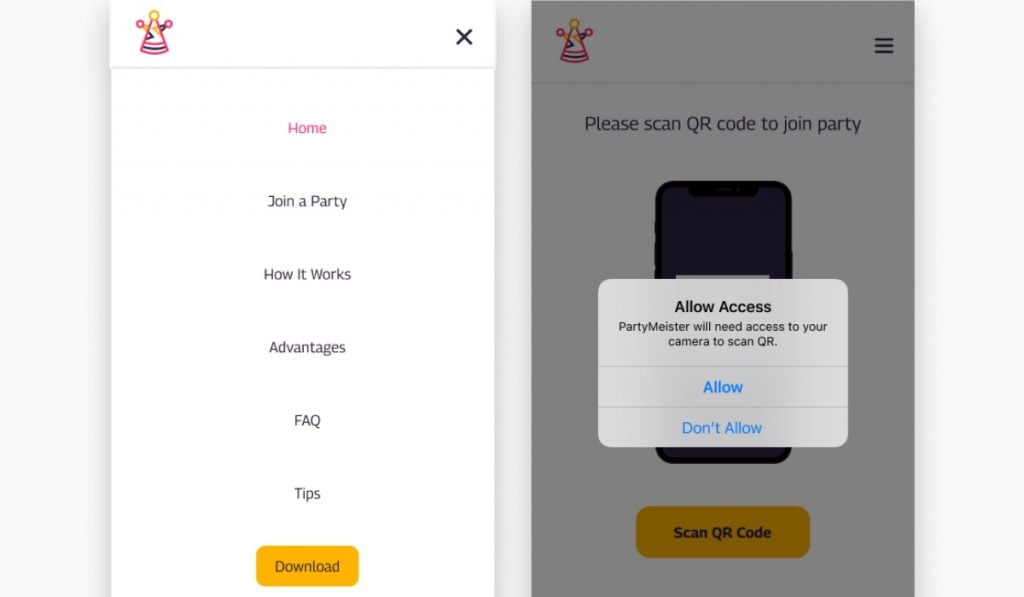 Upload to PartyMeister!
Took the perfect photo? Time to upload it to the PartyMeister live slideshow for everyone to enjoy!
Display Photos at a Wedding
PartyMeister gives you a unique occasion to have wedding party photos displayed… at your wedding party! How? By creating a live photo slideshow each guest can contribute to.
Normally, you have to wait for your photographer to edit your wedding party photos, which can take some time. With PartyMeister, you get instant access to pictures taken by your guests.
How long do wedding party photos take?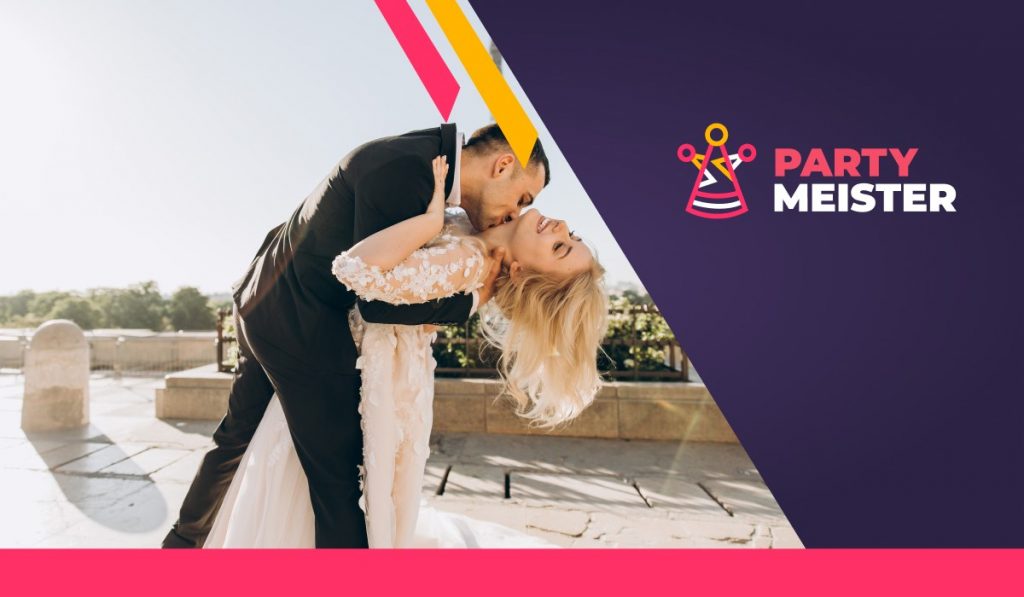 A wedding party photo session can take anywhere from a few minutes to an hour, or even more. It all depends on the number of guests at your reception, as well as your unique wishes.
You might want to take a separate wedding party photo with every guest. You may also opt for several simple group photos. It's your day – you decide!
Keep in mind that with more photos, the cost can get higher!
If you pick PartyMeister, the entire wedding party becomes one big photoshoot. The only difference is that it's more fun, relaxed, and you actually get to spend some quality time with your friends and loved ones.
Where to print wedding photos?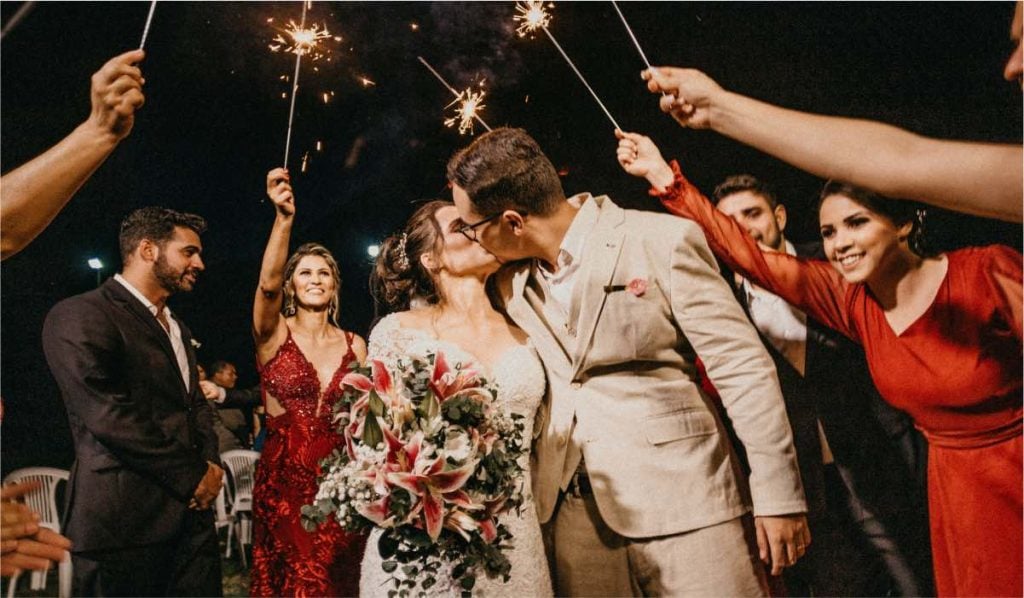 Whether you're looking to get a wedding photo book, a wedding photo album, or just to have some pictures framed, there are many options you can choose from.
Have a look online in places like Etsy or Pinterest for inspiration. Then, look around in your local area for photo printing services. Chances are that they will accommodate custom requests and you'll be able to get the wedding party photo prints of your dreams!
Some wedding photographers also offer prints – make sure to ask yours!
PartyMeister advantage
With PartyMeister, you get all your wedding party photos in one place – located safely and conveniently in the app. That way you can easily choose the ones you want printed and send it through to the service of your choice.
Wedding Photographer Cost
The cost of a wedding photographer can vary greatly. It depends on the package you go for, the timeslot you've picked or travel arrangements.
In general, you should be looking at around a $3.000-$5.000 expense.
That's a lot of money, especially since you can have PartyMeister for free!
If you still want to have professional pictures taken during your wedding party, you can opt for a one-hour slot. This should be enough to take beautiful photos of everyone, but will still allow you to cut the costs of the ceremony!
What to ask your wedding photographer?
It's good for couples to establish a good rapport with their wedding photographer. For them to know your unique needs and personalities means they will be able to create wedding party photos of your dreams. But there's more you can ask your photographer:
What's your style?
Weddings are one-of-a-kind occasions. That's why you want to make sure everything is aligned with your taste and personality. That includes your wedding party photos!
Each wedding photographer has their own style of taking photos. From light to dark, from candid pictures, to group shots and from long panoramas to closeups, and everything in between – make sure the way your wedding photographer of choice takes photos that appeal to you.
Do you offer prints?
Some wedding photographers offer photo + print packages. Make sure to ask your photographer about that!
What's your cancellation or refund policy?
Emergencies happen, even on such beautiful days as weddings. And such ceremonies have a lot of time-sensitive costs to them. Think catering, venue booking or your photographer.
Find out what your wedding photographer's refund policy is. In case of any rescheduling, you might be able to get at least some of the money back.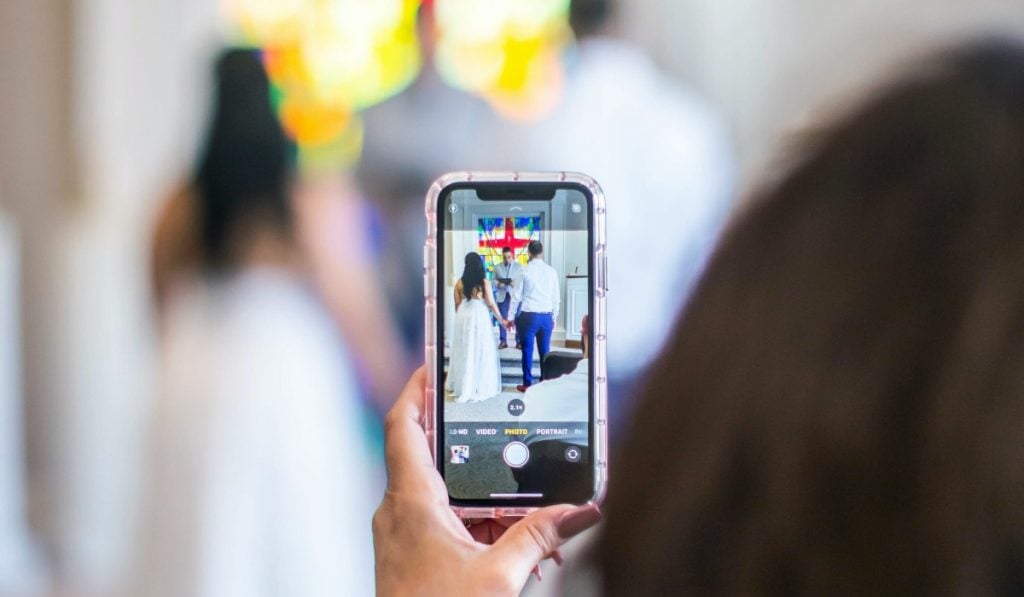 What's your delivery period for wedding party photos?
After the wedding party is over, your photographer will need some time to go through all of the pictures, edit them, and pick the best ones. That, of course, takes time.
It's worth asking your wedding photographer about their delivery period. That way, you will stay in the know and can already schedule a photo watching party!
That's also an advantage of PartyMeister – there's no waiting! Of course, the photos will consist of selfies and not professional shots, but hey, sometimes those carry the best and most authentic memories!
Do you do any special request shots?
We let our personalities shine through photos. So it's only natural that you might want to have something a little extra during your wedding photoshoot.
Whether it's a special request or an idea you always wanted to do, make sure that your photographer will facilitate that!
Wedding Shower
It's vert popular to do 'showers' before significant events. Think baby shower, bridal shower, or a wedding shower!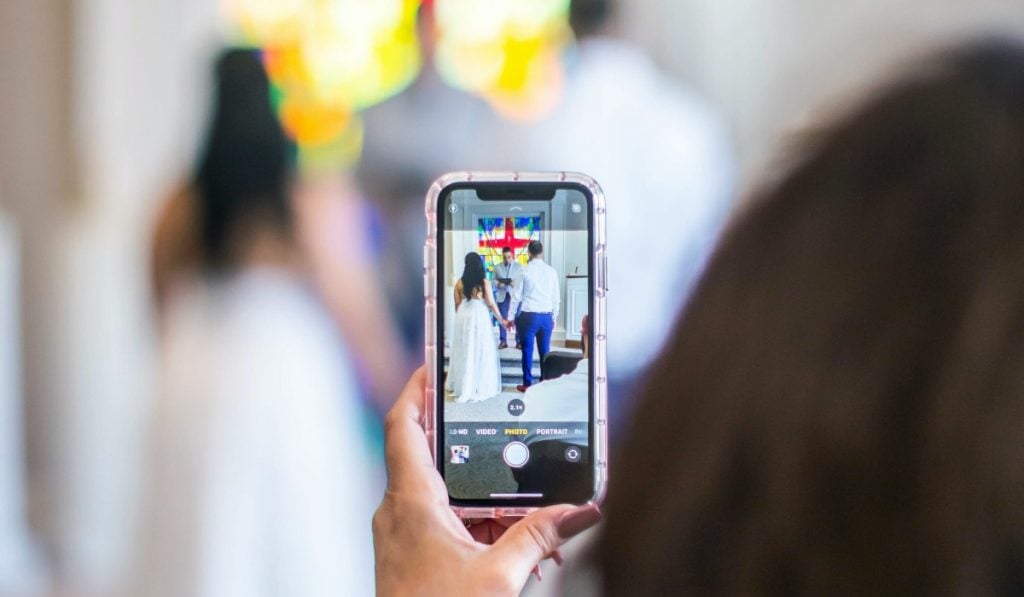 Wedding shower vs bridal shower
You might think that wedding shower and bridal shower are the same – they both take place before a wedding, right? But while a bridal shower focuses on the bride and is more akin to a bachelorette evening, wedding shower celebrates the couple.
It's usually a two-to-four-hour weekend event. The guest list is often more extensive than in case of a bridal shower, a bachelorette or a bachelor party. It can include friends and both close and further family.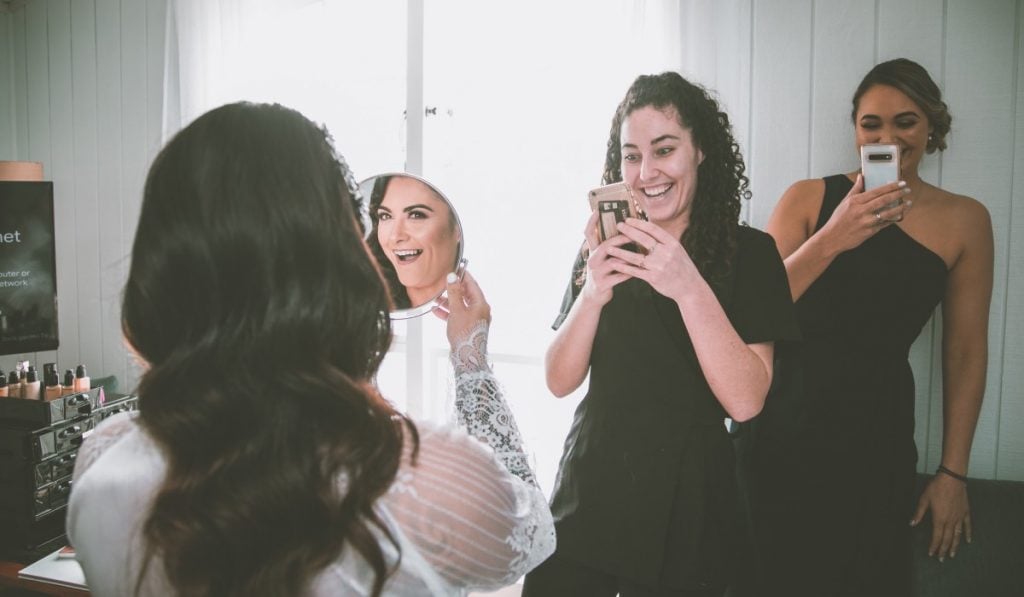 How to display wedding shower photos of a couple?
A wedding shower is a great occasion to celebrate the history of your relationship with beautiful photos. Why not display them on a large screen for everyone to appreciate? With PartyMeister, you can do that very easily!
What colors go with black and white for a wedding?
Black and white are classic colors that never go out of style. When it comes to weddings, black and white can be combined in a variety of ways to create a chic and elegant look. One popular option is to have a black and white wedding party.
The bride and groom can wear black, while the bridesmaids and groomsmen wear white. This color scheme can also be carried into the decorations, with black tablecloths and white centerpieces.
For a more dramatic look, black and white can be used for all aspects of the wedding, from the invitations to the cake. Whether you choose a subtle or dramatic approach, black and white is a timeless combination that is sure to make your wedding day unforgettable.
When are wedding party pictures taken at Puerto Rican weddings?
Here's a little fun fact. Puerto Rican weddings are a colorful and festive affair, and the wedding party pictures are usually taken after the ceremony. The bride and groom, along with their attendants, will pose for a series of formal portraits, often in front of a brightly decorated background.
In addition to the traditional wedding party photos, Puerto Rican weddings often include pictures of the couple with their families and friends. These more casual shots help to capture the joy and excitement of the day, and they provide a lasting reminder of the special people who shared in the celebration.
DISCOVER MORE:
Top 40 iPhone Hacks You Didn't Know
5 Tips For Romantic Wedding Photos Without Expensive Photographers