Do you own multiple TVs and
Streaming devices?
Are you looking for one solution to cast your Mac to your Smart TV? With AirBeamTV's Mac App bundle for Screen Mirroring we have the solution! With this app pack deal you can mirror your Mac to the following TV brands and Streaming Players
Complete your Mac Software Bundle
This deal is also valid for current AirBeamTV customers who have purchased one of the Screen Mirroring apps from AirBeamTV before.

You can use Apple's Complete My Bundle option to only pay the difference between your existing app and the bundle price to purchase all apps! So when you complete the bundle, you won't have to pay the full bundled price.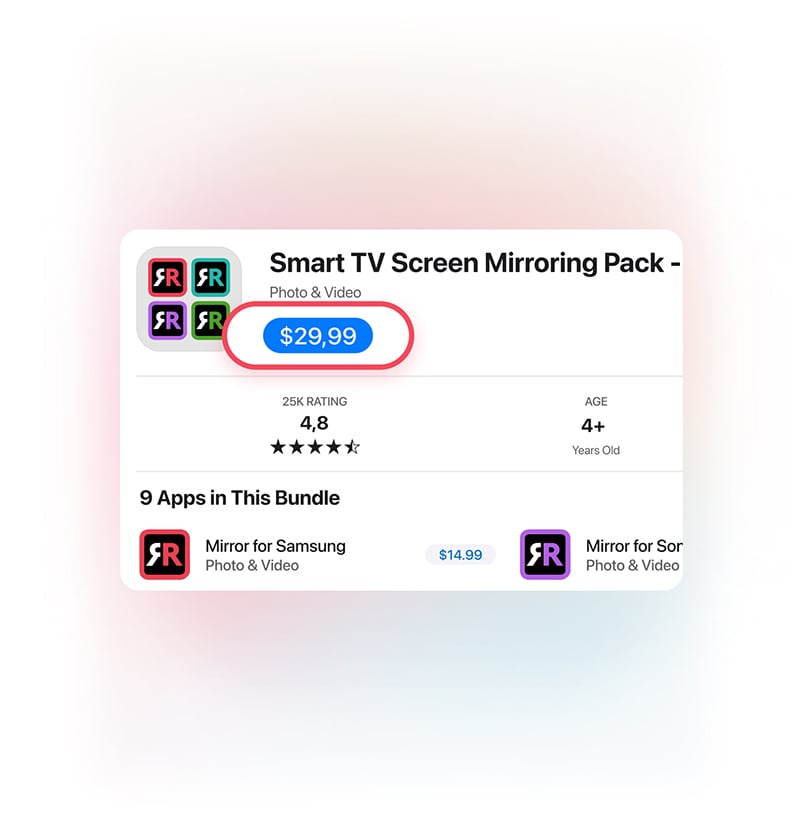 How to Buy the Mac Application Bundle?
Saving on AirBeamTV Mac apps has never been easier. Mac App Bundles on the Mac App Store require MacOS 10.14 (Mojave) or newer. So make sure you are running the latest software or your Mac or MacBook for the best performance.
Visit the Mac App Store and purchase Smart TV Screen Mirroring Pack from AirBeamTV. Follow the instructions from the App Store after this as you would normally do.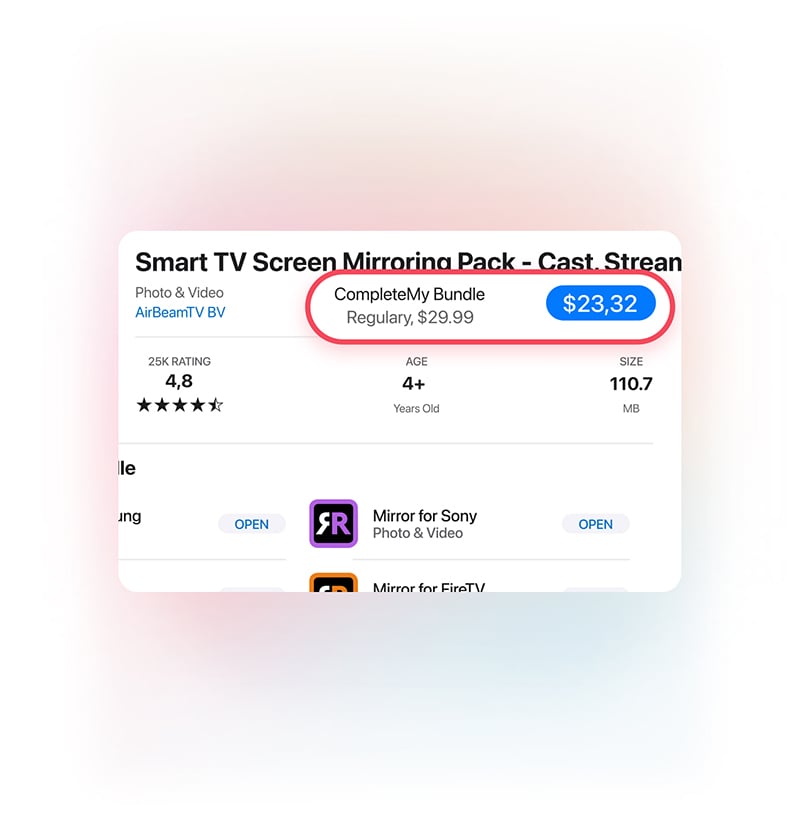 Screen Mirroring App Reviews
Excellent rating 4.8 / 5
Great App and Customer Service! I love this app. It allows me to mirror my work from my computer to my screen. There is a bit of a lag from what's being done on the computer to when it actually appears on the screen, but other than that, it works great!

ChiefHopper

Excellent I went through a lot of apps but they either had a lot of lagging or was a lot of ads this is the first true great TV mirror app I've came across.

DraperTheDog

Great application It allows you to watch instructional programs and hear and follow directions much clearer.

CarpsRanch

Great app! Responsive tech team I was looking for an app that would allow me to mirror my laptop wirelessly on my TV and this one certainly does an excellent job. I had some trouble getting the mirroring to work. I emailed the tech support and they responded within an hour with a fix. Thank you and keep up the excellent work!

Cakelady204

Excellent – Beautiful – Marvelous – I am so GLAD that I stumbled upon this App. Because of my lack of Mac expertise I was contemplating the purchase of a $600. plus projector. What a wonderful surprise to discover this fantastic piece of software. Thank You Developers! I love it.

Ranparia

The search is complete This app is exactly what I needed as I attended a virtual conference. There was no issues with running the app, as it is user-friendly.

Glindsay
Mac App Bundle
for Screen Mirroring
Get all 9 Screen Mirroring apps for Mac and receive a
65% discount from the Mac App Store!